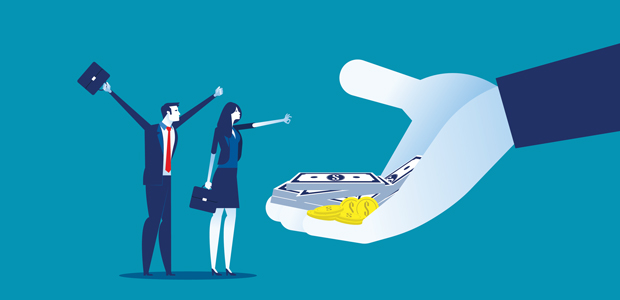 How Salary Finance is Changing the Need For High Cost Loans
Salary finance is the fast-growing concept that helps employees earn wages in real-time from their employers, defeating the need for high cost loans.
Whilst more than three million Britons have had to historically turn to high cost loans each year for things like car repairs, household bills or for simply falling short at the end of the month, the concept of salary finance has emerged in recent years and is gaining traction.
With salary finance companies and startups including Salary Finance, Hastee and WageStream, companies sign up and offer this service to their employees as a type of employee benefit. 
Rather than staff having to wait until the end of the month to receive their full monthly salary, they can take out money as they earn it, which is perfect for those emergency or unexpected bills. 
Usually the employer caps how much the individual can withdraw, such as 40% of their monthly salary, charging the employer just £1 (or similar) for each money withdrawal - and thereby avoiding the overdependence of taking out money every day or borrowing beyond their means.
"Salary finance is an impressive innovation," explained Dan Kettle of Pheabs Loans. "For well over a decade, the UK government has been trying to solve the 'payday problem' which draws vulnerable customers into high cost loans of around 1,000% which they can seldom pay back on time."
"With salary finance," he continued, "It is so much simpler. The average employer does not need to wait until payday. If they have worked 10 days, they can receive their ten days worth of income immediately. There is no need to apply for loans or pay high fees, you can simply withdraw what is already yours."
"It is not without its challenges. Customers of salary finance still need to be fully employed and those on benefits or out of work will still try to apply for high cost loans. But it is certainly a step in the right direction and an exciting space to watch."
Many large employers have started to adopt salary finance including Bupa, Brewdog and the NHS (all partnered with Wagestream). Employee benefits ranging from mental wellbeing policies, health to financial support are vital parts of employment today and offering some kind of emergency financial help is key to a well-rounded organisation.
"We are delighted to see payday loan alternatives that work," said David Beard of Lending Expert. "Many Britons have suffered in the hands of high-cost loans over the last few years and this has caused many to fall into greater debt than when they started. In fact, today you have millions upon millions of pounds of loans redressing to help those vulnerable customers to recover their mis-sold loans."
"Salary finance is very smart, since it comes directly from the employer, meaning they are covering the cost, whilst providing financial support and a real benefit to their employees."