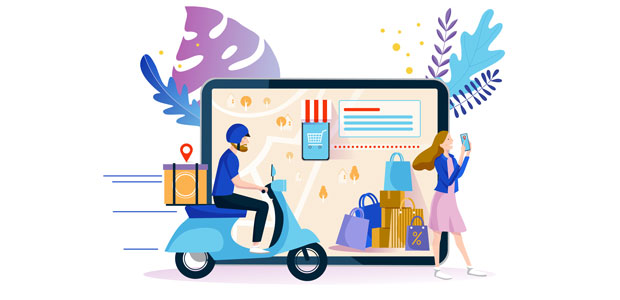 How the pandemic accelerated the e-commerce boom
2020 acted as a catalyst for trends we have seen in our economy for some time, from the rapid digital transformation across every aspect of our lives, to the dramatic rise in demand for e-commerce. Now more than ever, customers are expecting the 'next day delivery' option to be the norm, and it's vital that all business leaders, regardless of the size of their operations, recognise the impact this can have on their business.
The average Irish online shopper spends €2,708 a year, which is the third-highest amount amongst the European countries, according to a 2020 JP Morgan report. This offers plenty of opportunities for Small and Medium-sized Businesses (SMEs) all year round. However, given the current restrictions across Ireland, more and more consumers are turning to online shopping for all aspects of daily life, be it food shopping, prescription services or retail shopping.
After this uniquely challenging year, e-commerce has been a lifeline for many businesses, and we've seen this particularly among our SME customers. It has allowed them to not only continue their sales but also to stay connected to their customers. The flexibility, convenience, and smooth processes of an effective e-commerce platform are a driving force for sales.
One customer that has used e-commerce from the very beginning, and seen its huge advantages, is Common Lines, a fashion jewellery brand based in Dublin but with an international presence. It is an online only e-commerce business, meaning that 100% of sales come directly from consumers via the company's website. Comparing sales to last year, Common Lines has seen a staggering 800% increase.
Adam Hand, Company Director at Common Lines said: "We have been able to significantly ramp up our operations in the last year, having recently moved into a bigger office space. We were fully prepared for this surge in sales, ensuring we have the correct levels of stock available in time to meet customer demand. It was particularly tricky this Christmas given the delays and effects of COVID-19, but we have planned well in advance to help ensure nothing was left with too short of a time frame to reach us."
Adam added: "This period was significantly busier given the current climate, as more and more consumers are shifting to online shopping, and e-commerce businesses are experiencing record levels of traffic and sales across the board." 
Offering an online sales option is a great starting point, but businesses need to work to ensure that they can get deliveries to their customers safely, securely, and efficiently.
"Bringing FedEx on board has helped us accelerate our business beyond our expectations. This relationship has provided us with the confidence and reassurance that we can continue to meet growing customer demand. In turn, this has helped us foster a greater sense of confidence in our customers. They feel confident that our delivery and fulfilment is a smooth process that is not only reliable but also one of the fastest in our market, Adam continued.  
The success that Common Lines has seen during this difficult time is testament to the shift towards e-commerce across the retail market. We will continue to see offerings from both online experience and logistics providers expand and grow, and businesses must continue to meet these demands to stay competitive.