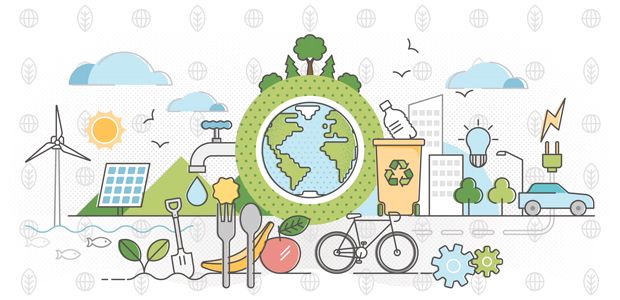 How the packaging industry are encouraging refills over plastic
It used to be that the classier, bulkier and more luxurious the packaging, the more appealing the brand. Thankfully, consumer mindset is changing and adapting to help protect the planet and reduce extreme amounts of waste.
It's now easier than ever to be able to purchase high grade skincare and beauty items that either come packaging free or in recyclable packaging. But one other way that brands are keeping up the glamour with luxurious packaging is by using refills. That way, you can start off with a beautiful bottle and then simply use a refill pouch to top up the existing packaging.
These pouches are a great move forward for packaging and offer a wide range of options from being fully recyclable to compostable, depending on the moisture content of the contents.
Independent brands are leading the way with refillable beauty. They have the advantage in that they can launch from day one with refillable packaging and stylish multi-use bottles and pots. Larger brands need to slowly phase out their existing packaging, work with new suppliers, check costs and gauge consumer reaction.
Independents have the opportunity to simply offer their customers one way, the refill way, and no other option. This immediately taps into the sustainable wants and needs of the consumers, and can also give you a larger area for branding. The larger size of a refill pouch allows more space for you to include more content, perhaps even featuring QR codes to learn more about the product, application, and other products in the range, as well as full details of where the customer can recycle the packaging if their local council isn't quite there yet.
Some stores even allow you to bring the packaging back now for them to recycle for you, this can be more tricky with boutique brands, but this can be solved with a simple instruction of where to find a company, store or facility that can.
Many products naturally lend themselves to refillable packaging from soaps to shampoos.
If you're considering going down the refill route, there's a few key things to consider.
Consider your clientele
This can largely be down to a customer's age, budget, and their loyalty. If moving to refills is going to be a major step for your customer, consider going in stages, launching a customer survey on the website and holding a focus group to share the benefits of moving to refillable packaging. This will clearly and easily let your customer know why you're doing it, how it will help the environment and how they will ultimately also benefit.
Consider a re-brand
If you've been considering a re-brand for a while, moving to refill packaging could be the prime time to take the leap. Not only will you have a larger surface area to work with you can also consider new colours and rolling the refill packaging out into larger sizes.
Cost
Moving to refillable packaging will usually cost less. There are huge advantages when looking at transportation costs and storage space required which is significantly less when compared to rigid alternatives.
If there was ever a time to go sustainable with your packaging, it's now.