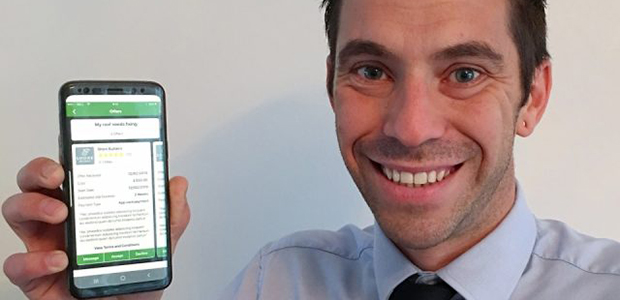 How one man's vision is making waves for businesses across the country
Midlands-based entrepreneur, John Whitbread, launched The Spotted App in early 2020 to allow businesses to connect with consumers without having to rely on social media alone or the interference of predictive algorithms.
The app has been designed to overcome the frustrations which can arise when searching for a product or service on-line; frustrations caused by the fact that the technology behind the scenes is trying to second-guess exactly what the user is seeking.
Just months since its launch and it has proved to be a hit with hundreds of businesses and consumers. Having managed a successful Spotted Facebook group for some time, founder and creator, John, realised that users were often being short-changed when their social media results were served.
He explained: "Traditional search platforms have algorithms working behind the scenes to decide which selected options you'll see rather than delivering everything which matches your request. Their predictions, and the criteria by which the results are sorted on your behalf, can often mean that the options you get aren't actually the best for you. Of course, you will also be presented with the businesses which have paid the most to get themselves in front of you, which again, doesn't always best suit what the consumer is looking for."
John's biggest passion is to ensure that the new Spotted App offers equal opportunities to both the businesses and consumers who use it. So, as well as making the connections impartial and transparent, John made the decision to keep the cost to advertise on the app as minimal as possible at just 99p per month - and entirely free for consumers to use.
John is so passionate about the platform that he decided to scrap the advertising fee entirely for the first two months, making the cost less than £10 for an entire first year. The concept is simple; businesses upload their details (who they are, what they do and where they are based) and consumers type in what they are looking for to find local suppliers who best meet their needs.
At a time when business agility is key, one of the main features of the Spotted App is its flexibility. Businesses can turn off notifications if they are busy and then immediately turn them back on again when they are ready to accept leads. This simplicity is all part of John Whitbread's vision.
He told us: "My experience with the Spotted Facebook group allowed me to focus on what was most important - fairness, affordability and bringing back a sense of community. The open nature of the app gets us back to what search was in the good old days - a genuine matching of people's needs with the local businesses who can help them."