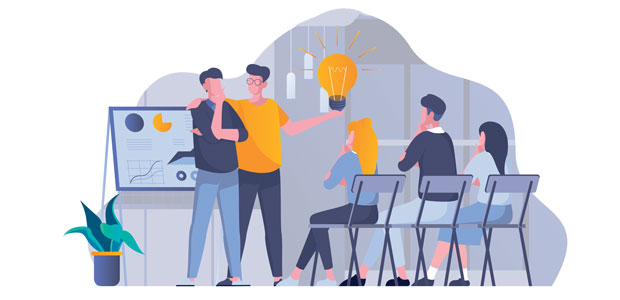 How to Nail Investor Pitches
European deeptech is enjoying a bit of a moment. Startups working in deeptech - translating new knowledge into tangible technology to address significant business and societal needs - account for close to a quarter of the continent's startup ecosystem. And in 2021, that ecosystem invested a record $100B of capital.
The European Start-up Nation Alliance (ESNA), formed last November, doesn't want anyone resting on their laurels. The group, responsible for setting standards and monitoring the process of startups across the EU and Iceland, has set the lofty goal of doubling the bloc's number of unicorns by 2030.
The gauntlet has been well and truly thrown down. And while there is no shortage of deeptech startup founders with the intelligence, technical excellence, and commitment to meet goals like this, there is one area founders can fall down: pitching. Convincing VCs to invest in their company ahead of all others is a unique challenge for founders. So, if you're a deeptech founder, what can be done?
I've spent a long time over my 20+ years investing in deeptech and here at Deeptech Labs working out the answer to this. What I've realised is, especially in the post-seed, pre-Series A phase of a company's journey, deeptech companies stand apart from regular tech companies. This alters the dynamic between founder and investor, creating a gap to bridge between the company roadmap and metrics and investor expectations.
A regular approach to winning investment won't cut it. This is a whole new frontier, one requires a different approach to convince VCs to come on board. The quickest and smartest way to do that is with a pitch as sharp as the idea you're selling. I've rounded up three tips that we share with our cohort companies at Deeptech Labs.
1. Decide who, how, and when
It takes a well-oiled machine to deliver pitch success. Your approach has to be like any good sales process: smooth, strategic, and well-executed.
That word - process - is crucial. It takes time to get good, but every moment matters. Avoid drifting by setting your team milestones, and strategically planning who you pitch to, and when. 
You should determine the characteristic of your ideal investor - someone who can offer industry insight and the contacts book to set up meetings with the right customers and talent and pitch to them once you have optimised your pitch. Working your way to the top enables you to learn and improve your pitch based on genuine feedback, so your final performance is your best. 
That's assuming there is an investor out there with direct experience in your 'zone of genius'. These people are hard to find if you're developing totally new technology. 
If this is the case, scour for investors with similar deeptech plays or business models in their portfolios - avoiding VCs who don't understand the space and whose influence may be detrimental. 
Once you've settled on targets, locate a mutual CEO or another investor you have both worked with in the past. They can act as your connector and recommender, so you go into meetings with a reputation already established. 
2. Answer those key investor questions
That's the plan figured out. Time to execute it. 
Make sure that pitch is crisp, succinct, and easy to remember if you want it to stick in the mind of each VC you present to. Go easy on the heavy detail, especially in the early rounds - your aim here is to pique their interest enough to secure another meeting. Weave in feedback and extra details as you start to build a relationship with the investor - ​​a drip-feed approach to information at the start will only increase the perception of value. 
Keep your presentation lean and engaging by structuring it to answer the key questions all investors have:
What is the problem you're trying to solve? Hold off on the technology deep dive until you've laid out what important problem you're addressing for real customers.

How real is your technology, what have you proven so far and how will you build a defensible and scalable business model around it?

How big and competitive is the market? Showing what lies ahead and how you're equipped to beat your rivals?.

Who are your customers? VCs need to understand that there is a willingness to pay and engage - even if that point for your company is some time away.
3. Gather feedback - whenever and wherever it comes from
Investing in a company is a leap of faith for any VC. They'll feel like they can trust you if they can picture themselves collaborating with and contributing to your company. 
Open the door to this by considering and implementing relevant suggestions in the next version of your presentation or add a commentary around it. It demonstrates that you value their input. 
VCs are still valuable, even if they ultimately aren't the ones who invest. When they pull out of a project, ask for critical feedback for the next iteration of your idea, as well as recommendations of other VCs who might be interested. Don't be afraid to ask for an intro here - in my experience, they're usually happy to. 
When we set up Deeptech Labs back in 2020, it was in the knowledge that founders had a better shot at catalysing early-stage deeptech success if they had access to established funding networks and the support of successful deeptech entrepreneurs. While we're seeing a deeptech boom in Europe, those core principles haven't changed. To ride that wave, you need support from partners and a sound plan - I hope these three steps give you what you need to get started