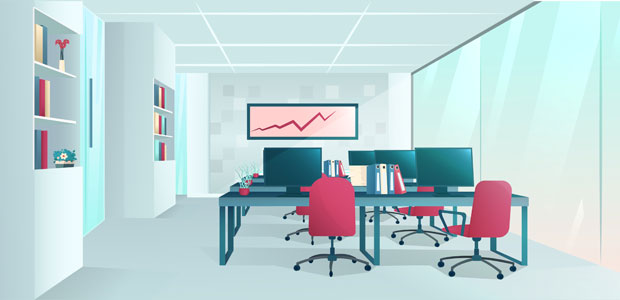 How the London office scene will change post lockdown
As lockdown eases, both business and employees are changing their thoughts about the best place to work - for businesses to achieve a cut in costs and favourable flexible agreements. For employees, it gives a vital away from home space.
Speculation is that a home office can add as much as up to 10% to the value of a property and if you're lucky enough to live in a London home with space for an office then you are definitely in the minority. New homes being built since 2010 are smaller than ever before, with the average house size now below the low of the 1930s.
Clive Buckley, Founding Partner of global workspace broker, First Office Hub, is predicting a huge change in attitudes to office working. He said: "The serviced office sector led the way in terms of creativity and flexibility and now we will see more and more businesses and their employees think differently too."
"People will want the option to work flexibly but there will also still be a need for the office. In the short term, the average office worker may choose to work from home two days a week and from a regional flexible workspace three days a week, commuting only occasionally to an employer's central HQ."
"We're working with one London law firm whose lease is up on their West End office - they have talked to their employees, looked at home locations and ease of commute and decide to create offices in mini hubs around commuting stations and near areas where they have a larger catchment area of employees."
First Office Hub shares below some of their thoughts on options available in North, South, East and West London that may just fit the bill.
West London
West London is well catered for in terms of interesting options in Zone 2. In Hammersmith, The Office Group has 14 floors of dynamic workspace offering panoramic views of Zone 1's skyline.
There's Uncommon on New King's Road which is a sight to behold with its on-trend biophilic design elements.
Zone 2 might not be what comes to mind when you think of biotechnology but in White City, Central Working and Imperial College ThinkSpace, have designed a building which is perfect for companies operating in the sciences.
East London
Head East and you can choose from the heart of Hackney and Canary Wharf (both Zone 2) or slightly further afield in Zone 3 in Leyton.
Second Home in London Fields, Hackney, has been designed with entrepreneurial parents in mind, where members can work while covering their childcare needs. It launched in 2019 with London Mayor, Sadiq Khan at the opening ceremony.
There aren't many boutique workspaces in Canary Wharf, an area dominated by high rises containing corporate and sometimes stark offices. Yet situated in one of its most iconic buildings, One Canada Square, is flexible workspace operator The Office Group who are famous for their stylish-yet-cosy, modern-yet-vintage shared workspaces.
Located on the Central Line, Leyton is becoming increasingly popular with freelancers and SMEs who want to steer clear of Central London and Mainyard is one of the area's newest business attractions.
North London
The Coalface in Finsbury Park is conveniently located on the Victoria Line, just two stops away from King's Cross. SMEs like its spacious industrial feel, with high quality furnishings which give it a semi-boutique feel.
Among other things, Camden has become a treasure trove of boutique offices like Workspace's The Centro Buildings situated between Mornington Crescent and Camden Town Station with a number of high spec office and studio spaces, each featuring high ceilings, wooden floors and lots of natural light. There's a stylish roof terrace too.
South and South West London
The Old Town Hall in Wimbledon (Zone 3), with its impressive Victorian frontage, is the epitome of boutique. In fact, workspace operator The Boutique Workplace Co. occupies the first and second floors, renting out private offices and meeting rooms to local SMEs.
TMRW in Croydon - Zone 5
And heading even further south (Zone 5), Croydon has become one of London's strategic office centres and is home to companies like Deloitte, KPMG, IBM and Goldman Sachs. Now tech startups of all sizes can rent flexible workspace at TMRW - a workspace that was founded by an entrepreneur and investor. 
Visit the First Office Hub website to view all offices in Zone 2 and beyond.