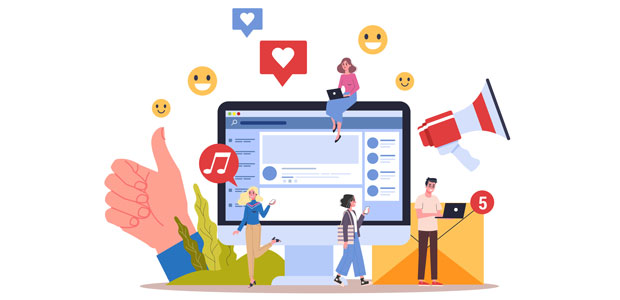 How lockdown startups can turbocharge their social media and find success
Businesses are increasingly optimistic about emerging from COVID-19 - and say that utilising social media and new technology will be key to that recovery.
In a new poll, 84% of those surveyed said they felt 'optimistic' about growing their business over the next 12 months. 
And the survey, carried out by value communications-provider, Plusnet, saw 52% of SME decision makers admit they now rely on tech more than they did before the pandemic. 
This increases to 67% among medium sized companies.
Yet despite its importance nearly half of small firms - 43% - say they have needed help to overcome problems with their Internet and broadband.
Businesses also say lockdown has led to them increasingly turning to social media as the primary way to connect with customers. 
Forty-three percent of those running SMEs said Facebook was now their go-to platform. This was followed by Instagram, LinkedIn and Twitter. 
Just 6% of entrepreneurs say they used 'traditional' forms of marketing like billboards and posters. 
With online clearly underpinning the future plans of lockdown business leaders, Plusnet has released a new guide offering businesses tips on how to best grow your business via social media. 
The free-to-download guide covers everything from the basics of using social media, to avoiding burnout at work and hacks to get your business through that often tricky second year of trading.
Plusnet is also launching a new national campaign which will reward the lockdown heroes who became part of the record number of businesses set up during the pandemic.
The Yorkshire-based firm is vowing to honour the grit and determination shown by those to carry out the best service for their communities and the economy during the toughest year in generations.
Nick Silverwood, Head of Business at Plusnet, said: "We're taking our hat off to the incredible businesses launched over the last year, who have been able to adapt to using technology more than ever before.
"Being from Yorkshire, we know all about courage, grit and determination and that's why we're recognising the many thousands of businesses that took the plunge in lockdown by rewarding them with a unique That'll Do Star.
"And because we want to help businesses as much as we can over the coming months and years, we have created a guide with tips on how to keep your business on track, specifically designed for our lockdown heroes. We'd love for businesses to apply so we can shine a light on the incredible work they have been doing and help them beat their goals for year two and beyond."
Plusnet's survey, which was carried out by Opinium, also revealed how nearly a third of businesses have now moved the majority of their trade online due to COVID-19. 
And after more than a year in lockdown, rising numbers of SMEs say they plan to continue trading that way permanently.
This switch to online-trading is matched by a sense of optimism among entrepreneurs, according to the poll. 
In it 84% of those surveyed said they felt 'optimistic' about growing their business over the next 12 months. 
That's despite 49% admitting that at some points over the past year they feared the pandemic might lead to their business closing. 
Business owners have also highlighted the growing importance of utilising new-technology in their business as the economy looks to recover from COVID-19.
Other findings in the poll revealed that by embracing technology and social media, over half (51%) of small businesses have been able to improve their range of products and four out of 10 (40%) said it had allowed them to upgrade their customer experience.
Because of the shift to tech, and more businesses going mobile, one in 10 SMEs said having reliable broadband and tech support was more important than having a good logo - or even selling their business for a profit (5%). Furthermore, two out of five (40%) said they value reliability most out of their business broadband - with the smallest businesses appreciating it the most.
Social media marketing was also considered the number one thing small business leaders wished they had known more about when they started (23%), which is why Plusnet's new business guide will share tips on how to rocket fuel your business by becoming a social media expert.