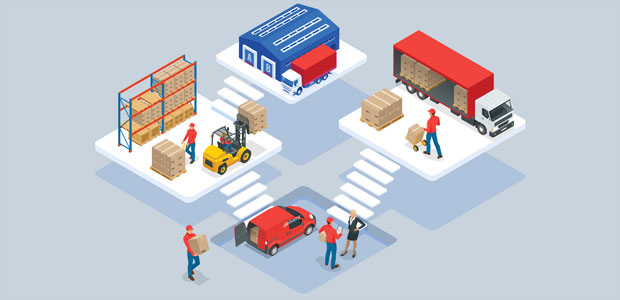 How to improve your last-mile logistics?
Undelivered packages. Lost parcels. Delays. Everyone has been a victim of a flawed last-mile delivery at least once, and failed deliveries significantly affect customer experience. Today's article will help you improve your last-mile delivery and avoid unsatisfied customers.
The million-dollar question is not, have you ever experienced an online purchase that did not turn up? But instead, it should be, how many times have you experienced not receiving a delivery?
I can think of at least three times that this happened to me in the past three months. And there is nothing more frustrating as a consumer than not receiving your parcel or receiving it late, or even, true story, not knowing if it will arrive. And this is frustrating.
So how can companies improve their last-mile delivery?
What is last-mile logistics?
Before we jump into tips, let's understand what last-mile logistics is. You might've guessed right after our small vent, previously disguised as an intro.
Last-mile logistics refers to the final step of the delivery process. After you purchase a product, the last mile is the last step for the product to be delivered to you. The last mile is when the product leaves the distribution centre, warehouse or facility and arrives at you, the end consumer.
As mentioned in a previous article, we shared here. A smooth delivery process is a key to a positive customer experience. So, how can your business improve the last-mile delivery process?
How to improve the last-mile delivery process?
Let the customer be in control of their delivery
At the beginning of the purchasing process, let the customer decide the date and time that they can receive their packages. Leaving the customer in control of their delivery is convenient, reduces the chances of frustration and increases the chances of successful delivery.
When your customer isn't in control of choosing the better date and time for them to receive their package, there is a higher chance of losing the parcel if the driver isn't successful when delivering the first time.
Invest in communication not only with your customers but also with your drivers.
Having standard communication from the point of order through the order fulfilment lifecycle increases the customer's chance to either be in as planned or update their preferred delivery slot before the parcel is out for delivery.
It is also crucial that customers can communicate with drivers. Giving an open communication window between customer and drivers help to surface issues and solve them in real-time—or better yet, catch them before they can become issues.
Share a functioning tracking code
Tracking numbers are a unique set of numbers that get allocated to each order, enabling customers to track their delivery status. But make sure that you have an updated system in which their tracking number is always with the current situation of where their parcel is.
Imagine the tracking code giving a window from 2pm to 4pm, and it's 4pm, and the delivery hasn't arrived because it was late, but the system didn't update. Frustrating, and the person didn't have to wait two hours to determine the delay.
Without tracking numbers, shipment tracking is out of the question.
After a failed delivery, prevent packages from being lost
One of the main reasons for lost or misplaced parcels is items left in vehicles or warehouses after a failed delivery.
The package gets lost and is no longer available when the intended recipient tries to rearrange delivery, so the purchase is reordered or refunded.
Use a TMS that provides visibility of packages at every step of the delivery process and allows you to keep track of successful collections, failed deliveries and unplanned parcel returns.
Automated route planning software is a management system that tracks each vehicle's location using hardware units. Once drivers and their routes are added to the system, the software optimizes each course and sends real-time vehicle information to the warehouse dashboard. The system can take variables like traffic or weather, so drivers use the most efficient routes.
What else can you do to improve your company's last-mile delivery process?