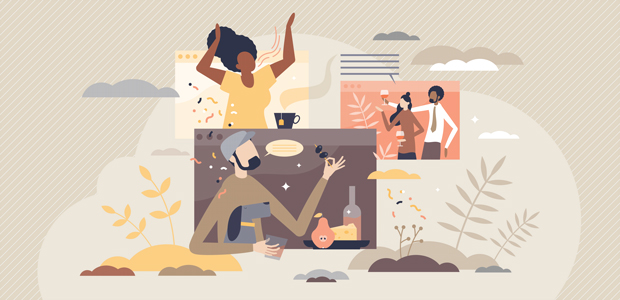 How to host a successful hybrid event
As our calendars become populated with the resurgence of corporate events post-lockdown, many event managers will want to strike the right balance between in person and online. 
The shift to online wasn't an easy one but cyberspace enabled us to remain connected throughout these unprecedented times and even though we're eager to return to the world of in-person events, there's elements of online that will continue to stay. 
In this feature, Sam Richards, outdoor event specialist at Gazeboshop, explores how hybrid events will pave the way for corporate events and her top tips on how to make yours a success. 
So what is a hybrid event?
Hybrid events bridge the physical and online space, each complimenting the other. They can connect audiences on both a small and global scale, enabling events to tap into multiple different networks at the same time. Offering the perfect solution for the times we currently live in, they allow attendees to choose how and when they would like to engage with the content, whether that's in person or online and allow flexibility around any potential future restrictions. 
By taking a customer-first approach, hybrid events create accessible solutions for many individuals. Events can be inaccessible, whether it's the travel or general cost, therefore offering a flexible solution opens up events to a wider pool of attendees. 
Hybrid events also open up the possibility of long-term content engagement. By recording talks and presentations, attendees can access the entire event and revisit the content days or even weeks after it's over.
Things to consider
As England lift all restrictions there are a lot of factors we must still consider in ensuring attendees are both comfortable and safe including: 
Unquestionable hygiene standards 
Hygiene is, of course, hugely important and venues will have a responsibility to have top-level standards in place, but hosts will have to demonstrate this too in order to ensure a comfortable and safe experience for attendees. 
Smart social distancing
In England, venues can now host events at full capacity, however in some cases social distancing will be preferred. Having robust systems in place will encourage attendees to keep contact to a minimum and we recommend putting a focus on natural busier areas such as toilets and registration.  
Intelligent catering 
We're not quite sure when buffets will make a resurgence, if they ever will, therefore venues and caterers will have to consider food that is ready to go.  
Curated networking 
Networking is often a big priority for many event goers, but how can we encourage people to network whilst also respecting their safety and health concerns? Hosting small-scale curated networking opportunities is a great solution. There are lots of great tools out there that can easily assist with matching people of similar roles which can facilitate more meaningful conversations with a smaller number of people. 
Hybrid Event Essentials 
If you're considering hosting a hybrid event, here are the top three essentials guaranteed to make your event a success.
Create an accessible experience for all 
The experience must cater for everyone's needs whether that's in-person or online, it's important to make sure your attendees don't feel like they're missing out. It's important to remember that a hybrid event isn't two different events, but one event with two different experiences. 
Whether it's to send some emails, grab a coffee or some fresh air, everyone needs a break. Offering regular breaks for both in person and online attendees will keep them actively engaged when they're back in the room. 
Engagement opportunities for attendees
It's important to strike a balance between networking opportunities for in person and online attendees. By opening up engagement opportunities through live Q&As and dedicated meeting areas for in-person meeting and virtual meetings will encourage connections. This will then connect a much larger pool of peers and open up countless business opportunities. 
In order for hybrid events to be a success, events must understand the audience's journey and cater for each step of the way; anticipating their worries and concerns and also what they hope to achieve from your event. 
Virtual and hybrid are integral to how the events industry can rebuild itself as the world begins to open up and technology continues to improve and it is likely we will see further integration of technology like VR, AR, and AI within the industry as events move into the future.