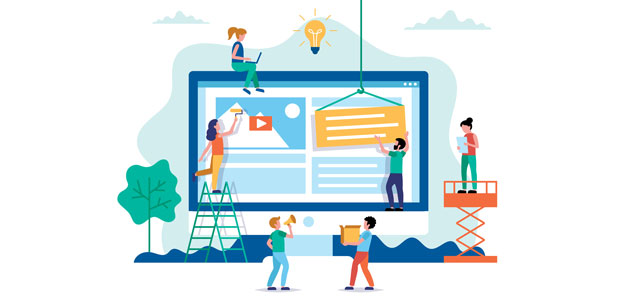 How has the pandemic affected small business ownership for the long term?
The future for business owners has been talked about a lot in recent months. Whilst most articles have looked at the immediate 12 months, there are some changes that will remain for the long term.
As a business coach I keep my finger on the pulse of the small business world by engaging with dozens of business owners each week. Over the past year this has involved conversations with those who are truly desperate, as well as the lucky few who have been drowning in opportunity and rapid growth.
It's been interesting, to say the least, and I am now starting to see the green shoots for the immediate future, as well as some substantial shifts that I expect to remain well into the future.
In this short article I'm going to share my thoughts within a framework of 5 questions that are at the heart of making SME business progression happen.
Five business questions for small businesses to grow
1. Who are you and where are you trying to get to?
Every business has a vision. This is something to aim for in the ultimate, and a theme to draw back to what truly matters when many different paths appear simultaneously. In some cases these are well documented, and in others they are simply a well kept secret in a business owner's brain!
During the pandemic, we have seen many company owners pivot their business model and adapt substantially in order not just to survive, but also to make hay whilst the sun shines.
One thing that has also happened is a lot of business owners have re-evaluated their purpose, their values, and the culture of their companies. Even now, this is happening as many companies that effectively hit the pause button a year ago, emerge from growth hibernation and want to move forward with real intent.
This deeper thinking, and 'pause to work out what really matters' has led to some radical thinking, and much more purposeful business models. Many companies have started to recognise the value of achieving a niche or further differentiation. Some have decided to go online totally, or to engage with greater good social motives, and their presentation and operations are now showing this much more clearly. In most cases, there will be a mix of returning to the old goals and of progressing on with the changes made.
Have you defined your new you?
2. What's your business model and profit strategy?
There have been some interesting shifts in consumer behaviour over the past year and half. Some of these were simply insisted upon (social distancing, lockdowns, travel etc) but others have been more preferential (the shift to longer-term home working and installation of home offices for example).
When we look at how companies have shifted their business model, quite a lot of these changes have been considerate of changes in customer behaviour and requirements. Many restaurants for example are still going to be offering more table service and outdoor areas than before. Despite the latest guidelines allowing for small group dining inside, the social concern remains in doing so and the business owners are sensitive and responsive to this. The same is true for car sales, business meetings, events, trades visits and a wide range of other things.
There is also a shift in demand for alternative solutions. For example, there is pent up demand for gym and fitness centres to reopen fully and for group activities to restart, but many will remain with an online service even after the rules have changed. There is a new, and significant market for remote service delivery - including within my own industries of business coaching and marketing consultancy. This isn't just a case of health concerns, but also a recognised benefit in reduced time for travel, venue costs and more.
Taking the time to reassess your marketplace, competitors, and customer requirements is going to be essential this year, and it may well be that further or more sustained change is to come!
Have you done this research yet? Have you made any changes as a result?
3. How do you win clients and orders?
This may seem like a dual question with just one answer, but there is a difference between a customer and an order.
The first part of the question relates to primary marketing and sales processes (how you win brand new customers for the first time). Part two is more about secondary and tertiary marketing (your account management processes, customer lifetime value, and referral and referencing strategies).
How you win business if you are a small business
Taking a look at new clients first, there has been a HUGE shift towards more online marketing, and the need for local search optimisation. This has in part been down to full lockdowns requiring the research and selection processes to be more remote, but also the general trend towards online marketing simply being accelerated by circumstance. Now, more than ever, it is important to have a properly designed and built website, with strong SEO and regular content updates. Similarly, for social media, it is more and more apparent that social referencing is an important criteria for buyers in almost all settings (both B2B and B2C).
When it comes to account management, the reduced ability to directly meet or communicate has led to a substantial need for improved relationship nurturing. More competitors are using direct and search-related marketing tactics and their visibility to your customers has increased massively.
Being passive is no longer good enough, as your clients (and mine) are being proactively approached more and more. Defending those relationships, and working hard to build up loyalty is vital. For many, this means identifying how to establish more of a community and more outbound communication (e.g. phone, email or direct messaging).
What are you doing to protect your valuable client relationships and to show that you care beyond a transaction?
4. How does your business operate?
This is a harder section to generalise on, as there are so many different types of business and the methods of operation vary hugely. In broad terms however, there are some significant changes that affect all of us in one way or another.
With Covid, Brexit, and the Suez canal incident, supply chains have been disrupted, litigated, or stalled. As a customer or a supplier this means that some areas are suffering interruptions and delays.
The insistence on remote working for most companies and staff members has meant adaption for both task management and staff management. I would describe this as being a step change towards a more global operating structure, where the traditional boundaries and restrictions of site are reduced. For lots of people this has involved the adoption of new tools (Zoom etc) and new task and time management software (e.g. project management, approval systems and more).
What are your favourite productivity or team management tools?
5. How will your team perform and grow?
Staffing and the building of teams has always been a thorny subject, and in the post-Covid, remote working age it has become a heap more challenging.
Everything from the marketing for candidates, selection processes, interview management and more has become different. So too has the general mindset of employees. The dinosaur view that work needs to be completed at X location between Y hours is being severely challenged and there is a demand for flexibility. In most cases it is now well evidenced and much more justified than ever before. It's also true that there is a hesitancy to jump ship from an existing supplier to a new role, as the rules on accessing furlough payments are linked to length of service. With the fear of future lockdowns still in everyone's minds there is (for some) a genuine fear of change.
Finally, the current team has a few hangovers from Covid and lockdown. For those who were furloughed long term, there has been an emerging skills and current competency gap. For those who worked throughout, this has led to job scope creep where many roles were merged or additional duties taken on. Some of these changes will have long-term impacts and a need for considerate management.
There has also been a marked slow-down in direct business training throughout this period. Whilst many have learned whilst on furlough, most who remained working were severely busy and the luxury of training and personal development was stalled.
What has been the experience for your teams? Have you changed the organisational structure and duties for your colleagues and yourself? Has your learning been very much 'on the job' in recent times?
Summary
2020 and 2021 have been unrivalled in recent times. The rate, and magnitude of change has been astronomical. Some businesses have survived and others haven't, but all have been changed.
There are two types of change in business. Reactive change and proactive change.
Reactive is where we identify a stimulus and we respond because of it. This has been the predominant situation for the past 18 months.
However, as we now emerge from the chaos, it is my belief that those who will now advance fastest and benefit most will be those who recognise that the need for change has not reduced, but just arrived. To step ahead of the competition and to drive the best results for your business, customers, team and society, we need to reassess the market and target something new and exciting.