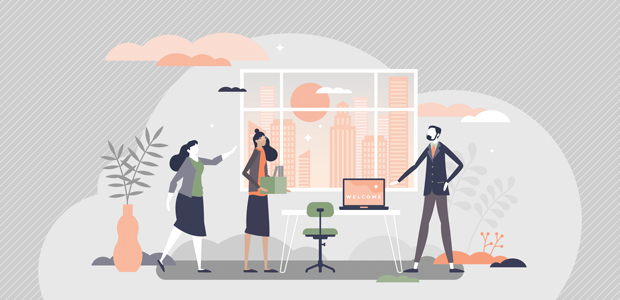 How to get employees on board with digital transformation projects
Corporate culture embodies of all the written and unwritten rules, values and attitudes that characterise an organisation. It offers an insight into how business decisions are reached, and how they will be implemented. By extension, then, internal culture is the also the foundation upon which all successful innovation must be built.
All too often, businesses focus on short-term results and returns, rather than on using new ideas to pave the way towards long-term progress. The importance of establishing a culture which cultivates innovation can therefore be overlooked, despite being a cornerstone of fruitful digital transformation.
Importantly, corporate culture is not determined by the scale of a business or the resources it possesses, which means that any organisation can improve their internal ethos. No doubt, right now is an extraordinary time for innovation, with 69% of UK businesses planning to launch new digital projects, tools, or initiatives in 2021. If you fall into this category, here are some tips for getting employees on board with new digital projects…
Pay attention to your employees' needs
It is common for digital transformation projects to be carefully planned and pushed through by those at the top of the company hierarchy – despite employees being key stakeholders when it comes to implementing change. In fact, a report by PwC found that only about half (53%) of staff agree that their company pays attention to people's needs when introducing new technology, despite 90% of C-suite executives saying that they take this into consideration.
Even if the ultimate beneficiary will ultimately be a customer or client, employee buy-in is crucial to the success of a new digital transformation project. Most IT projects will, in some shape or form, affect the employee experience. So, it is important that careful thought is given to the impact that new tech or a new way of working will have on your staff members.
As part of this, I would urge all business leaders improve their understanding of employees' experiences with current technology. The aforementioned report also notes that, while the overwhelming majority (92%) of C-suite executives say they are satisfied with the tech experience their company provides to help them make progress on their most important work, only 68% of staff agree.
This indicates a disparity between the experiences at different levels: it suggests that more can and should be done to gather an accurate picture of how staff utilise technology in their day-to-day, and use these insights to identify areas for improvement. By organising meetings with individual workers, conducting internal surveys and audits to re-assess the technologies that employees believe could be improved, as well as facilitating round table discussions where all opinions are valued, business leaders will be able to gain new insights that filter through at each level of the company.
Communication is king
While change can be exciting, it can also be confronting. Employees will naturally become accustomed to familiar processes and technology, and at times fear a disruption to their established routines.
To ensure that employees get on board with new ideas and don't hold on too tightly to legacy practices, communication is vital. Open and honest discussion will support a smooth transition to the adoption of new technology, particularly if it is done before any plans are formally put into action.
Before the roll-out of a new digital initiative, managers should offer an explanation of why the changes are taking place, and what employees can expect as the process plays out. A roadmap for the project, along with the goals, objectives and expected results, will help employees to understand the overall vision and get on board with digital transformation efforts.
Importantly, business leaders must be accountable and make themselves available to answer any and all questions from employees – including taking on board their feedback and suggestions. They might just learn a thing or two.
Upgrade digital skills
Offering digital skill training is another important aspect that can fall under the radar when big plans are being formulated to transform internal or external processes. The reality is that, for the majority of people, getting real value from new technology takes time and experimentation.
That's why creating a solid foundation of digital skills can smooth the transition, and allow employees to take advantage of the latest innovations more quickly and with greater confidence. Indeed, some businesses got a taste of the dangers of ignoring digital literacy training when their workforces were forced to shift online indefinitely in March 2020. While businesses piloted video conferencing tools and cloud computing, a stark digital skills gap began to emerge.
Swathes of businesses, for instance, invested in data analytics in a drive to improve efficiency during the pandemic. However, according to a study conducted by the CBI in December 2020, more than half (56%) of companies surveyed said that they did not have the in-house expertise to properly interpret the data at their disposal.
This discrepancy between technological goals and actual abilities presents a barrier for innovation. Positively, it appears that many business leaders are making skills development a priority within their organisation in 2021. According to Studio Graphene's recent study, two-thirds (67%) of UK firms plan to invest in technology training opportunities for staff members this year.
Upskilling and re-skilling staff is a necessary step that businesses will need to take in order to thrive in the ever-evolving digital landscape. When businesses prioritise people, this will give them the opportunity to level-up with certainty and pursue ambitious innovation projects.