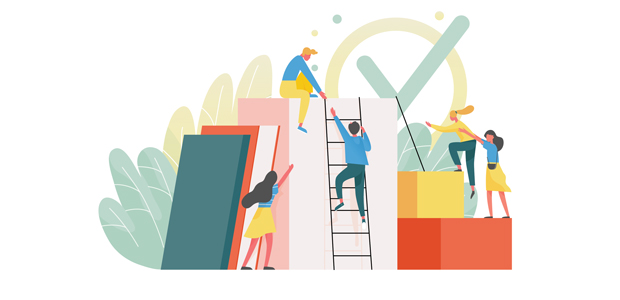 How the future is looking for the startup scene
Many startups would have been forgiven for spending the last three months focusing purely on survival. Yet, as lockdown restrictions lift, an alternative story is beginning to emerge.
It is a story of cash-flow and investment - which has continued to pour into the startup sector.
In fact one recent survey showed while the country shut down more than 65% of angels continued to open their cheque books.
And the amount they were handing over was in many cases up 18%.
Now a new report by a law-firm purpose built to support startups sets out the success many have had.
The study, released by Harper James Solicitors, sees five firms share the secrets behind how they have kept investment flowing in these unprecedented times. 
The firm's CEO, Toby Harper, said: "This report today tells the story of deals that took place during a period which is far and away the most challenging I've ever witnessed as an entrepreneur. 
"Britain's startup scene is still very much alive and kicking and our special report today serves as testimony to the amazing work many of them have been doing. It is great to read of the advice they have for other firms who may now be looking to make that step as we come out of lockdown."
According to experts the challenges many startup firms face over the next 12 months will be unprecedented.
And the Government's package of rescue measures has underlined the role they see startups playing in the economic recovery.
In April, they launched its Future Fund scheme to provide loans of between £125,000 and £5m to companies that may not be able to access other support schemes because they are yet to turn a profit.
To date, more than 320 companies have benefited from £320 million of support from the fund.
Under the scheme, early-stage, high-growth businesses from a diverse range of sectors can apply for a convertible loan of between £125,000 and £5 million to help them through the coronavirus crisis.
But there's still £120m left for startups to apply for..
And those who stand out and provide a robust business plan are the most likely to succeed.
With this in mind five startup firms who secured funding during lockdown with the support of Harper James Solicitors now explain the lessons they've learned, share tips on how other startups can succeed and set out the key challenges which lie ahead.
Here is what they said:  
"The best startups take advantage of a crisis…"
Mikhil Raja, CEO of Sonic Jobs, has recently secured pre-series A financing from UFI Ventures, Velocity Capital, the Future Fund and existing angels.
This is part of £2.5m in funding which the London-based recruitment app - who specialise in finding jobs for candidates in the hospitality sector - has secured since launching three years ago.
Are there any positives for those seeking to secure funding in the current climate?
Yes. First of all it is important to remember that despite the pandemic, investors who understand early-stage investing continue to be active.
They know that the best startups take advantage of a crisis, and that the best returns can be made investing during a crisis. The tourists are gone. The ones who remain are the ones you want on your team.
What advice would you give to other entrepreneurs aiming to secure funding?
My advice would be that every crisis is an opportunity. Use it to create a better business in the long-term. Adding building blocks to create a better business will increase the chances of you securing funding, crisis or not.
"I would also encourage startups to be resilient and be flexible. The Future Fund was an opportunity we hadn't envisaged. It has worked out really well for us, acting as a catalyst for new investors and existing investors to take part in our round.
"Ask yourself what have we learned from the 1

st

wave that will better prepare the business for a repeat event….."
Jon Arcos, founder of Axis Spine, secured £830,000 in funding in April from Mercia Asset Management and two other investors.
The healthcare firm - which develops spinal implant technology - now plans to expand its work by moving into the American market.
What were the key successes to securing your investment?
"My advice to startups looking to secure investment in the current climate is it is time to go back to basics.  Focus on the genuine value proposition of your product or service and ensure you convey what it is and why it's special. Good businesses will always get funding. Maybe an alternate version of the plan needs to be developed alongside plan A which delivers a lower spend model to prove the concept in a smaller way ahead of a bigger raise once conditions improve. If that plan requires less funding that's less dilution during the high risk raise and once things settle can go and raise more with more data and a higher valuation. 
What are the most important lessons those seeking funding can learn from the challenges of the pandemic?
"It's highly likely we will get a 2nd and maybe even a 3rd wave. We must ask ourselves what have we learned from the 1st wave that will better prepare the business for a repeat event? Can you adapt your production, supply or sales channel for this? Does your business allow you to speed up production or sales in one region and dial it down in another as lock-downs affect demand and supply? The 1st waves didn't hit everyone with the same severity at the same time. It's unlikely a 2nd or 3rd wave will too. What flexibility is there for the business?
"At Axis we planned on producing all of our goods in the US to supply the US. Pre Covid-19 this reduced our risks and volatility.
As a manufacturer we have picked apart the supply chain with greater detail than ever before to understand where the raw materials come from and when they are ordered by the machine shop. In our current orders we are making sure everything is on site before placing the PO's.  
"Reach out to investors locally and abroad, at least initially, to establish contact and gauge initial interest…."
Biotech firm Microfluid X secured £1.4m in seed funding weeks after the UK went into lockdown.
The startup which develops tech for cell-therapy now plans to rapidly accelerate its research work.  Here their founder and CEO Antoine Espinet shares his advice.
What should startups applying for funding in the near future be bearing in mind?
The first thing to keep in mind is that institutional investors need to keep deploying money, even in the current climate, as they are looking to make a return to their own investors. This means that there isn't a shortage of investment supply from institutional investors, which usually make up the bulk of a startup investment.
Has working from home made and being unable to meet investors face to face held you back?
No! Digital meetings have made it easier for startups to get a meeting with potential investors, and particularly for international investors, since the travel barrier doesn't exist anymore. Therefore, my advice to startups is to reach out to investors locally and abroad, at least initially, to establish contact and gauge initial interest. Regarding the pitch in itself, I don't think that startups that are in the technology validation / product development stages need to worry too much about Covid, unless their suppliers or potential customers are directly affected by it. However for later stage startups which are in the market entry stages, developing market access scenarios based on Covid impacts and showing up/down-sides would be important.
"Finding ways to build a good relationship with the investors is key…"
Tech firm ANB Sensors secured a major new chunk of investment in June to help expand its work in PH development.
Kay McGuinness, one of the firm's founders, says the key to their recent success has been remaining flexible.
What is the most important piece of advice you'd give other startups in the process of applying for funding?
Finding ways to build a good relationship with the investors is key. Flexibility in the valuation and a comprehensive financial model to reassure the investors and show you are astute to understanding the climate and how it is changing.
In securing your investment what did you have to demonstrate to those providing the funding about your ability to cope with the economic challenges of the pandemic?
We had to create a new financial model where we set out a contingency plan. We pushed commercialisation back by six months, reduced our sales number projections, decreased salaries and removed the new hires we had planned. We got information into the government business interruption loans and applied for an extension to our EU grant to reassure the investors that the company could survive in this environment. We also had multiple interested customers who were willing to talk to our investors to demonstrate their intent.
"You should really think about if Covid will slow down your customer pipeline and therefore you will need extra cash reserves…"
In mid-June tech startup Luffy AI was awarded more than £200,000 in funding to support its "transformational" research work.  In a major boost the Oxford-based firm received a grant from the UK Innovation and Seed Fund and now plans to use it to develop their product. Its co-founder Alex Meakins has shared his advice.
What three things will be the biggest challenge in the short term for your business?
I think one of the biggest challenges will be recruitment, onboarding and managing teams of remote workers. It is unknown how long the pandemic will last, it is foreseeable that many businesses will continue to use remote working for extended periods.
And what advice would you have for overcoming this?
This will be particularly challenging for young startups because there isn't an existing company culture to lean on. Founders will need to invest much more time than normal in communicating with their staff and teams.