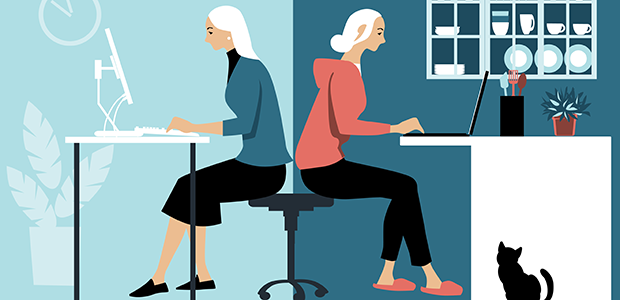 How enterprises can put a hybrid working model into practice
Once considered as a term for the next-gen of cars, the use of 'hybrid' is now more popularly used to describe the new way of working.
The hybrid working model has quickly become favoured by employees who are fed up with long, gruelling commutes to the office. Plenty have found a happy balance between home and work life, allowing for greater flexibility while actually improving on creativity, collaboration and wellbeing.
Our own research has shown that 83% of UK office workers agree that flexible working is here to stay, with many now expecting to be able to work wherever and whenever suits them best - from kitchen tables to family villas.
For many businesses, this means coming to terms with the death of the traditional 9-to-5 working day - and even the five-day working week.
But as we enter into the next evolution of work and a combination of remote, office and hybrid employees, the practicalities of deploying a highly flexible workforce have yet to be ironed out.
Key factors to consider
While this hybrid model may sound like business leaders can have their cake and eat it too, offering workplace flexibility doesn't come without organisational risk.
Supporting a highly fluid workforce represents a set of new challenges never seen before.
So, if your business is planning on integrating hybrid work into your return to office plan, you'll want to take extra precaution when planning your future workplace strategy.
1. Establishing flexibility
Creating a hard line between work/home is tough. As an employer you need to clearly define what hybrid working and flexibility means for your team.
They need to know exactly what is expected of them in regard to flexible working, including, core hours they are expected to work, and even what they should wear - at least while on video!
It's very important that remote workers are supported to define a start and end to their workday and try to keep in the same routine - this will help set important boundaries and ensure they aren't living at work.
It is imperative that every employee is on the same page, perhaps creating a simple staff hand book could help ensure clear communication.
2. Cultivating inclusivity
As employees return to the office and in-person mingling returns, those working remotely may miss out on the impromptu 'watercooler' moments and post-work drinks that their colleagues in the office can enjoy and may become further isolated from their peers.
This may dent their ability to effectively collaborate as they miss opportunities to contribute informally and weakens connection.
Encouraging informal catch-ups between employees, perhaps virtual book clubs or coffee-break groups can help bring everyone together on a human level.
Technology plays a big part here, as ensuring your staff feel supported and equipped with the right tools will help bring them together.
3. Remote tech support
Increased reliance on technology is the standout challenge of the new remote-working world. 
When every employee needs a functioning laptop and steady internet connection to connect with their peers and fulfil the bare minimum of their duties, they're one technological hiccup away from grinding to an unproductive, radio-silent halt.
Thankfully, remote IT solutions exist, like Smart Locker systems, that enable businesses to provide IT equipment to employees at all hours of the day. Smart lockers enable IT Support Teams to quickly, and easily secure, manage and distribute hardware.
By using smart lockers, it is possible to drop off broken equipment and pick up a loaned replacement. Employees can simply log their support request in their support portal and swap out their equipment at their closest hub - saving valuable time, resources and therefore money. 
Ultimately, digital innovations are only going to get more important when it comes to unlocking productivity gains and helping businesses to operate efficiently and resiliently in response to the challenges they may face. It is down to those responsible for IT infrastructure to stay on top of the emerging technologies and alert to their own organisation's effectiveness.