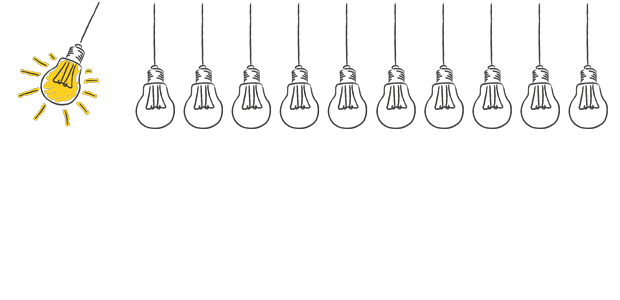 How do companies and startups develop innovations together?
New customer demands and fierce competition: the pressure on companies to innovate is high across all sectors – and established companies and young startups alike are struggling to meet these demands. Increasingly, this is leading to cooperation between corporates and startups. In this way, the speed and agility of young companies meet the professional structures and long-standing know-how of established companies. Both startups and corporates can benefit from each other's strengths in such a collaboration and ignite a firework of innovation together. 
How do you successfully innovate? This is an exciting process that requires close observation, learning, discovery, testing and validation. At the same time, a structured approach is vital to find and address new markets. To master these numerous challenges and develop new projects, more and more startups are successfully working together with established companies. But what are the concrete advantages and opportunities? What are the stumbling blocks – and how can they be avoided? 
Mutual understanding is the key to success
Some challenges in the cooperation between companies and startups arise from the different corporate cultures, working habits, and guidelines.Because often, especially at the beginning of a cooperation, hurdles such as too strict corporate guidelines or scepticism about the procedure stand in the way of creative cooperation between startups and companies. Each party can benefit from the strengths of the other.
In contrast to startups, corporates often think too product-centred, develop products according to their own interests, or optimise until the optimal time for market entry is missed. On the other hand, startups approach the development of innovations in a much more open and relaxed way. They keep their eyes open for potential opportunities and tend to be more disruptive, whereas corporates are often 'blinkered' and tend to be more successful with incremental innovations, i.e., optimisation and further development of the existing.
On the other hand, many startups lack knowledge about their potential customers, the market or industry in which they operate, and the profit opportunities they can expect. Thus, cooperation can significantly improve the problem-solution fit for corporates as well as the product-market fit for startups. 
In addition, large companies have sophisticated infrastructures such as extensive production or logistics networks, large production capacities, and possible certifications. This means they are able to easily produce prototypes, run test series or scale up production in a short time.
Expectation management: Make clear agreements
If companies and startups decide to work together, they should clarify a few points beforehand:
For example, the decision-making speeds of startups and companies tend to be different. While many startups make far-reaching decisions in the shortest possible time and proceed according to the 'fail fast' principle, the reaction speed of most large companies is significantly slower due to their internal structures and processes. Thus, the different philosophies and approaches during the process can quickly lead to misunderstandings and bottlenecks. Realistic planning, especially of timelines, is therefore paramount to avoid frustrations and ensure a smooth progress of the project. Mutual understanding is also needed in order to deal with other cultural differences, which is why it is important to put oneself in each other's shoes.
Furthermore, both parties should jointly define clear goals for the outcome of the collaboration: is the aim to develop a new market. or improve market penetration in an existing field of business? In addition, efficient collaboration requires fixed contact persons on both sides who are authorised to act by the C-level and who have budgetary and decision-making powers. Last but not least, transparency and honesty are also necessary for the cooperation between companies and startups - as in any good joint venture.
The effort pays off: preparing the ground for innovations together
Even if these requirements may sound complex or costly at first, the results are well worth it. That is why more and more entrepreneurs are taking this path: in recent years, cooperation between corporates and startups has been increasing – fortunately often not only to boost sales but to develop relevant, beneficial products and services for people. To improve the chances of success of such a project, it often makes sense for a third player, such as our accelerator programme RESPOND, to take on a moderating role. At the same time, essential know-how should be aggregated within the group. For example, by appointing a dedicated 'corporate facilitator' who knows the specifics of working with startups and also communicates these to the decision-makers in the organisation accordingly. Establishing a framework that is mindful of all of the above creates the basis for successful cooperation and the development of genuine innovations.