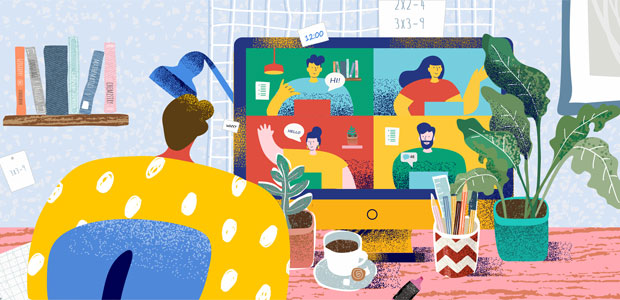 How to Create a Stylish Home Office In A Small Space
With the ever-growing numbers of people who are in the white collar jobs, against the very limited space in towns and cities where most people would prefer to get an office, there is a need to put up offices in homes. Also in this pandemic season, working from home has become a part of the new normal. Remote working has greatly helped in decongesting offices and minimising the need for daily commute.
Why is it best for you to create a home office? For a variety of reasons which include:
It will save you money, especially if you are used to renting office space.
It saves you time: Time which would otherwise be spent commuting to work can be used to do meaningful work.

Working from home has, in most cases, no limits of the working hours. You can work anytime as long as you get it done.

There is no image to maintain - it is still okay for you to work in your pyjamas. You don't have to be in your office wear.
Unless you have plenty of room in your home, your home office will most likely be in a small, probably squeezed space. This, however, doesn't mean the office has to look dull and disorganised. Below we have discussed a few tips that will help you create a stylish home office in a small space.
1) Perfect Choice Of Location
Pick a point in your home which is most suitable for you to be able to decorate and give it a personal touch.
For instance, in a corner where you would be able to decorate with your favourite indoor plants and use grow lights to give them some light for their growth.
2) Use Stylish room divider curtains
Get your favourite colours of very elegant curtains to separate the small office area from a larger room. It could be your living room or the master bedroom. Curtains are most convenient as they are easily washable.
3) Creativity on Storage materials
A sure way of maintaining cosiness in the office is maintaining neatness. Avoid keeping your office stationery anywhere. You can get a designer rack, or a beautifully painted drawer to keep your notebook, calculator, pencils etc.
Organisation is paramount when you are mindful of the space.
4) Utilise the vertical space perfectly
You can style your shelves to suit your taste like the colour to paint, innovate a pattern to organise the file ,you can also hang a couple of your preferred flowers just to make it  look beautiful.
The good thing with shelves is that you can have them placed on top of your desk.
5) Be keen on the choice of furniture
Consider getting a small sized office table and chairs. They can be designed as per your preference, paint your favourite colours. Since most files can be stored digitally, you can opt not to get a cabinet that way you save on space. You can also consider getting a chair with a table attached. Just enough space you place your laptop.
6) Manage the cables
Cables can make your office so congested and untidy. To manage them, you can mount the main power strip to the wall, or keep it on top of the desk. There are different shaped, very stylish cord organisers that are readily available.
7) Have access to Natural light
Natural light is essential to human beings because it helps avert many health problems by boosting immunity, it reduces stress and anxiety,  prevents headaches and prevents high blood pressure.
Place your desk strategically near a window or the door where you can access light from outside.
8) Give it a Personal Touch
It is important to make your office feel and look like your own. For example, you can hang your family photos, your own choice of art like crafted animals or get the space painted in your best colours, furniture as per your taste or classy calendar. This all for your happiness and keeping motivated while at work.
Conclusion
Your home office is still your work place where you spend most of your time at. Therefore, it is a place you need to put a lot of effort to keep it cosy and pleasant for your liking and comfort.
With these simple ideas, make a step forward to ensure your office space reflects your style and taste and it is your favourite place to be. Working from home must not be uninteresting!