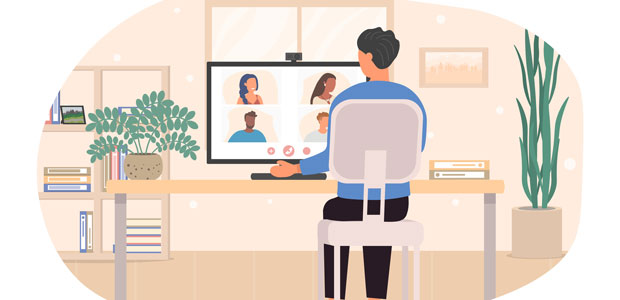 How to create an office in any area of your home
Working at home but don't have a study? From the kitchen to the bedroom, flexible office specialist, Workthere, has shared top tips on how to create a practical workspace in any room of your home.
1) Bedroom
The bedroom is a popular home office, especially if you have housemates and need some time to yourself to work. Although your bed might be a tempting work from home spot, this can negatively affect your sleep routine as your brain will associate your bed with work, not sleep, so avoid making it your permanent workspace.
A dressing table can easily be transformed into a desk by setting up your laptop there, but make sure your chair and laptop are at the right height, and use props such as books and pillows to help if needed.
According to Northcentre eye care, the top of your screen should be at eye level and your legs should rest comfortably on the ground with your knees bent at 90 degrees.
2) Kitchen
The kitchen can also be easily transformed into a home office space, and is very convenient for those all-important tea and coffee breaks. A kitchen table is a great working from home space, or set up your equipment and work from your kitchen island if you have one.
One thing to consider when working from the kitchen is that it's often a high traffic area, so consider finding a separate breakout space for calls and meetings, or introduce a schedule so your family knows when it's off-limits and when it's okay to pass through.
3) Dining room
If you're lucky enough to have a separate dining room, this is the perfect place to set up a home office. You may already have a dining table and chair which will easily double as a desk - just set up your laptop and monitor on your table and you're good to go. Do remember to clear your laptop and papers away from the dining table once you've finished for the day.
Maintaining a positive work-life balance while working from home is incredibly important, and you don't want to be thinking of work while you're trying to unwind sitting down for your evening meal.
4) Living room
There are many ways to transform your living room into a functional home working space. Bring a table and chair into the living room to work on if you can, and try to avoid working from your sofa, as this blurs the lines between your work and home life and encourages bad posture.
Whilst coffee tables can be used for any papers or notebooks that you need to work, make use of storage solutions to ensure anything work-related is tidied away once the working day is over.
5) Garden
If you're lucky enough to have a garden, it can be a fantastic alternative workplace when the weather allows. A garden table and chair make for a brilliant makeshift desk. Use paperweights to hold down paper to make sure they don't blow away and be prepared to pack up quickly if the weather takes a turn.
Do note that you'll need a strong WiFi connection if you want to work from your garden, so check if you'll be able to connect to the Internet before you set up your space. If not, a WiFi extender or internet booster can help boost your connectivity.
6) Conservatory
Again, if you're lucky enough to have a conservatory in your home - use it! A conservatory has the benefit of masses of natural light, which is an ideal lighting condition to work in, and as they normally back onto your garden, working from a conservatory provides lovely views all day long, which can help boost your mood.
Conservatories can become very hot when it's sunny, so invest in a fan or open a window if you're working here on a warmer day.
7) Hallway/landing
For those people who are struggling to find space in their home or flat, a hallway or landing space can easily be transformed into a home office by bringing in a table, chair and computer. As you're not going to have as much space as other rooms, working in a compact way is key.
Consider investing in cable tidies and files so you have ample storage to keep everything tidied away and put as much as you can away at the end of the day so you're not cluttering the space up for other people in the house. Hallways and landings tend to lack natural light too, so if you can't set up your workspace near a window, make sure to bring a lamp into the space so you're not working in darkness.
Cal Lee, Global Head of Workthere, commented: "As a result of the COVID-19 isolation, working from home has become the norm for most UK workers up and down the country. For many it has introduced a new level of flexibility and potential productivity that staff and employers alike are keen to embrace further as the isolation period lifts and we begin to start thinking about returning to work. Working from home is not a new concept but one that is likely to establish itself as part of our new working norm that complements time spent in the office."   
For more information, visit Workthere's blog here.