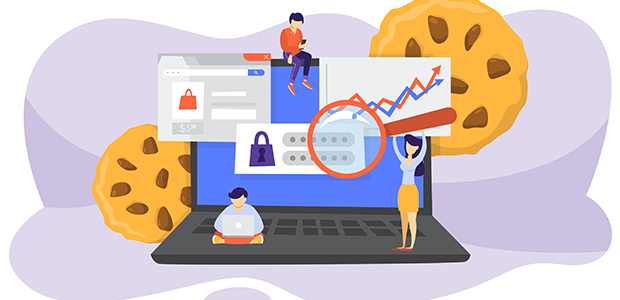 How the cookie crumbles: what the death of third-party cookies means for marketers
The world of online advertising and marketing has been in large part powered by cookies. These little packets of code allow companies to track the online behaviours and habits of users across the web and serve them personalised ads.
According to Statista, nearly 83% of marketers rely on the data gathered by third-party cookies to inform their campaigns and advertising, building both awareness and sales. It's no wonder then, that Google's plans to scrap third-party cookies by the end of 2024 has marketers sweating, with 41% citing this inability to collect data as their biggest challenge to date. 
On the face of it, this doesn't seem like particularly positive news for the marketing and advertising world. However, with challenge comes opportunity, and marketers are now in a unique position to assess their current reliance on third-party cookies, redefine the methods they are using to engage their audiences, build relationships with customers, and continue delivering creative campaigns.
Shifting consumer expectations
The writing has been on the wall for third-party cookies for a while, with Safari and Firefox browsers having already phased them out of use. Google are now following suit amidst the growing concerns around data privacy, backed by legislation in both the US and the EU, which can be seen as a reflection of the shift in consumer attitudes towards how their data is being collected, shared and used.
Google's phasing out of cookies specifically refers to third-party cookies, that is, those that track users across the web. Put simply, consumers don't like being tracked. They value their privacy more than ever. So much so, that the European Consumer Trends Index 2023 reported a resounding 58% of its 7000 respondents described ads served to them through third-party cookies as "creepy".
No marketer wants their carefully-crafted creatives to be regarded as creepy or intrusive – this is not how customer rapport and engagement is achieved. With third-party cookies rapidly becoming a thing of the past, it's time to rethink how we collect data to deliver those personalised, engaging experiences that drive improved performance of your advertising campaigns without turning audiences off.
Using first-party data
Without the use of third-party cookies, marketers will naturally become more reliant on first-party data, that is, the data collected from how users interact directly with a company's website, app or various social channels. This sort of data is particularly valuable for identifying how users found you, demographics and creating customer segments, as well as retargeting customers and website visitors.
With first-party data set to become even more important, it's necessary for marketers to get it right when it comes to collecting it. HubSpot tracking code counts as a first party cookie and automatically tracks how users found your website. If you're using another CRM, something like UTM Simple can be a great way to get this incredibly useful data that's vital for improving the performance of your digital marketing.
As this data is not given directly by consumers, it's crucial that businesses foster a sense of openness and transparency. In the EU, this transparency is legislated for, with websites needing to gain consent before being allowed to track with first-party cookies, but taking an extra step by explaining what data is being collected and why will help to build both trust and credibility, making it more likely for well-informed consumers to consent.
Server-side tracking
Ad platforms will still need data to work effectively, and without third party cookies, server-side tracking will increasingly fill this void, while complying with necessary privacy laws and requirements. With server-side tracking, data flows directly from websites to ad tech servers such as Google and Facebook, dispensing with the need for third-party cookies.
This solution provides the data needed for effective advertising campaigns, as well as being more reliable as it is predominantly composed of first-party data, giving you more control over the types of data you collect. With brands and marketers facing a cookieless future, server-side tracking offers an alternative solution that's already supported by big ad tech platforms.
Going to the source with zero-party data
While the importance of first-party data is set to increase, marketers also need a deeper understanding of individual customer preferences and interests if they are to create effective campaigns and experiences, and personalise these for individuals and customer segments. How can this be achieved once third-party cookies are gone? Well, they can go directly to the source and simply ask the customer.
Rather than surreptitiously gathering data through third-party cookies, brands and their marketing teams have the opportunity to build rapport with their audiences by simply connecting directly with them, and asking them to voluntarily provide these insights. Research indicates that 74% of consumers are willing to share their interests, preferences and demographic information with brands if it would directly improve their online experiences. It's also important to bear in mind just how much users willingly share on social media, too.
This "zero-party" data comes directly from consumers, and as such, offers a greater degree of accuracy and reliability. Marketers no longer need to fill in the gaps or make inferences, providing a strong informational basis for effectively personalising campaigns and marketing communications, while fostering better engagement between brands and audiences.
Embracing innovation in a cookieless world
In a web without third-party cookies, it is brands and marketers that are able to adapt and innovate how they collect valuable data and how this informs their campaigns that will come out on top. Already, the countdown has started, with marketers looking at new ways to gather the data they need to offer effective, personalised experiences without alienating their audiences or becoming over reliant on a single technology.
While phasing out third-party cookies undoubtedly poses a significant challenge, it also offers a chance to connect and engage with audiences in new and creative ways, while fostering a greater sense of trust, transparency and credibility in how brands and marketers gather and handle customer data.