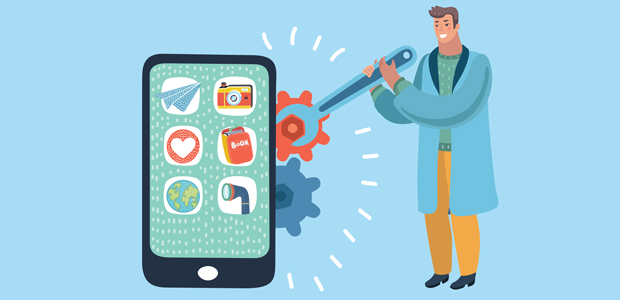 How can technology help people overcome the COVID-19 pandemic?
There is no part of society that has been unaffected by the COVID-19 pandemic. On 12th April, the UK sadly became the fifth country to record 10,000 deaths from the virus, with the Government expected to continue its tough lockdown measures for many weeks to come.
Indeed, the current situation is made all the harder due to the fact that we simply do not know how or when this saga will end. In turn, people's mental health is fast becoming just as important a talking point as people's physical health – while not suffering from the virus itself, the broader challenges of social distancing, financial disruption and general uncertainty may take their toll.
However, there is one positive we can all be grateful for at this time: technology.
Technology is playing a huge role in helping people overcome the problems they're experiencing during this testing period. What's more, in the battle to find a viable "exit strategy" from the pandemic, we will have to rely on tech more than ever before.
Here are a few ways in which technology has been, and is likely to be, our saviour in the weeks and months ahead.
Keeping us talking
Perhaps the most obvious way in which we are now relying on technology is for communicating with friends and family. Social distancing has meant that emails and instant messaging will no longer suffice; video calls are now really important for maintaining a social connection.
In fact, in early April WhatWeWant commissioned an independent survey of more than 2,000 UK adults and found that 66% of people had used video calls to stay in contact with people during the lockdown.
This comes with its own challenges; not least having to master the art of holding a phone at the right angle so as not to have the camera focused on an unflattering view of oneself. But the fact that smartphones, laptops and video conferencing software are so widely available is a huge positive.
The technology in our pocket, which before we may have taken for granted, is essential for keeping people in close contact even when they are physically apart. The importance of this cannot be underestimated.
Helping communities carry out random acts of kindness
Another positive trend many of us will have witnessed since the start of the lockdown is that communities are coming closer together. According to the aforementioned WhatWeWant study, the majority (53%) of people in the UK say their local community has rallied together during this time of crisis.
Most notably, neighbours are looking after each other and, moreover, helping the most vulnerable people in their area. From helping to do the shopping for elderly people through to arranging care packages and meals for NHS key workers, the pandemic has encouraged communities to perform random acts of kindness.
Technology is vital in this regard. It is the platform for connecting communities and networks so they can channel their efforts and resources towards a particular goal.
The most obvious examples of this are crowdfunding pages. Local businesses, groups of friends whole and neighbourhoods are setting up crowdfunding pages to raise money for good causes – a local café, for example, might raise money so it can cover the costs of producing dozens of meals for doctors and nurses. A group of friends, meanwhile, might all chip in to buy a gift for someone who has been badly affected by COVID-19.
At WhatWeWant, we have seen a surge in the number of people calling on crowdfunding technology to do just this. Indeed, without apps and online platforms to raise both awareness and funds in this way, it would be extremely difficult for this kind of collective support to take shape.
Managing work and finances
Fintech has been a buzzword for the past decade. But the true value of financial technology, and the general movement towards financial services being delivered via digital solutions, is becoming apparent now.
People are now not able to go into their local high street bank, nor can they see their financial advisers. Yet banking services continue as normal; it is only the way we access them that has changed.
Mobile and online banking, along with AI-powered chatbots and video appointments, are enabling people to keep a handle on their finances. They can open and close accounts, move money around, and check on the health of their balance all from the comfort of their home.
Similarly, many people's work life has continued largely uninterrupted. Admittedly some tasks might become a bit more time-consuming or difficult to coordinate, but a great many businesses are able to continue executing and delivering work even when employees are based in their respective homes.
Advances from the past 20 years, such as cloud computing and communications tools (e.g. Slack), have made it relatively easy for teams to work together even when miles apart.
Finding an exit strategy
Recently the UK Government unveiled that it was planning on launching a new app – it would tell people when they had come into contact with someone who has tested positive for COVID-19, in turn enabling them to self-isolate before potentially spreading the virus further.
It is just the latest example of technology's role in helping us actually emerge out the other side of this lockdown. Of course, the most obvious examples of technology being used as part of a potential exit strategy are in the healthcare space – namely, testing to see if people have or have had the virus, treating the unwell, and analysing how it might spread.
An entire book could be written about the role of data and technology in aiding professionals around the world to track, contain and treat the virus. It is a book that will probably hit our shelves in the future, and needless to say I will not be the author!
Nevertheless, when we look at society as a whole, the role of technology in helping people get through the COVID-19 crisis has been, and will continue to be, huge. From remaining in touch with friends and on top of our finances through to performing acts of kindness and continuing to work as normal, we should be grateful that we have so much amazing technology incorporated into our day-to-day lives that is making these things possible.