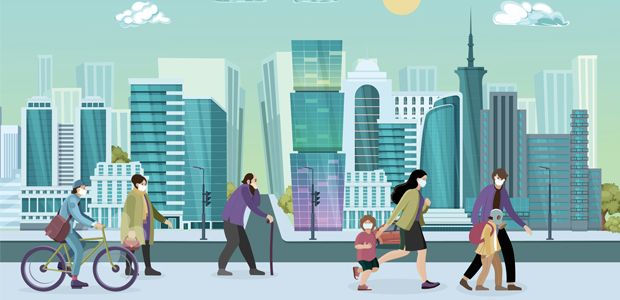 How can SME's ensure that they are COVID-19 safe?
British shopkeepers sighed a breath of relief on Monday night as the Government announced lockdown restrictions will be lifted as of 15th June 2020, allowing non-essential retailers to reopen.
The latest ease of restrictions will give hope to over 300,000 retailers who shut their doors back in March and have been patiently waiting for guidance on how to reopen. With so many mixed messages out there around how to offer a safe environment for staff and shoppers whilst reducing the risk of spreading COVID-19, the reality of getting back to business is a minefield of confusion and fear.
"It's not as simple as just lifting the shutters and waiting for the tills to ring," said Bobby Lane, CEO Factotum. "Customer safety is paramount in reassuring shoppers that it's safe to head back to the high street and there could be severe legal consequences should businesses not follow the correct protocol."
Charlie Hanbury of The Print Team in North London said: "It's one thing to know we can get back to business in a matter of weeks but how am I supposed to know if I have the right procedures in place? The loss of income and concern over the future of my business has been dominating our lives over the past few months and although I can't wait to open the doors again, I am terrified about the risk of spreading the virus and being prosecuted."
We are living in unprecedented times and put starkly, if a business is found to be negligent and did not carry out a risk assessment, an employee, contractor or third party who claims to  have contracted COVID-19 whilst in the work premises and or another injury could file a legal claim in an Employment Tribunal or elsewhere. In serious cases, business owners could face a criminal prosecution for breaching health and safety legislation by failing to take all reasonably practicable steps to ensure employees' physical and mental safety.
Factotum, the multi-disciplinary outsourcing business, has created five steps for businesses to follow to get them ready to open their doors in just over two weeks' time. Lane continued: "No business is immune to the latest health and safety guidance - just like COVID-19, there are no exceptions and you can't cut corners. This is going to take more than just a standard risk assessment. There is now more than ever, a duty of care on employers with respect to their employees and these five steps are designed to ensure no stone is left unturned."
The following steps created by the team at Factotum act as guidance for businesses to ensure all workplace risk assessments are in place. 
1) Identify the hazards
Ask yourself if an infected person were to enter your shop (including a staff member or visitor) what are the hazards and the potential risks to others? Are there areas where there could be a bottleneck of 'footfall' such as a fitting room (if they are allowed to open), queue or at the till. You will need to look at the different types of tasks staff are carrying out and where, evaluating any risk of infection.
2) Decide who might be harmed and how
By carrying out the initial audit, you will have the information on whether some employees are more at risk. If you or any of your staff are pregnant or have pre-existing health conditions, will they be willing to come back into the workplace?
3) Evaluate the risk and decide on what precautions you need to take
After you've established the potential severity of each risk - you need to look at how you will manage them. This may include limiting the number of people in the premises at any one time, closing off some facilities such as changing rooms or eat-in dining, and issuing PPE.
4) Record your significant findings and implement them
Document and communicate your audit. Share this with all employees as well as any other relevant parties such as customers or suppliers. Ensure everyone has read the information in order to educate and train your staff on the practices and policies your business has decided to adopt. The Government requires all employers with more than 50 employees to publish their risk assessment.
5) Review your risk
Over the course of time, the risk of COVID-19 will change (either worsen but most likely lessen). Monitor this closely and ensure you have regular reviews and revise your health and safety policies when needed. Ask staff for their feedback on what is working and what is not and adjust accordingly.
Lane also recommends that each business has up to date Employers Liability Insurance in place to cover the risk of claims from employees about injuries or illnesses suffered in the course of employment. In addition, businesses should have public liability insurance which covers claims from visitors or customers. As with any insurance policy, ensure you read the small print. 
For more information about how to safeguard your business contact the team at Factotum and check out the latest guidance from the Government.