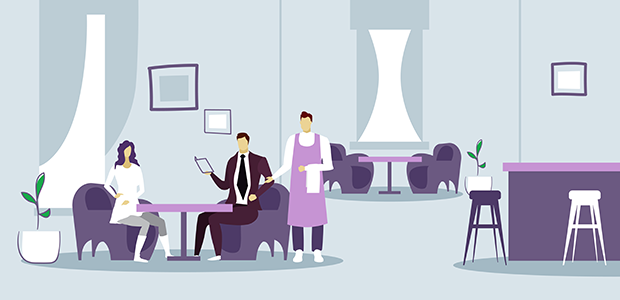 How can hospitality businesses thrive in 2022/23?
The UK hospitality industry had a rougher pandemic than most. Between social distancing measures, forced closures and widespread uncertainty, business owners watched with gritted teeth as the sector lost an eye-watering 13 sites a day since the arrival of COVID-19.
While social distancing and closures are no longer part of daily life, hospitality is still not without its challenges. Staff shortages and supply issues remain causes for concern, while the budding cost-of-living crisis means that consumer spending on eating out is unlikely to increase greatly in the near future.
Consequently, the outlook for hospitality throughout the 2022/23 financial year is not wholly encouraging.
But one should acknowledge that those who survived this far did not do so by chance, nor are they likely to give up now. The owners of restaurants, bars, and cafes showed resilience and ingenuity in their approaches to survival, and while furlough payments, community support, and the Government's "Eat Out to Help Out' scheme played a role, it was hospitality businesses who made ends meet.
So, what did hospitality business owners do to make it through the darkest days of the pandemic? What can they do to make success out of misfortune? And what can they do to not just survive in the coming year, but to thrive?
Digging deep
To answer these questions, Peckwater Brands conducted a survey of more than 250 decision-makers from the hospitality sector, showing the means by which they made it through the pandemic, while revealing a prevailing need to innovate and upgrade operations.
The most common response to the loss of in-person dining and impulse buyers during
lockdowns were pivoting to takeaway services, with 75% of those surveyed saying that they had relied on takeaway services to survive, with many turning to third-party delivery platforms like Deliveroo and Uber Eats.
This shift revealed that success in the delivery market comes with its own challenges, with 68% of those surveyed seeking new ways to access a wider pool of customers, and 52% saying they found it hard to update their offering to keep up with consumer trends.
What's more, 56% began running a virtual brand (food brands that exist solely on third-party food delivery platforms without their own physical locations) or dark kitchen out of their premises, showing hospitality owners' willingness to innovate and adapt in difficult times.
These figures underline the opportunities that hospitality owners have identified within home delivery, which the growing popularity of those third-party platforms shows have outlasted the pandemic, but also that success in the delivery market requires a change in thinking and approach. Capitalising on this is one way that hospitality businesses can thrive in the coming year, and the key to doing so is data.
Reaching the people
Demand for food delivery is extremely fickle, as food trends move fast. As such, it can be hard for vendors to keep up. Peckwater Brand's research found that 64% of businesses were feeling the need to diversify their menu, but doing so can be a costly and time-consuming exercise, and also requires inside knowledge of which way local demand is heading. 
One benefit of consumers placing all their delivery orders through a centralised platform is that it generates valuable user data that can be used by cafes and restaurants to tailor their menus to the most prevalent trends.
Capitalising on trends does not always require a fundamental shift to an enterprise's offering either – by integrating virtual brands into their operations, restaurants can follow changing consumer demand with ease. If their local demographics are seen to be ordering more Mexican fare than usual, they can swiftly integrate a Mexican-themed virtual brand into their kitchen and enjoy the increased order volumes without needing to alter their principal offering.
Boosting order volumes by any means is the most direct way to make hospitality businesses more profitable, and one way to do this is to align their offerings with local taste through virtual brands and data-driven strategy. However, these margins are further augmented if the business is run as efficiently as possible, maximising the use of its capacity and limiting waste wherever possible.
Trimming the fat

 
Waste is an enduring problem within hospitality, and while 74% of respondents stated that their business has a strategy in place to improve efficiency and cut down on waste, 32% stated that they did not have a clear idea of how waste it produces and 66% have the capacity – in terms of human resource and/or space – to increase their output significantly if demand were increased.
To thrive in the coming year, hospitality businesses need to ensure that they do everything within their power to streamline operations and minimise waste – be that in terms of wasted ingredients, or underutilised kitchen capacity.
Again, virtual brands can serve as a solution to these issues, as the associated increase in order volumes can take advantage of surplus kitchen capacity, and if the integrated brands are aligned in terms of key ingredients, less food would end up going to waste while finding a shared supplier could decrease overheads.
Tangible issue, virtual solution
In making their enterprises more in-demand, better run and more profitable, hospitality owners must not be afraid to try new things. Integrating a virtual brand into their kitchen operations is a possibility for most venues given the extend of underused capacity within the sector, and it can benefit businesses in many different ways.
For example, Peckwater Brand's partners have reported that after integrating a virtual brand into their operations, order volumes increased on average by 823%, while income went up between £12,103 - £45,823. Given the challenges faced by the sector, businesses that have dreaded another year of hardship can't afford not to try it for themselves.
We don't have to keep viewing the hospitality sector as the beleaguered survivor of a rough patch – with the right approach, and the willingness to adapt, businesses can look forward to the coming year and enjoy real success. I hope virtual brands can give hospitality owners something to get excited about.