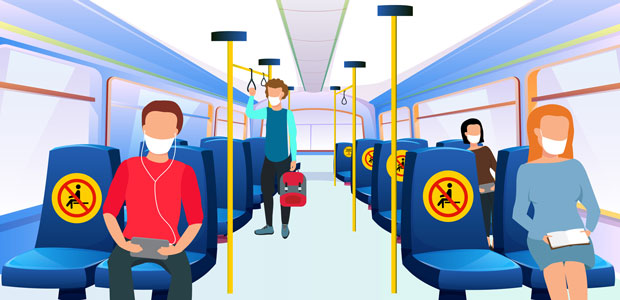 How businesses can support anxious staff returning to work on public transport
Rising numbers of people are returning to trains and buses to get work, newly released figures reveal. The data found that in some parts of London footfall was up almost 300% last week compared to the same time in June 2020.
And in a sign that the usual 9-5 is being turned on its head there has also been a rise in the number of people travelling after 10am and 6pm indicating employers are allowing staff to work more flexibly.
But there are growing concerns that mixed-messages from Government over face coverings will leave many employees anxious about hopping back on public transport.
According to TUBR, who carried out the research, more than 75% of UK workers would like to see face coverings remain mandatory in all UK towns and cities. While less than 10% say they would feel comfortable asking a fellow passenger to pop one on.
With this in mind TUBR has released a new guide to advise those returning to trains and buses next week how to move around most safely.
Dash Tabor, Founder of TUBR, said: "Many people are now returning to the bus, Tube, train or tram after more than a year working from home. There is understandable anxiety among passengers which has not been helped by the mixed messages from central Governments on face coverings.
"But the good news is that there are a few sensible steps all passengers can take to better protect themselves and we'd urge employers to share advice with their staff. It would be wise to remain open-minded to them working a bit more flexibly as the country continues to unlock."
Psychologist Sir Cary Cooper from the University of Manchester has conducted a special report on COVID-19, he said: I've found through my research that it will take some time before people feel the same security and comfort in public places as they once felt. It will take another year or even two before we start seeing people relaxing their thoughts and behaviours to pre-COVID levels.
The psychologist added: "We're seeing a huge demand for a hybrid way of working. There was a strong desire by many for this pre-COVID and now that we've proven we can be productive from home I believe this will be demanded from employers. While work from home all the time has been tough in many situations, the majority have seen a healthier work-life balance."
"People will continue to be cautious, and we'll see people's behaviours mutate in other ways. For example, people who are more careful and cautious will be more likely to avoid smaller spaces, spaces with lower ceilings or dark atmospheres because these spaces tend to bring feelings of claustrophobia which flags an internal alert to take care."
Click here to access the guide 'How To Travel Safely After COVID-19' and find out how the free-to-download app might help your employees.