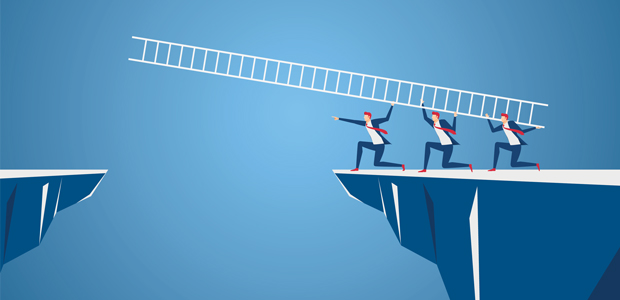 How businesses can bridge workplace divisions in a post-pandemic age
As we marked National Work Life Week last month, it became clear that work-life balance is a value not everyone shares equally. According to a new poll carried out by the charity Working Families, 41% of working mothers say being a parent is holding them back from promotion at work – and 50% of people with caring responsibilities (such as looking after an ill or elderly relative) feel the same way. 
With anxiety and depression also soaring as a result of Covid-19 – women and young people are the most affected, says a major report led by University of Nottingham and King's College London – a wide intersection of workers stand to benefit from greater flexibility in the workplace. 
For these employees and others, the pandemic has intensified existing pressures; but it's also offered new solutions. The same Working Families study found that 41% of working parents believe the pandemic has had a positive impact on workplace culture at their organisation, while 61% carers say open conversations about wellbeing and mental health are more accepted at work now than they were before Covid-19.
However, both groups may be concerned that now that lockdown is over, taking time off for caring needs will once again be frowned upon at work. As UK businesses stand on the cusp of a new post-Covid reality, it's vital that we build on the momentum carved out by a new set of flexible working practises – rather than revert back to the same-old. 
Flexibility: the key to post-Covid inclusion
A recent study of 180 companies by our team at Just Eat for Business highlights how flexibility is no longer a special perk but an expectation for many employees in a post-pandemic era. Eighty percent of businesses we surveyed continued to offer working from home as an option to employees after their offices reopened earlier this year, and 89% believe working from home at least two days a week is now optimal. 
This compares to the mere 1% of employees who worked from home for three days a week prior to the pandemic. Just 4% of businesses currently expect their employees to be in the office for a full five days a week. 
Clearly, the global health crisis has reset norms around flexibility – and this step-change is crucial to tackling divides between different working groups, including mums. According to the latest McKinsey research on the topic, remote-working mothers who report more flexibility to their schedules  – a key indicator of work–life balance – are three times more likely to have a positive state of wellbeing than those who lack the same flexibility. 
Organisations that create roles with more fluidity and autonomy are likely to enhance job satisfaction across the board, too. In a 2017 study of 20,000 workers, researchers from the University of Birmingham found that the higher levels of autonomy a worker experienced, the higher their sense of wellbeing. Women, in particular, appreciated autonomy in relation to scheduling and location flexibility.
Bridging the gap between remote and in-office workers
So, flexibility – including the ability to choose where and how you work – can help avoid the dangers of micromanagement, as well as paving the way to a better work-life balance. 
However, the capacity to work from home is not in itself a magic elixir for employee engagement. By their very nature, some professions – e.g. frontline medical workers – cannot accommodate the model. And even for businesses that can, there remains the risk of a gulf emerging between remote and in-office workers. 
Many remote employees fear their lack of visibility means they will be less likely to be promoted compared to colleagues who visit the office regularly, or even every day. Climbing the career ladder becomes a harder prospect when you are not present in person – whether for key meetings, or those all-important water cooler moments. There's also a danger of remote workers becoming isolated at a time when loneliness is already at an all-time high. 
For this reason, team leaders will need to work harder to create a sense of togetherness between on- and off-site employees. In our own survey, companies see equal perks playing a key role here: 81% say it's "important" or "very important" for businesses to provide benefits that are accessible to both in-office and at-home workers. 
Food perks, in particular, have significance in their ability to cement a feeling of belonging: two out of three employees we spoke to think that eating lunch together as a team develops a great work culture. 
Relationship building in a new workplace era
If UK businesses are to reframe the concept of work-life balance in a post-Covid age, a brand new playbook is needed. This involves looking to new cultural trends that have emerged during the pandemic – hybrid working, for example, and greater dialogue around mental health – as well as reviving those that have long since disappeared.
The office lunch break falls into the latter category. According to the mental health charity Mind, regular breaks and a mutually supportive environment are both key to employee wellbeing; and both can be facilitated by a shared team lunch. 
In addition, studies have found that employees who take a lunch break every day report better job satisfaction and engagement as a result, while those who routinely share lunch together – e.g. firefighters – see it as a central part of being able to operate effectively as a team. 
We in the business world stand at a turning point right now: and how we go forward will determine whether office divisions heal – riding on a wave of Covid-fuelled unity – or splinter further. 
At a time where company culture has become more important than ever, food can be the social glue that brings people together. Communal meals promote teamwork and information building, in a shared ritual that can be enjoyed by everyone.With meals delivered to both in-office and at-home employees at the same time, teams can take time out to break bread together – no matter where they are based. 
It's exactly this kind of routine that forms part of a new office fabric; a structure where divisions are minimised, and work-life balance rules all.