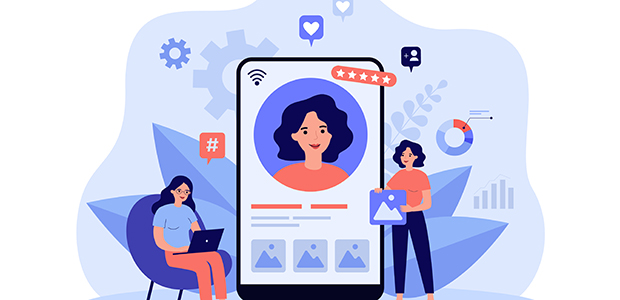 How building your personal brand can change your life
So many founders and startups don't get the recognition they deserve, but it's not because they aren't good enough. It's because the world doesn't know about them. Yet.
The solution? Build a personal brand that sets you apart from competition. That positions you as THE expert in your niche. That makes you seen and heard.
But what is personal branding? A quick Google search tells us that personal branding is the practice of creating a brand around a person rather than a business entity.
Personal branding is something worth investing in. And there's no better success story than Sophie Miller to discuss how building her personal brand has quite literally changed her life.
Sophie Miller, Founder and Director of Pretty Little Marketer (PLM), an online community for people in and on social media, is the go-to for making social media simple.
So, lets dissect what might seem like a mystifying subject, and hear from Sophie for her top practical steps to getting started with building your personal brand on LinkedIn.
Let's get back to basics
Like most of us, when Sophie first came across 'personal branding' she was baffled.
"I didn't even know that me posting as Sophie was building a personal brand, I thought I was just posting content," said Sophie.
And it really is that simple.
To Sophie, personal branding is the process of creating a reputation for yourself. It's what you're known for.
Fellow founder and friend, Shoaib Ahmed, once described personal branding as taking your offline self, online, which inspired Sophie as she believes the more yourself you can be, the better.
That's personal branding. Being unapologetically, authentically yourself.
A world of new opportunities
An idea born from feeling alone has resulted in a community of over 350,000 followers across her platforms, to whom she shares inspiring, educational content every day. Sophie's goal with PLM is to create a community that makes social media simple, bringing people together by instilling confidence. And it turns out Sophie isn't so lonely after all.
It all began from an Instagram post three years ago. Born out of the panic of feeling alone in the world, in June 2020 Sophie shared her first post to the @prettylittlemarketer Instagram, which, six months later, had reached 8,000 followers.
In January 2021 Sophie took to LinkedIn, posting as herself for the first time. And that's when the real magic happened.
Within a month of posting as herself, Sophie signed her first freelance client, was presented with opportunities to speak as a guest lecturer, and worked with a dream client helping them to run their own LinkedIn page.
Fast forward to now, and she's hosted her own in-person event, featured on countless panels, and is a role model for thousands of aspiring marketers.
"The switch between hiding behind a brand to posting as myself has put me as the expert in the right places, and in front of the right people," explained Sophie.
"I don't think PLM would be what it is if we never went on LinkedIn and used my voice to amplify what PLM was doing," she continued.
The simple switch from posting content from her business account on one platform, to posting as herself on a different platform allowed her to reach a whole new scope of people. Not only did it change her life, but it accelerated PLM beyond all expectations.
Getting started
LinkedIn is no longer a platform for experts making six figures, and you don't just have to share your career milestones or befriend your colleagues. Content has become personal.
Sophie explains that LinkedIn doesn't have to be a scary place, and there's room for everyone on the platform.
"A lot of people do what you do, but nobody can do what you do the way you did it. That's what makes a person really special."
What sets you apart from others in your niche is your own story, and sharing your unique experiences the way you would talk to a friend.
Sophie's biggest advice is to not overthink it. Consider what content you enjoy consuming and give it a go with your own spin on it. Whether that's content with an engaging image, five snappy bullet points, or telling a story, chances are, if you enjoy a type of content, someone else will too.
In the words of Sophie: "Don't focus on the fluff. Don't make excuses. Just post."
To get started, you can follow Sophie's mini strategy. Everything you do will come back to these two questions: What do you want to be known for?
Who do you want to be known to?
Adjust your profile and content to reflect these answers and you've got yourself a winning strategy.
By setting your end goal you can begin breaking it down. What are you already known for? What do you want to be introduced as? What do you want conversation to be based around?
Use these two questions to pinpoint your end goal and suddenly you've got something to work towards, and your content and profile should clearly communicate those things.
Create real life magic
It's easy to overthink personal branding and your first post might be rubbish, but your next will be better and so on. Like the saying goes, Rome wasn't built in a day. And neither is your personal brand.
Take Sophie's success as your sign to step away from the shadows, stop hiding behind a brand or logo, and share what you have with the world. Share your uniqueness because it might just change your life.
Sophie has plenty more wisdom where that came from, and I couldn't recommend her accounts more for building your knowledge and confidence in all aspects of social media marketing.
Sophie's 3 practical steps to personal branding
If you're struggling to write a bit of content, something that's always stuck with me is what Amelia Sordell once said. Type how you talk. For me, it's transformed my approach to writing my posts.
Sit down to answer a question rather than to write a post
Something I recommend is to sit down with the aim of answering a question. It's easier to give three practical pieces of advice on how to write good content because you're answering a direct question. But if I had to sit down and write a LinkedIn post from scratch, my mind would go blank, and I'd struggle. It takes the pressure off to brain dump an answer and then transform it into something magical.
Talk TO your audience, not AT your audience
A really simple way to encourage audience participation is to make sure each post contains a 'we' and a 'you,' so they're directly addressed and included, and a hand-off to them at the end of your post with a question for them to answer in the comments. Think "what are your thoughts?", "what do you love most about the scrappy startup stage?", or "what's one marketing lesson you've learned recently?"
This article originally appeared in the March/April issue of Startups Magazine. Click here to subscribe