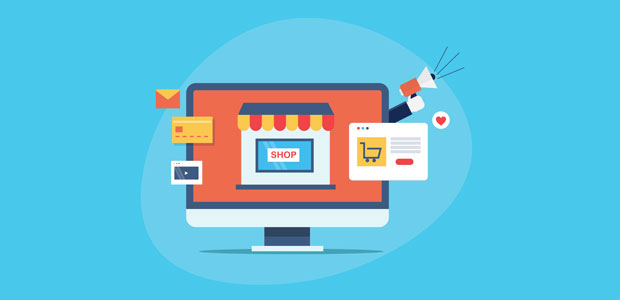 How to build an eCommerce platform
eCommerce is a growing trend, and the demand for eCommerce platforms will rise over the next few years. The good news is that several different eCommerce platforms are available to help you get started. The bad news? Building an online store isn't easy—nor should it be!
Many things can go wrong when building an eCommerce site from scratch, but with careful planning and research, any business owner can create a successful online store in no time. This guide will walk you through everything you need to know, and by the end, you'll have everything you need to start making money.
What is an eCommerce website?
An eCommerce website allows users to purchase and sell products online. In the UK alone, the eCommerce sector's revenue was 688 billion, and its worth will only increase within the next few years. 
Each eCommerce will work differently, based upon users' needs and business requirements. However, most will have several core subsections in their website's journey.
Now that you understand the importance of eCommerce, let's take a look at the steps you need to take to build your platform.
Define your goals and strategies
To ensure that your eCommerce platform is a success before you have built it, you must develop a comprehensive strategy where you consider every aspect of your solution.
 You must consider your platform requirements in line with your customers' requirements to help develop the most appropriate solution. For example, what are your delivery times and your customers' expected delivery times? During this phase, it would help if you also considered your pricing and promotion models. 
Defining a budget when developing your eCommerce is also essential when defining your goals. While many people think of building an eCommerce store as a long-term process (as opposed to designing websites), it is still essential to have some short-term goals in mind.
The time frame for this may vary according to your needs, but 3-6 months is generally an adequate amount of time. Setting goals will help keep you focused on what's most important while keeping things fun! You can constantly adjust them along the way if necessary too! Some examples might be:
Have 100 products in inventory by X date

Sell $X in product sales within Y days/weeks/months after the launch date.
Choose your domain name wisely
A study released in 2010 has shown how children can recognise and understand brands before they can even read. The study examined how well a group of 3- to 5-year-olds could recognise 'child-oriented' brands.   
This research highlights the pure power that a brand can hold within a person's life. It would help if you chose a custom domain and brand name that has meaning behind it and will help spread your business's mission and vision.  
You can purchase your domain name using tools such as 123 Reg or Ionos. The average domain name will cost you anywhere from £0.99 to £30 a year, depending on where you purchase it. 
Focus on your Branding and User Experience
Their impressions of your website form over 90% of your potential customers' opinions about your brand. So, to say the theme and design of your website is one of the essential elements of your website is an understatement.  
Think about creating a design and theme that represents your brand. Consider how the colours represent your brand image and how your website's layout will improve customer experience.
Evaluate the layers your potential customers will go through when trying to make a decision and how your platform will help them during each stage. For example, during the purchasing stage, you will need to make sure it's easy for your customers to purchase the products they want. 
Consider your customer's minds and understand their user journey from their point of view to create a better experience for them.
A Platform or Web Development Partner?
One of the most critical steps in selecting the right solution to build your eCommerce platform website is to decide if you'll go with software or hire a web development company to support you in developing your business.
There are two main things to consider before you decide which way to go.
Your Budget – Think about how much you can afford to spend on your website, as it will impact what tools you use and if you decide to invest in a web development partner. 

Customisation – You will need to consider how many custom elements and features you want on your website as platforms such as WIX are for more technically advanced users. However, it provides them with more automation options than platforms like Squarespace. 
It's also important to consider how you expect your platform to develop in the long term. As your customer base grows, your website needs will too. Many businesses find that within the first two years, they have had to hire a team member to re-build their website. But, if you already have a business website and need to transform it into an eCommerce solution, you can easily do this by integrating with a platform like Shopify. 
 Those are just a few points to consider when developing your eCommerce platform. Many people think it's easy, but it's not. It takes time and effort, but the rewards are worth it.