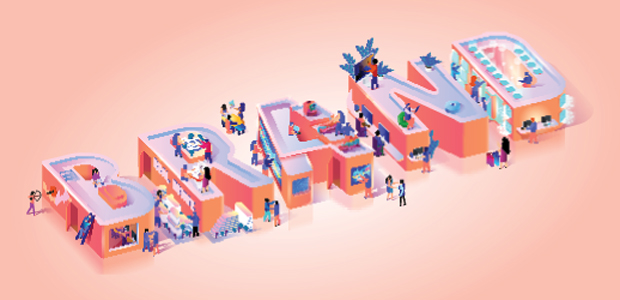 How to build a brand in 12 weeks without losing its soul
When high-profile new logos launch, if they hit the headlines it's usually for the wrong reasons. That's largely down to a general assumption that "branding" is just about one marque, a frustrating misconception for design teams that spend months—often years—on strategy and iteration.
Creating a brand is complex, but it needn't take forever. It's just a matter of doing it right, with the right people.
Building a brand can be broken down into two main stages: strategy and execution. You can't create the latter without the former. Well, you can, but it's not so much a "brand" that you're creating, it's more like window dressing.
The strategy stage is where a partnership between agency and client built on rock-solid foundations is vital. It's not about egos: all parties come together as one team to clarify a brand's purpose (why it exists); personality (how it behaves and communicates) and proposition (what it offers.)
The strategy stage also feeds into wider goals, reviewing the business as a whole. It often involves comprehensive research on things like competitors and audiences; interviews with target markets, internal teams and key stakeholders; research on the brand's wider context; and in the case of some agencies like The Team, employing behavioral science insights.
The visual and verbal (tone of voice) outcomes are then built around this strategic framework, comprising everything from the logo to typography, colour palettes, use of illustration/photography/iconography; UX and UI; moving assets like animations for digital platforms or video; merch; internal comms and more.
Doing all that—and doing it well—in just a few weeks suddenly sounds laughable.
Traditionally, the brand creation process is built around a back-and-forth approach where an agency presents, then develops concepts based on a creative brief and client feedback.
The more time- and budget-efficient approach is to work in "design sprints," where the creative team(s) and client collaborate over consecutive days or weeks to create the solution iteratively.
The Team recently created the brand and branding identity for innovation- and sustainability-focused packaging brand Eviosys (rebranding it from Crown after a major acquisition)—including strategy; positioning; creating a unique, ownable name that could be registered as a legal entity internationally; and the visual identity—with a 12-week deadline.
This was a high-octane project working across different territories, time zones and language—brand development with global reach in a race against the clock.
That race will only ever be won with good planning; an agile, responsive approach to process; and genuine collaboration.
It's a fallacy that involving multiple parties in a project is a sure-fire way to complicate and unduly lengthen it.
Collaborations built on great communication and trust throughout the entire process means that you can work in sprints, producing prototypes in just a couple of weeks—something The Team has employed in a total refresh of Seattle-based consultancy Avanade and in a comprehensive campaign for Moneyfarm, including TV commercials, digital and social media marketing.
Key stakeholders must be engaged at every step of the way and be totally transparent. That avoids the dreaded last minute "I hate it" feedback from someone hitherto uninvolved, and with no insight into how an outcome emerged.
All sides also need to remain delivery-focused, giving the project dedicated time from the right people. They need to sustain momentum and engagement, working together with a positive attitude (and without the need for anyone to pull all-nighters, a very counterproductive move).
Business-aligned brand strategy a is a company's most powerful tool, and it's not to be rushed. But when deadlines are short, with the right strategic thinking; smart processes; and a solid client/agency relationship at the foundation of it all, a strategically rigorous, business-effective future-facing brand and identity can be crafted in a timeframe that might have once seemed impossible.