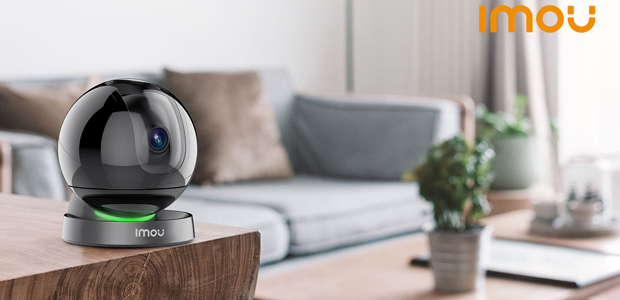 Home security from every angle with first AIoT camera
With a large and growing range of smart devices and intelligent products, Imou serves global IoT users through a 'three in one' business system encompassing Imou Cloud, the smart devices and the intelligent technology – and the latest and arguably most exciting one is the Ranger IQ.
The Range IQ has a number of specifications that makes it special, but also is Imou's first AIoT home camera device. As Artificial Intelligence grows and shows off more and more of its abilities through some incredible products, the Ranger IQ from Imou is exactly one of these examples. The device includes a powerful on-board AI VPU which means it is able to see every aspect of a room through its ability to pan and tilt – the panning feature spans from 0-355° and the tilting from 0-90°
Having seen the device move in real life, the industry-level image processing technology and the AI human detection capabilities allow it distinguish not only humans from furniture, but from animals or other moving objects to avoid any false alert.
We are living in a world where cameras inside and outside a house are becoming part of everyday life, and with the Ranger IQ you would have no idea this device is in your room. Except the fact that it will immediately send a notification to your smartphone, so you know at all times what is going on and you can monitor your room from everywhere, knowing it will not be a false alarm.
The specifications are of the highest quality with a 2MP sensor and advanced IR algorithms that deliver the clearest video, and after using the device myself I was very impressed with the video quality – even made my living room look relatively clean! This quality is delivered not only in the day but also throughout the night.
This is ensured through the Ranger IQ's Starlight Night Vision, which allows you to have this vivid colour streaming standard continuously. The Ranger IQ offers this crisp clear image quality in low light conditions and the dark thanks to the embedded Sony Starlight sensor. This advanced imaging technology offers the vivid full colour streaming even in night conditions, without sacrificing image quality when the sun goes down.
The device is small and compact so you can place it almost anywhere in your room, and also comes with a screw package and quick installation board so it can be placed in some difficult places. I placed mine in the kitchen window, so with the full panning and tilting capability you can see outside the front of the house, and it will alert me when someone is approaching the house. You also get a full view of the kitchen, and the hallway – prime spots in a house where you would like an extra eye watching out.
 The design is of course spherical like a lot of cameras in today's market, but its full capacity to scan around makes the device look smart and of course leaves no blind spots. It is also powered by the mains so there is no worry of running out of charge or batteries, and the LED light indicator on the Ranger IQ shows you when something is required.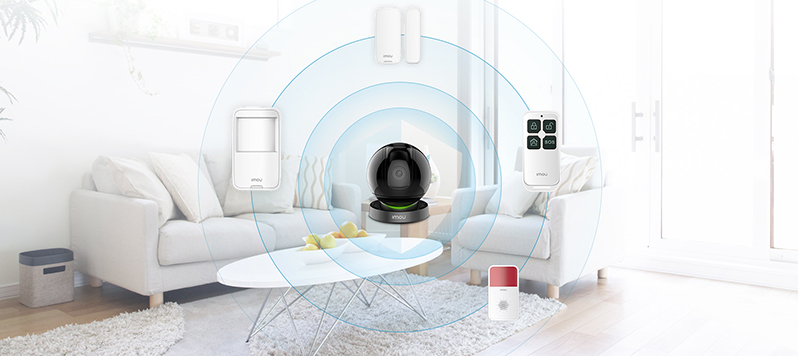 Privacy is a big thing with cameras of today, as many people don't like their privacy infringed on and don't want a camera looking in their home at all times, with the Ranger IQ you can enable the privacy mode which with one click on a mobile app, hides the camera lens and protects your personal life and home for when you are home and don't want to be seen!
Of course a security camera is designed to make your house secure, and I think that it's safe to say the Range IQ delivers on this function as it includes a built-in siren to scare away those unwelcomed burglars. It even includes a customised function to record your own siren noise which can be done through the app.
Imou have really thought outside the box as well with alerts and sounds, as the device has an abnormal sound alarm which can alert you through the app on your smartphone whenever it detects a strange sound such as a baby crying, so you can be fully aware of what is going on – no matter where you are.
Then if you need interaction, again Imou has thought of this. With its built-in speaker and microphone, it provides the function of two-way talking to allow you to interact with pets and family or to deter those unwanted guests, they also added in the echo cancellation function to help sound quality.
This is all stored either through the Cloud or you can add in SD cards so you can ensure your Range IQ is recording continuously. Imou have even enabled users to use the Imou Cloud which will provide you alarm notifications, live video streaming and updates.
Startups Magazine attended this year's CES show in America back in January, and were delighted when the Ranger IQ won the 2020 CES Tech Awards in the Smart Home Category, a very deserved winner from a leader smart IoT solution and service provider Imou.
A number of engineers and visitors at CES were able to recognise that this device is a unique all-connected smart home camera that has the potential to revolutionise the home security industry through its AIoT capabilities and its ability to 'watch, listen, speak, analyse and act'. This is all enables through the intelligent technology it holds including some of the latest AI tech and deep learning algorithms.
Startups Magazine readers can also receive 30% a Ranger IQ device on amazon with the code JBT6GE95.