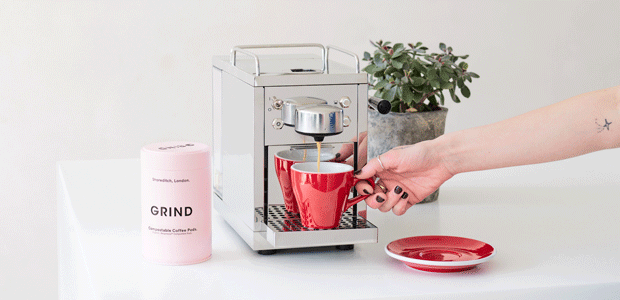 High street to home: Becoming a booming e-commerce store during the pandemic
Nothing could have prepared businesses for the global pandemic and my business, Grind - like many others - was hit hard as a result of multiple UK lockdowns. The pandemic shuttered or restricted trade in our central London cafes and restaurants for most of 2020 and 2021, forcing us initially to furlough the vast majority of our 300 strong team, and axe plans for future openings.
Fortunately, we had already begun to invest in an at-home coffee offering pre-Covid, and with our customers unable to come to us and supermarket queues stretching around the block in many places, we saw unprecedented demand for our compostable coffee pods from the very first lockdown. What had previously been a small project managed part-time by a handful of the team became almost our entire focus as we doubled down on our direct-to-consumer coffee business and tried to keep up with the unprecedented levels of demand.
Alongside a 3,000% increase in sales in a matter of weeks, we also had a 5,000% increase in the number of coffee pod subscriptions, which took our DTC sales from just 1% of Grind's overall revenue before the pandemic, to replacing around half of the revenue lost to covid in a matter of weeks. It's no exaggeration to state that our online business saved Grind in 2020. 
While with hindsight our shift into coffee pods and focus on eCommerce, which started in 2019, looks like a brilliant move - in fact we were incredibly lucky with out timings in the run-up to the pandemic - luck should never be underestimated as an entrepreneur! 
Just before everything locked down, we received a crucial shipment of packaging and a large piece of manufacturing equipment that we'd ordered a year before that would allow us to insource the production of our now-famous pink tins. This meant we had almost complete control of our production and were able to keep our coffee Roastery open while the rest of the world shut down, and allowed us to keep selling online. Had the U.K. locked down in January or February of 2020, rather than March, it could have been a very different story.  
Until the latest variant, Covid restrictions had eased, and our high street stores had returned to 2019 levels of revenues. Alongside this our online store has continued to grow, with our pink tins now in the homes of over 100,000 people and 30 million pods on track to be shipped across the globe next year. We're also launching our European and US focused websites in early 2022 and Grind coffee can now be found in Soho House locations globally, our first wholesale partnership.  
As a result of this diversification Grind is now stronger than ever. But without adapting our business model and being agile with our resources, we would never have been able to survive - and somewhere in there I think there's a crucial learning for any business owner, no matter the industry.
Today, with behavioural shifts changing for good and more people now seeking great coffee at home, we've permanently shifted our focus away from high street expansion, and into getting a pink tin in every kitchen and helping our customers enjoy better, more sustainable coffee at home. 
The pandemic has changed Grind forever, and as we emerge from it, Grind is now primarily a DTC coffee business, not a high street mini-chain, with our mission now to build the world's leading at-home coffee brand and to lead the sustainable coffee movement. A few months ago, as a result of our pivot, we completed a £22m investment round, led by Richard Koch, the author, investor and founder of LEK consulting. 
As we continue to grow, we'll focus more and more time and resource to listening to our customers. They've told us that sustainability is a core value for them, which is why our pods are already 100% compostable and plastic-free, able to be broken down a hundred times faster than our plastic cousins. We also deliver every single order carbon-positive which is something our customers value almost as much as our great tasting coffee. It's not enough anymore just to roast great coffee, and as we grow our customers are demanding more from us every day, meaning we have to constantly improve and innovate and strive to do better. 
We've got a long way to go, but I really believe that coffee can be a force for good, both at home and in the places around the world where it is grown, and we have a huge amount planned for 2022 both in terms of sustainable initiatives and product improvements which I can't wait to announce in the next few months. 
The last few years have been a rollercoaster for everyone, but it's also been an incredibly exciting time for business and we are witnessing unprecedented change in society at incredible speed. With another uncertain year ahead of us, here are some of my tips for using uncertainty to power positive change within a business: 
Get on with it! 
I speak to so many people who have a business idea and have been planning and thinking, and talking about it for years, but haven't actually started. It's never been simpler, cheaper or easier to start a business, and my advice is always the same - get on with it! You'll learn 99% of what you need to learn after you launch, not before. Nothing comes close to real life customer feedback. 
Let your customers in and take note 
You're not always going to get it right and that's okay. You just have to get it right more than you get it wrong. Your customers know you're only human and it's the opening up and being honest when things go wrong that instils brand loyalty. Ensure you have regular and open feedback loops with your customers and make the time to listen. You can't plan for the unknown but if you consistently do what makes your customers happy, then usually they'll keep coming back. 
Keep moving forward, and keep innovating. 
If you don't innovate, you die. When things are comfortable and working, it can be easy to just sit back, but this is the time you need to be thinking 'what's next?'. Look at the trends you're seeing in the way your customers interact with your products or services, what are they asking for and which of these align with the core mission and values of your brand. Sometimes the next step is obvious - like expanding your product range or launching a D2C arm - and sometimes it's not so obvious, but don't be afraid to explore other sectors for inspiration and to dream big.