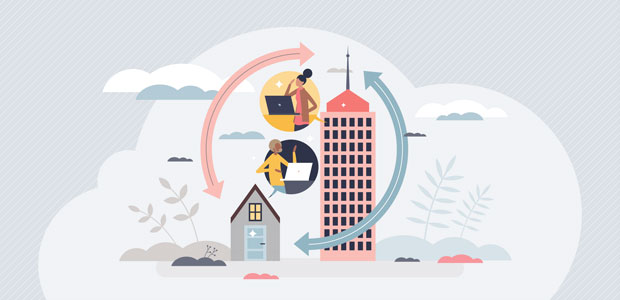 Here's How Hybrid Work has Evolved Since the Start of the Pandemic
Hybrid working became the norm two years ago. How has it developed to become a realistic working model for the future?
It's been over two years since the COVID-19 pandemic changed the world of work forever.
With little to no notice, in March 2020, many companies were forced to suddenly switch to remote working models.
Now, after months of trial and error, many companies have found that a hybrid model of work – with some employees working remotely and others in the workplace – is actually the best way to operate. 
The model has a number of benefits: increased flexibility and productivity, reduced costs, and even improved morale.
Like all major changes, transitioning to hybrid working models has not been without its challenges. So, how has hybrid work evolved since the start of the pandemic?
The Creation of a Hybrid Workforce
The pandemic forced businesses to evolve and adapt in order to survive. One of the biggest changes has been the way that work is done.
Prior to the pandemic, most businesses relied on a traditional workforce where employees came into the office to work. However, the pandemic has forced many businesses to adopt a hybrid model where employees work both in the office and remotely.
The hybrid model has several benefits over the traditional model. 
First, it allows businesses to continue operating even if there is a lockdown or other restrictions in place. Second, it gives employees more flexibility and choices when it comes to where they work. And third, it can help businesses save money on office space and other overhead costs.
The Evolution of Technology for Hybrid Working
The biggest hurdle for businesses embarking on a hybrid working model was technology or a lack of it. 
At the start of the pandemic, many businesses discovered that their existing workplace communication practices were simply not up to the task of supporting a hybrid or remote workforce.
Technological communication barriers are costly. With a lack of effective collaboration and communication cited by 86% of employees and executives as the main causes for workplace failures, businesses had to act quickly. 
Today's hybrid workers are armed with an array of technologies to help ensure they can carry out their job to the best of their ability from anywhere. 
For example, there are video conferencing applications that allow employees to have meetings and collaborate on projects even when they are not in the same location. Project management systems help employees keep track of their work and deadlines. Instant messaging apps have replaced heavy reliance on email, leading to speedier communication between teams. 
Data has begun to play an even more significant role in the day-to-day operations of companies. Data is increasingly being used to track employee productivity and performance.  This helps businesses to identify which employees are struggling and need additional support. Improving manager's understanding of their teams, it also helps businesses to identify which employees are excelling and could be given more responsibility.
How Employers Have Embraced Hybrid Working
Creating a whole new way of working was always going to be challenging for employers. But many have risen to the occasion.
The most effective businesses have introduced clear guidelines and expectations for employees. Employees know how often they are expected to check-in, what kind of work they should be doing and how to communicate with their team.
Employers have also considered and provided the resources employees need to be successful. This includes things like a good internet connection, a quiet place to work, and access to the right tools and software.
Many employers have also adopted new flexible working policies in direct response to having a hybrid working model in place. Notably, 92% of CEO respondents admitted to seeing first-hand the positive impacts that a flexible working environment provides. 
Businesses are now more flexible when it comes to hours and working from home. 
Employees may need to adjust their hours in order to accommodate family obligations or other commitments and on the whole, employers have been willing to embrace this new aspect of the working world.
Overall, the pandemic has forced employers to re-think the way they do business. By providing clear guidelines, resources and flexibility. 
Two years on and hybrid working has evolved to be a realistic and productive working model for many businesses worldwide.
With 94% of responding CEOs admitting that they will continue to work using a hybrid or remote model, hybrid working is clearly here to stay.