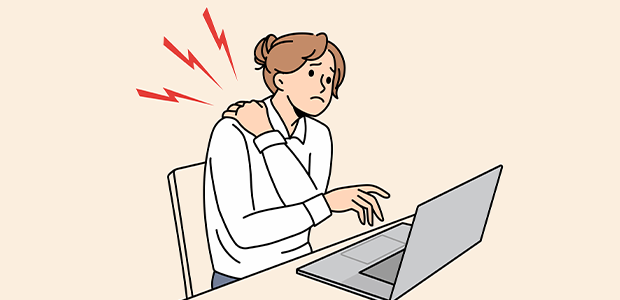 Helping your employees self-manage a long-term condition in the workplace
There are around 28 million adults in the UK living with chronic pain. Pain has a huge impact on quality of life and work. Our PAW Toolkit developed at the University of Nottingham, aims to help employees with managing their condition and accessing help when it's needed.
We hope it will enable people to better manage their pain at work and improve people's working lives. We're going to look at how useful and practical the PAW Toolkit is for people to use, by testing it in a trial and looking at health, wellbeing, and work outcomes over time.
We are one of just six research teams in the UK that has been awarded funding from the Nuffield Foundation and Versus Arthritis as part of a £1.94 million investment into research to improve work and wellbeing for people with musculoskeletal conditions. We are running a multicentre randomised trial to explore the feasibility and acceptability of the Pain-at-Work toolkit. This involves recruiting organisations and delivering the toolkit to employees across the UK through their workplace. We will collect outcome data with around 120 employees on their work capacity, health, and wellbeing. And we will interview a sub-sample of up to 40 employees and line managers to talk to them in more depth about their experiences of using the toolkit. The project runs from March 2023 to November 2025. The overall aim is to enable employees to change their self-management to improve their ability to work and be productive at work.
We are exploring the feasibility and acceptability of the Pain-at-Work (PAW) Toolkit which aims to equip people who have pain with the knowledge, skills, and confidence to:
effectively self-manage a painful condition at work

access help and support

enjoy a better work experience

and remain in the workforce
The research
This involves recruiting organisations and delivering a free online toolkit to employees across England through their workplace. The Toolkit is a simple and relatively short online package with advice, signposting, and links to resources. The content can be read or listened to. The toolkit was developed with input from employers and people who have chronic pain, and it has been pilot tested already.
How can your organisation help
The key role as an organisation is to allow contact with your network to allow them to decide if they would like to take part, individual employees fill out a consent form themselves. The research is all conducted online, so participants can be located at home or onsite.
The participants are employees who self-report chronic or persistent pain – although there is no obligation for employers who agree to take part to ensure there are individual employees who sign up, we would ask that you promote the study information as widely as possible around your organisation. Given the proportion of people in the general public who live (and work) with chronic pain conditions, we would anticipate that there would be some interest/take-up from within all the participating organisations.
An overview of the study is here: Pain at Work Trial
Contribution to research
By participating in this study, you will contribute to the collective knowledge of occupational health and wellbeing. Your insights and experiences will help shape best practices and inform future research endeavours, benefitting not only your employees but also the wider business community.
Your involvement in this research study can help shape the future of staff wellbeing, and I hope you will choose to be part of this exciting journey.