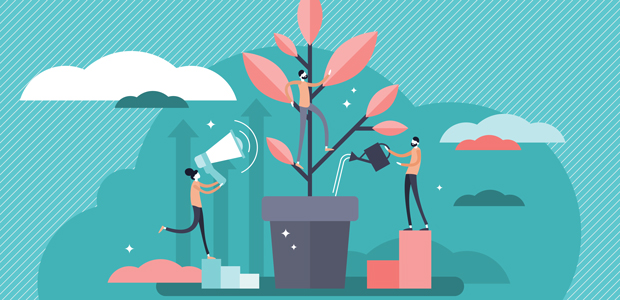 Helping startups on their sustainable growth
weGrow International is a consultancy specialised in helping tech startups and scaleups achieve fast and sustainable international growth within Europe. Alongside its core teams in Amsterdam, Berlin and Paris, it works with a network of around 100 experienced scaling-experts, to offer a comprehensive suite of services in all areas of internationalisation. We got to catch up with Gernot Schwendtner, Co-Founder of weGrow International to find out more about the company, and their journey to where they are today.
Tell me a little bit about your business weGrow International and what you do?
From growth strategy to international market rollout and commercial success, we work closely with our clients to solve questions such as where to grow best and next, how to win in those countries and new markets, how to build up an organisation for international expansion, and how to make this work long-term. Through the weGrow Talents process and network, we also focus on helping companies hire the right talent that fits the company culture and building efficient HR processes - a crucial area of expansion that is often overlooked.
With over twenty years of combined experience across the team, weGrow has worked with a wide range of fast-growing businesses, including the likes of WeTransfer, Channable, Ticketswap, Honeypot and more.
Where did the idea come from and when did you first start?
weGrow International was founded by Florent, my French co-Founder and myself - a native German-speaker from Austria. Prior to founding weGrow, both of us worked at various startups and scaleups, and saw that scaling into new markets is a major pain point. When one of the companies I worked for had to close down six markets at once and many people had to be fired, that's when we thought to ourselves: Let's make this easier and help founders by adding the right expertise, experience, network and tools.
In the last three years, we have positively impacted 300 founders or probably by now, even more. It is extremely rewarding work and makes us happy, as founders achieve their international goals and many news jobs are created.
What sort of trends have you seen this year?
This year has definitely established a 'new normal' of distant selling and remote teams, and in turn, this has accelerated digital transformation by many years. Within companies, we saw increased adoption of communication technologies such as Zoom, Microsoft Teams and more, and on the consumer front, there was definitely a spike in ecommerce, on-demand delivery and subscription services.
In terms of international expansion, this has opened up many opportunities in laggard markets. The circumstances have affected different markets in different ways, and the metrics of evaluation for market attractiveness and go-to markets have also shifted. Certain factors such as boots on the ground, relationship building and local insights have become more difficult to achieve, but on the other hand, other factors have become easier such as the ability to first do a discovery call online, instead of in-person.
How has this year affected startups?
Although it has been a challenging year, to say the least, Europe's tech sector has still performed extremely well. The Index Ventures report indicates that the value of European tech companies skyrocketed by 46% in 2020 alone - and is now worth four times what it was five years ago. This is very encouraging to hear, and we definitely foresee Amsterdam, Berlin and Paris, to become and continue as the startup super-hubs of Europe.
In Q2 of 2020, most founders and startups were busy with fire-fighting - minimising losses, retaining customers and adapting their business models to the external forces of the pandemic. Some sectors were definitely hit harder than others, such as aviation and travel. Due to the impact, many also took an internal look at their business, and streamlined teams and operations. This meant that large teams were minimised, and non-essential teams suffered significant budget cuts or even complete wipeouts. Much of this year has been about adapting, pivoting and moving ahead of the COVID-19 curve, in order to remain relative and perhaps also competitive.
During this period, it was also harder for certain startups to close funding as market confidence hit an all-time low. Instead, investors took a different approach and were busy helping their portfolio companies and evaluating damages. Despite this, an interesting turn we also witnessed simultaneously was the exponential growth in COVID-related technologies in areas such as e-commerce, medicine, human resources, education and more.
From Q3, we saw a back-to-normal attitude and healthy appetite for international expansion again, as countries started coming out of lockdown and the situation seemed to make a turn for the better. We saw some opportunistic and strategic land-grabs occur during this time, taking advantage of this window of opportunity to accelerate their growth. Often a well-prepared international go-to-market plan was the foundation for this acceleration.
With more people working and studying remotely, medical resources and manpower under extreme pressure and such, businesses have capitalised on opportunities brought about by the circumstances by identifying a gap in the market. For example, we have seen this with one of our clients, an e-commerce SaaS solution provider, who have seen an increase in signups from new markets during the pandemic, and especially during periods of lockdown. This is also true for startups in GovTech, e-commerce, mobility and HRTech sectors, with more decision-making being done online or remotely, people being more inclined to limit their activities out of the home and staying indoors, increased flexibility required by employers, and the need for digital workflows in HR and throughout the employee journey, respectively.
Throughout the year, venture capital has still remained strong, and although some were more hesitant in the first half of the year, some are not affected at all especially if the dealflow was already established. The startup ecosystem remained optimistic, and the consistent source of venture capital is a positive sign of this. The circumstances definitely introduced a form of natural portfolio selection, whereby good founding teams stood a better chance, but overall, it allowed businesses to build up resilience and future-proof themselves.
What can they (startups) do to plan for this sort of thing again in the future?
While a devastating crisis like COVID-19 is never a reason to celebrate, there still remain opportunities to embrace. However, it can be hard moving from defense to attack mode without specifically dedicating headspace to that express purpose. How we can help: Shift from short-term to mid-term and long-term thinking by mapping out opportunities and reaching out to partners and friendly customers to brainstorm and validate.
Firstly, book time out to re-evaluate your core business model and markets to determine if they are still valid in the context of a 'new normal' - digital sales channels, services provided and more. There may be revenue streams or certain markets that are underperforming and sometimes, it may be the smarter decision to cut losses, exit the market and look for a new one, or reduce investments until there is clear visibility and indications for growth again. Don't see this as a sign of failure, but rather, setting the business up for future success.
Secondly, there are a plethora of new M&A opportunities that can be capitalised upon from an increase in shake-out and consolidation. Identify these opportunities in order to drive growth in key markets. For example, a goldmine of opportunities exist in exploring the changes in customer adoption of online services. As I mentioned previously, the crisis has accelerated the rate of digital adoption and in turn, led to new potential for remote products and services which can open new lucrative markets.
Moreover, this is also a great time to set up a de-risking assessment of market entry by testing markets, working with experts to get clear insights and implementing interim solutions before hiring large teams. When markets are normally operating at full force, it is difficult to get such a chance to experiment and carefully plan your market entry. The extra time If your business has spare capacity at the moment, time for careful preparation and experimentation can be afforded, and startups and scale-ups should definitely capitalise on this for successful international expansion.
Lastly, although it may be difficult to travel to and be personally present in the various markets you are operating in or new markets you are considering entering right now, there are still many ways to establish a strong local presence and maintain brand relevance. This is where relationship building comes into play, and is more crucial than ever during this time. Besides being an excellent long term investment, access to a local network of trusted partners provides much needed agility and adaptability. This can be in the form of capturing potential opportunities and profits that arise with changes in local restrictions and regulations that may play into an existing business model. A strong local network also builds credibility and can act as a form of endorsement or trust seal for consumers, which lends strength to successful conversion in some markets more than others, like France, who are more relationship-based. Securing new leads may be difficult at the moment but this will help ensure customer retention and a steady stream of revenue and ultimately, strengthen your business proposition in the long run.
We share more tips in our Whitepaper on Growing your International Markets in times of Crisis.
How important is a flexible strategy and how do you help businesses create one?
As countries across Europe battle ongoing restrictions and many begin another lockdown, a flexible strategy remains of pivotal importance. While there is opportunity in every challenge, they are only available to those agile enough to adjust their operations and priorities to take the advantage. Specifically, a lockdown period can be prime time to speed up expansion by overtaking competitors or grabbing market share. One of the startups we work with, has decided to use the lock-down time to accelerate its international expansion. The attitude was: Hey, we are sitting at home now anyway and sales is tough - why not use the time to focus on the preparation and legwork required for international growth? Now, they are active in two new markets and growing. Chapeau - if you ask me. This takes guts, and of course a healthy runway helps.
A flexible strategy means preparing for multiple scenarios - plan A, B, C. International expansion is often executed under the assumptions and learnings from market experiments. How can you de-risk your market entry by placing various bets and by doing smaller, sometimes even larger, experiments? For this, it is crucial to have a good design, great project management, clear steering and data-driven evaluation based on set KPIs and milestones. For example, a startup could start experimenting with two or three different entry strategies or by validating demand through first talks with local experts. Very soon you will understand: Yes, there is local product market fit - or no, let's rather not waste time and money in this market. Then, you can move on and you have just saved yourself lots of resources.
What changes may we see next year due to this pandemic?
With or without the pandemic, businesses across the globe are transitioning to a low-touch economy in terms of both business operations and consumer interaction. This is as a result of digitisation and to mitigate health risks in light of the COVID-19 pandemic. This digital transformation will only accelerate, and with it comes the rise of many innovative tech startups, from e-commerce and SaaS solutions to GovTech, MedTech, Impact Tech and more.
We can also expect accelerated vertical integrations or more robust solutions with closer proximity to the end-consumer, as supply chains continue to be disrupted. For example, e-commerce or mobility players may buy or forge new partnerships with their suppliers if necessary, and we expect an increasing number to do so. We've already seen this happening with some of the bigger players, such as Delivery Hero, who earlier this year championed the concept of quick commerce - an on-demand delivery service of groceries and convenience products, which is made possible by partnering with local vendors and global suppliers to set up their own cloud stores.
Within the startup ecosystem, many are currently relying on subsidies or government loans to stay independent or even, to stay afloat. We anticipate that once these have been used up, a selection process will take place and some startups will be acquired by bigger players. Moreover, with travel restrictions anticipated to remain in the near future, there will be less business travel but the need to maintain local connections will remain and become a driving force for interim or freelance arrangements in local markets.
For those looking to expand internationally, it needs to be approached from a different angle; one that is more flexible and less of a linear, waterfall approach. The opportunities are present, but businesses need to be well-positioned to capitalise on them.
How do you build meaningful relationships and partnerships especially in a time like this?
Take the chance to connect with clients, partners and investors over shared struggles. The pandemic may affect different sectors in different ways, but it can still be a uniting factor. Reach out to clients and partners not just for solidarity, but also as an opportunity to share experiences and knowledge in order to mutually reflect on room for improvement in facing new challenges. We are all in the same boat here!
Similarly, the crisis offers businesses the ability to stand out in their communications - be it internal or external. Contact with each other is no longer something to be taken for granted, and one that makes a concerted effort in staying in touch and sharing information can make a much greater impact than before COVID-19.
What is your biggest take away from this year?
Success is about the survival of the most adaptive. There is opportunity in any situation although it may vary in terms of impact and ease of access, and those who succeed will be those who are able to leverage on these opportunities. But more importantly, this year has also shed light on how important it is to take care of the people around you, and to be there for each other especially in challenging times. I definitely believe in paying it forward and ran quite a number of pro bono sessions this year and helped founders along the way, which was reinvigorating and very rewarding. Ultimately, if you are able to make your business work in difficult times whilst pushing back against the raging headwinds, just imagine how it's going to flourish when the winds turn and the seas are smooth again. Personally, for me, it is one of the most interesting and exciting times when being a founder. One last sentence: Make sure your batteries are recharged.