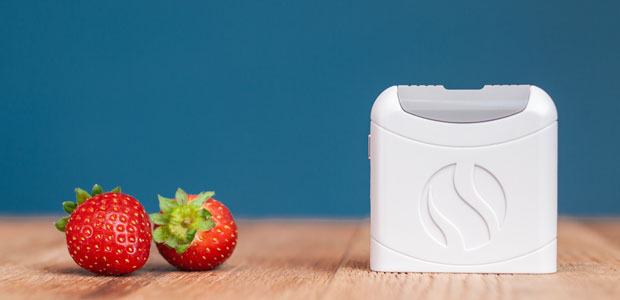 Healthtech startup raises $2.6m to scale at-home digestive health solution
FoodMarble, the digital digestive health company, has closed a seed investment round of $2.6m, led by Business Venture Partners (BVP), with participation from SOSV, Breed Reply, Delta Partners, Enterprise Ireland. The funding will support continued expansion into new markets, research and development projects, as well as the further development of FoodMarble AIRE, the world's first personal digestive tracker.
FoodMarble is helping people take control of their digestive health, by making leading digestive science readily accessible through a connected device that can be used at home. The FoodMarble AIRE is the world's first personal digestive tracker. The breath analysis device and associated app helps users optimise their diet using long-standing clinical technology but in a handheld device.
Following a hugely successful product launch grassroots campaign in 2018, FoodMarble have also opted to open their funding further with the launch of their first crowdfunding campaign on Seedrs.
Commenting on the investment, Elliott Griffin, Managing Director at BVP commented: "The strength of the FoodMarble team and mission immediately caught our eye. Irritable Bowel Syndrome and other digestive issues are a daily problem for millions of people around the world. The team at FoodMarble have developed an innovative and easy to use solution that will allow people to find out what they should be eating.  We're excited to be supporting FoodMarble as they continue their strong growth and continue to help those struggling with digestive issues live better and more comfortable lives every day."
Digestive issues are a common and often untreated issue for people all around the globe, affecting up to one in eight people. Approximately 1 billion people have IBS and many more have food intolerances to common food items and ingredients such as lactose, wheat, fructose etc. Clinical breath analysis tests carried out today to diagnose these issues are typically hospital-based, single-snapshot tests with large expensive devices that may not always capture how the patient reacts to certain foods/food groups.
The FoodMarble AIRE is a personal hydrogen breath test device which connects via Bluetooth to a smartphone app, providing immediate results to the user, providing real-time, accurate data with actionable insights.
Aonghus Shortt, Co-founder and CEO at FoodMarble added: "The funding raised today, and from the Seedrs crowdfunding campaign, will help us continue our mission.  Healthcare systems today are not suited to helping people with these common but incredibly challenging gut health issues. Digestive symptoms can be profoundly disruptive to normal life, and we're seeking to end that. 
"Our mission is to help people cut through the complexity and uncertainty to find 'their foods'. We started as a direct-to-consumer business and we're delighted to now be able to also assist clinicians in managing their patient's digestive health. We're just getting started. We want this to be a tool that every family can have in the home to monitor and manage their digestive health, so that they can live healthy and happy lives."
Similar breath analysis tests are commonly used by clinicians to diagnose digestive issues, however FoodMarble is the first personal device of its kind, designed to help the millions of people who experience digestive difficulties. Everyone's digestion is unique and FoodMarble now allows you to measure how your body digests food in real time in order to identify possible trigger components in different foods. FoodMarble empowers users to gather objective data of what's happening in their gut and allows users to avoid lengthy and highly restrictive diets by more accurately determining what foods trigger symptoms via a simple, non-invasive breath test.
Alan Hobbs, Manager of the High Potential Startup Industrial, Life Sciences and Consumer Department at Enterprise Ireland added: "FoodMarble is a great example of the type of ambitious startup with an innovative solution that we want to support. Research driven solutions targeting huge addressable markets with unmet needs have the greatest chance of success and this funding round will put the team in a strong position to scale their business and achieve their Global Ambition. We are delighted to be a part of this round of investment and I wish the team the very best with the next stages in its exciting venture."
In addition to the money raised in the seed investment round, FoodMarble has opted to raise further funding through an equity crowdfunding campaign on Seedrs. In advance of the AIRE's initial launch in 2018, FoodMarble developed a strong grassroots community, with thousands of pre-orders from around the world.
Due to high demand and interest in the company's vision, FoodMarble has decided to open its funding to the public. The crowdfunding campaign is live and can be viewed here.