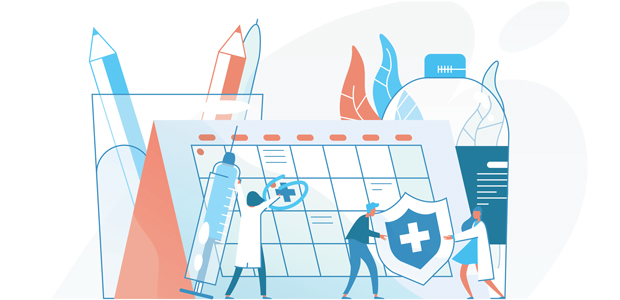 Healthcare that works for all
Cievert was founded in 2011 by former NHS therapeutic radiographer, Chris Kennelly, who began his mission to make routine healthcare a thing of the past.
Kennelly couldn't help but see ways in which treatment could be better delivered, and that's when he had the idea to incorporate technology into healthcare. In the beginning, Cievert was focused on an advanced referral management system for oncology but has since developed a cellular pathology reporting system, a clinical management platform and an on-treatment review and patient-reported outcome measures system.
Casper
Casper is a web-based system that uses logic to manage specialist secondary to tertiary referrals dynamically. Casper has been managing all of Northern Ireland's radiotherapy patients (referrals) since 2017. In total it manages approximately 25% of the entire UK. This results in faster referrals and reporting, less paperwork, more transparency, and better governance.
Cievert provides Casper to oncology patients, as well as pathology patients. Casper Oncology stores locally-defined protocols and suggests them based on the patient's diagnosis. All associated information and documentation accompanies the protocol. Clinicians can choose to go off-piste and use non-protocol treatment, and Casper can ask them to justify the reasoning.
Kennelly explained: "Casper intelligently uses the information you've already provided in order to determine what further information may be required for the treatment to progress. This approach speeds up referrals. Mandatory fields help ensure that all the required information is submitted, so that treatment is not slowed down by incomplete referrals."
Cievert uses NHS-approved N3 servers to ensure that all data is stored securely and that the company complies with the gold standard of information governance. Account permissions can also be set locally so that only the right people get access to sensitive patient information. Casper Pathology fits in as a modular component of a larger LIMS and allows pathologists to report on requests in real time. The advanced logic used helps make reporting far quicker and simpler.
"Casper Pathology is the only pathology platform to be fully Cancer Outcomes and Services Dataset (COSD) compliant. And as such, NHS trusts need not worry about being fined for failing to meet required targets." said Kennelly.
JimJam
JimJam is a practice management platform that allows clinicians to deliver secure remote consultations via video call. JimJam has been white labelled for use by private clinical practices and occupational health companies to deliver a wide range of therapies.
Kennelly commented: "JimJam was initially developed for the private sector but has since been adapted for use in the NHS as well. It has been through years of development in collaboration with its users, and we are continuously making improvements."
The platform allows last minute appointments to be taken in lieu of cancellations. By providing patients with the option of an appointment to be conducted remotely, patients can have their consultations in the comfort of their own home rather than just not turning up.
JimJam reduces the need for unnecessary face-to-face appointments, resulting in less patients coming through the door which will reduce costs in terms of hospital infrastructure, administrative time and clinician time.
Penguin
"Penguin is our newest and most exciting product to date! Designed to work with our JimJam product, Penguin aims to fundamentally change the way patients are followed up after an appointment/operation," said Kennelly.
Penguin is a web-based platform that allows clinicians to automatically ask patients systematic questions based on their diagnosis and course of treatment. The patient can answer these questions from a smartphone/tablet/computer at home. In real time, the system then alerts clinical teams to adverse events, identifying clinical need when and where it is required.
"For example, let's say for some unfortunate reason you break your leg. What would usually happen is that you will have surgery to fix it or you'll have the plaster put on your leg, and then you might have some other follow up treatments like physiotherapy. You'll then be told by your doctor that you'll have a routine follow up appointment in six weeks. In most cases, patients are usually clinically well by that point. And the biggest challenge for healthcare is 'How to identify those patients who might be in need of an appointment after two weeks vs those patients who don't need to be followed up until ten weeks' time or maybe not at all.' So with Penguin we're looking at changing this whole system." explained Kennelly.
Continuous remote assessment means that patients won't have to wait for things to get worse or wait for their next routine appointment to flag an issue. Any potential problems will be flagged to the clinician immediately. This means that hospital staff are provided with more information and have a better understanding of their patients' needs. More information also helps determine what treatments are most effective.
What's next for Cievert?
Cievert has just started a two year project funded by Innovate UK and Coeliac UK, working with Professor David Sanders and Dr Matthew Kurien at Royal Hallamshire Hospital and the University of Sheffield. Cievert are developing Penguin, for use within gastroenterology (a brand of medicine focused on the digestive system and its disorders) specifically coeliac disease, implementing it and then formally assessing its impact.
In June, Cievert will be starting a 30 month project with Durham University, led by assistant professor in the computer science department, Dr Noura Al Moubayed. The aim is to explore the application of machine learning to the data that Cievert generates, to provide further insight into healthcare (e.g. helping to stratify risk, improve outcomes, etc.).
Cievert is also planning to work with Oxford University to identify the best existing PROMs (Patient-Reported Outcome Measures - questions which the patient answers themselves to tell clinicians how they're feeling) for use with oncology patients receiving radiotherapy, and implementing these PROMS in Penguin. Oxford will also undertake an external assessment of Penguin relating to patient compliance and outcomes.
If you could do it all over again, would you change anything?
"My answer is yes. I would change everything! However, with hindsight you always think yes I would do this better and that differently. For us, working so closely with the NHS, there really was no shortcut to making those mistakes and learning from them along the way." concluded Kennelly.