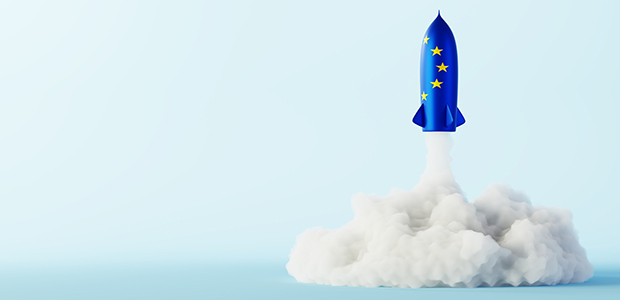 A guide for UK startups looking to launch in Europe
Law firm Taylor Wessing's work with the Mayor's International Business Programme, and its work day-to-day with VC-backed tech companies has shown that most UK companies look to the US or Asia before Europe when looking at new markets. However, Europe is on our doorstep, and has its own advantages which shouldn't be ignored. This article by Mark Barron, a corporate technology partner at Taylor Wessing, will cover what you need to think about in choosing Europe as the first stop in your international journey, and a few of the key advantages in doing so.
Timing your launch
Before the internet wove the world's buyers and sellers so closely together, startups would follow a well-trodden path to growth: first, raise a Series A and B round to develop your product and win over your domestic market; second, raise a Series C round to push into new markets.
But founders in 2020 are likely to receive interest in their product or service with less predictability and at much earlier stages, perhaps before they've even completed their Series A.
Taylor Wessing believe that in today's market the Series B round is the earliest a founder or board should consider a move. International expansion is a matter of focus, as well as financial resources. Everyone in the business needs to be thinking internationally once you're selling into a new market, including your (if you have them) CEO, CFO, General Counsel, board, engineers and staff.
The companies Taylor Wessing has worked with who have moved earlier than the B-round will generally end up realising that it is too early, and they will end up pressing pause, or making a full strategic exit.
Adapt your product and your pitch
For the sales team, the pitch that gets customers in London or Liverpool, might not work in Hamburg or Barcelona. The first point is an obvious one: language. You're going to want a French speaker selling to your French clients or customers – a hurdle you won't face by launching in English-speaking jurisdictions like the US.
Native salespeople will also understand the local market and have a local network already in place. This may be supplemented by training from the home office, or by sending a person or team overseas to work in your new office, at least for a while.
The second point is more subtle: cultural differences. Certainly, selling in Germany, for example, you may need to give more attention to issues such as privacy, which a UK consumer or company might be, comparatively, less concerned about. German customers also tend to demand more detail about the manufacturing and materials used in their products whereas in the UK they are more concerned about general performance.
As for product and pricing changes, this will be necessary due to the local laws and practices in each jurisdiction. Regulations such as GDPR are Europe-wide, but you must still consider local practices and local laws, as how they enforce unilateral regulations may vary. There may also be rules which apply to some jurisdictions in Europe, but not others. For example, in some countries you will need to have a local language version of your website. There can be differences in sales and returns policies too.
You don't have to do business 'in', to do business 'with'
Founders should always be aware of the variety of routes into a new market. There is a difference between 'doing business in' and 'doing business with'. Putting a sales team on the ground is the former. It's how most tech companies view international growth.
However, you can also make inroads to a new market without a local team on the ground. This can be through relatively straight-forward means, such as using partners or resellers, or selling your product directly from the UK. As well as saving on the costs of having a team on the ground, another advantage of using this method is that the regulatory burden is usually (at least in practice) less.
With partners or resellers (i.e. a 'distribution model') be aware that, as mentioned previously, there will be some local differences in law. For example, in Europe there can be statutory payments during or when terminating these arrangements, and you need to be careful about exclusivity, pricing, etc. For Europe, Switzerland is a classic example of this.
Regulations
This can present a challenge, particularly for highly regulated industries like fintech (and an expensive one at that – expect it to add up to £100-200k to your expansion costs).
Companies need to be thoughtful about local regulations, and that will require planning before launch. If you are a B2B, and you are selling to regulated entities (Thought Machine is a great example), you will face the same challenge.
With Brexit, the situation is even more complicated. It's not fully clear at the moment, but it's unlikely that UK startups will be able to use their UK FCA licenses to sell in Europe.
The consumer space is more forgiving, and you might be able to launch there without many regulatory hurdles at all. Although the barrier to entry might be lower, it's important to remember that the companies who are strategic rather than reactive in their approach are the companies who, in our experience, will have the most success.
Common challenges
Hiring and firing

: Employment laws are much more stringent in Europe than in the UK, and give heightened protections to employees. In general, it's much harder to fire people in Europe. You need to be careful and ready for this.

 

In most European countries you must work on the basis to take advice before ending a relationship, and budget, assuming that you'll have to pay something. Because of that, it always makes sense to set yourself up for success and use employment contracts that put you in the strongest position when it comes to dealing with employees.


 

Stock options

: Even though you will grant out of the parent company stock option plan, you will need to consider local tax and securities laws on a country-by-country basis.

 

There will also be significant differences in how employees value options in different jurisdictions. For example, if you're hiring an engineer or a salesperson in the UK, you will need to grant stock options to get the top talent. For the same person in Germany, a cash bonus or a company car may be viewed as a better package.


 
Immigration: An important question you'll need to answer is: Should I send a senior person from my home office to go and live where I'm expanding to, at least at first, in order to embed a company culture and a way of working? 

From a legal standpoint, immigration is less relevant of an issue for a UK company moving into Europe (it would be a different story for the US), due to the current shared working and residence rights. However, with Brexit, this situation is subject to change.

Also, if a whole team is landing then even more planning will be needed. You will need to persuade the local immigration authorities that you need multiple visas, instead of just one. So, plan early. And make sure you have business and investment plans in place to support your application.


 

Consultants PEOs:

Professional Employer Organisations (PEOs) have always been a feature in the US, due to the popularity of co-employment arrangements, but particularly in the last few years we have seen their use grow in the UK and Europe. To those unfamiliar, a PEO acts as a third-party which employs your employees on your behalf.

 

Taylor Wessing's understanding of why they work well in the US is that the concept of co-employment means that companies still have a direct relationship with the employee. 

In Europe and beyond that will not be the case, which can lead to a number of challenges around stock options, IP, non-competes and transference. Overall, the experience of Taylor Wessing is that PEOs aren't a 'never use', but a 'use with caution' option - and you should know it is temporary.

 

Regarding consultants, Taylor Wessing's experience is that there is no huge difference between what makes someone an employee or a consultant, no matter what jurisdiction you choose, but the consequences of that decision can vary hugely depending on location. However, universally, it's almost always better to bite the bullet and be honest about the status of your people. There is an acceptable de minimis in Taylor Wessing's experience (for example, using a consultant for a period of less than six months tends to be relatively low risk), but work on the basis of getting it right.


 

Trade marks and IP

: As a general principle, you always want to control your own IP, and make sure it is in your name. Don't let third parties (e.g. employees, distributors, resellers) register local rights. For example, Pinterest famously spent a number of years trying to wrestle back the name from a European trade mark squatter. Register early (or now).
Choosing your market
If Europe is your target, the 'big four' of Germany, France, Italy and Spain are likely to be your first point of entry, as they have the largest markets. But there are opportunities all over Europe, with the Nordic countries and Eastern Europe coming up regularly (including as great places to hire talent at lower cost).
COVID-19
No founder or CEO would consider such an important move for their company without gauging the current and future outlook for the economy. Does doing business in a COVID or post-COVID world mean I delay expansion? Or has it become even more of a priority, with the greater need for new customers and opportunities?
Taylor Wessing's experience is that expansion is still high on the agenda for companies, though it may not be in the traditional way. We all now know that you can pitch and win business via Zoom – you don't have to jump on a plane or train. As a result, we might see less local hires and more of a focus on home office hires that understand local markets (e.g. hiring a French speaker in London instead of Paris).
Taylor Wessing International Expansion Guide
You can use our International Expansion Guide for a high-level overview of the legal and regulatory considerations in popular European jurisdictions. You can also use the guide to directly compare rules in different jurisdictions.