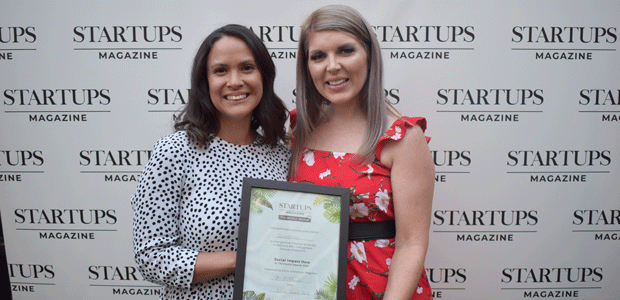 The 'Goodfind' that is making a social impact
As we look forward to this year's Hustle Awards, we take a look back at some of our deserved winners from last year. Starting with one of the hot categories – Social Impact Hero - who took the crown when it came to making an impact and leading the way? Well none other than the ultimate ethical alternative to everything platform, Goodfind.
Founder Nohelia Rambal was at the awards herself and was so pleased to walk away our Social Impact Hero 2021, she said it was such an honour and such a great achievement for Goodfind. Having always loved and read Startups Magazine, when Nohelia saw the awards and in particular the Social Impact category she knew she had to enter. "I thought it maybe a little early for us, but I went for it anyway. We still at the beginning of our journey but we are extremely proud of the impact we've generated so far though the support to ethical brands and our campaigns inspiring thousands of people to lead more sustainable lifestyle. It is very important for us to be transparent on our positive impact no matter how big or small."
So who are Goodfind and what do they do?
Goodfind connects shoppers with good brands, who do good things. On the platform users can search and compare ethical alternatives to every day needs, so they can shop more ethically with ease. Nohelia explained the idea is to try and encourage people to use other sources beyond Amazon and to do more good with their shopping and buying habits.
How it started
Originally from Venezuela Nohelia's career started in marketing, in particular retention marketing; working a lot in email marketing and communications, which brought her over to London.
Officially the business launched in 2020, but Nohelia had been working on the idea since 2019. She had always wanted to be an entrepreneur, and had always wanted to create a social impact business to help and encourage people to be ethical and do more good. Nohelia said she had thought a lot about how we can make ethical and sustainable consumption easier.
When it came to it and Nohelia had the time to start her own business, none of her previous ideas were that relevant, so she went on to work as a marketing consultant for a few charities and social enterprises to understand a little bit better what was happening in the industry.
She said: "It was very clear for me at this point that there was a massive gap between what those brands were offering in their amazing products and services and their ability to reach customers and tell their story. Whether that be for the lack of budget, or the knowhow. I knew that a lot of people would love to use these brands it just wasn't easy to find them."
Creating Goodfind meant Nohelia was bringing together the two groups that needed to be connected to better the world – the good brands out there and the people that want to do good all on one platform.
She didn't expect the response she received either. Nohelia explained: "I thought I would find a few hundred brands, but there are so many out there, it is a much bigger space than I thought. Thousands of brands are doing good and generating positive impact out there."
It started off with Nohelia approaching all these brands and businesses, but organically over time some brands have started to reach out to Goodfind and want to be listed, so now it is a good mixture of both methods. Nohelia said: "This is a new way of doing business, and a new way of being sustainable."
The journey
Similar to how it is with many startups, for a long time Goodfind has mainly been a one-woman band, until earlier this year. Nohelia started to hire freelancers to help with specific parts of the business for a few hours a week, and a consultant that joined the team for a while to help with the rebrand. It wasn't until May 2021 that Nohelia made her first payroll hires. She said: "It has been a great journey, and now having a team after working by myself for such a long time feels amazing - to have people that believe in the idea as much as you."
This month Goodfind are piloting an idea that came from a customer perspective, and launching its first user membership programme. Nohelia explained: "For the first time we're going to invite a select number of brands, and a limited number of users to come and buy a membership where they will get points to spend with some amazing sustainable brands that are part of our portfolio."
The B2C side of things comes from Nohelia's background, as she shared that currently over 52% of people globally have the intention to consume sustainably, but things need to be made simpler for them. Nohelia said: "You do this by giving them a lot of choices, and suggestions and make it really easy for them to make that behaviour leap. So that's exactly what the pilot and the membership programme in the long term aims to do."
Challenges
As quite a small and new business, Nohelia said it is still quite hard as it involves a lot of Hustling and as with any startup one of the biggest challenges has been funding. Getting the right cash flow, and deciding which avenue is right for you to go down are all a challenge for businesses, Nohelia said: "It's these sorts of choices that are critical to your business and your future."
For Goodfind the first sort of funding they went through was family and friends to bootstrap the business. Nohelia then received a grant and help from the Kickstart Government programme. At the moment, Nohelia is in the process of launching the business' first equity round. She explained: "We have been part of a few accelerator and training programmes like Allia, Hatch and Capital Enterprise, which helped us learn about pitching and getting investor ready. The plan is to get the funding we need in the next few months so we can hire a bigger team, invest in marketing and grow the business next year."
Having an audience around your brand is definitely a key part of growing your business, but Nohelia explained this is another key challenge as a startup. She said: "How do you grow an audience without a lot of budget? It is so difficult to get your branding and message right, and in front of the correct people." It is all about being seen, and that's one of our main focus areas, which has brought great results with different media features, awards and recognitions, just like the Hustle Awards! But there's still a lot more we'd like to achieve in this space.
It is all worthwhile, as Nohelia said the most rewarding part has been creating this business among a network of amazing people, and feeling like Goodfind has really been able to make a difference.
Sustainability
The sustainability sector is super popular at the moment, and hopefully for the foreseeable future as it needs to be. Nohelia said that so many people want to be involved and create something good, that is doing something for the planet.  There has also been a huge amount of fake players and greenwashers trying to join the wave, which is a downside and results in more confusing information for consumers.
Talking about competitors she said: "It is so positive, there is space for every business that wants to start in this industry as there is still so much to do."
Sustainability is still building and growing, from environmental to social issues, there's still a LOT to do in this space. Goodfind are trying to elevate all the sustainable brands out there, and want to push the others up.
Importance of ethical
Nohelia said she believes being ethical as a business is important because of the way that we have been driving ourselves as society, which is not the fault of the consumer but in general the way people live their lives and consume things, has become so expensive – and not just from a monetary point of view.
She said: "It has cost us in terms of degradation of natural capital, human rights, climate change and these things come at an expense. Unless we understand there is a new way of doing things that is not as costly for us and for the planet in the long term, we will struggle to meet the targets to save our planet and reverse the consequences we've created so far."
It is important to create awareness and to encourage better and thoughtful consumption, as we need to be able to make a big change. Nohelia added: "I believe that legislation is important and that Governments should be taxing correctly and encouraging the right behaviours from the bigger polluters as well as new players in each industry."
People want to be sustainable, but often they are going to the wrong place which leads them to feeling guilty for what they have done previously, or leaves them confused about what is the right thing to do. Everyone making a small change can make such a difference, especially when compared to a few people trying to do everything. Nohelia said: "Trying to make a lot of changes at once can be overwhelming for people, but when you break it down into small easy steps, it becomes more attainable."
Diversity
Nohelia said she thinks that diversity in the Sustainability sector is so much better than most other industries. "It is almost 50/50 in founders, so a very good mix and very supportive."
Nohelia said tech has so many layers, but looking it at a whole, diversity is still a massive issue here. It starts off so early when boys are encouraged into tech and girls not so much, Nohelia explained there seems to be a funnel system feeding the boys into tech. Not only is that a problem but diversity goes beyond gender, and we need to do more in all areas.
Of course diversity in funding is still lacking, as Nohelia said it is unfair that men are more likely to get funding, because the majority of capital still comes from pockets that don't representative of our society, only the white and male sector. The gap in funding gives them a natural head start and advantage. "A lot more needs to be done in this space, the statistics and figures show it all, with less than 3% of all VC funding going to female founding teams."