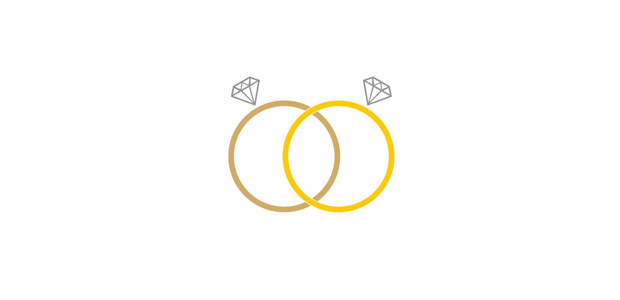 The gold and diamond jewellery market
Of all the industries in the world, the jewellery business is one of the most traditional and old-fashioned. It is also the most reliant on direct interaction between master craftsmen and merchants. The most precious metals and stones in the world pass from hand to hand in a supply chain that has barely changed in hundreds of years.
The jewellery market is an industry rooted in ancient times. From the dawn of civilisation, humans have been adorning themselves with gold jewellery. It has morphed into an industry where purchases are driven by emotion and status, worn for prestige and used as investments.
Gold jewellery consumption has proved to weather economic uncertainty well, so there is little surprise that cryptocurrencies such as Bitcoin have been dubbed 'digital gold'. Its continued growth proves that buying and wearing gold jewellery is never out of fashion. Whether bought as a piece to wear or as an investment, gold jewellery continues to account for a large proportion of the global gold supply.
According to the latest gold demand trends, jewellery accounts for 47.7% of total gold demand (over 90,000 tonnes). 88% of this gold jewellery is distributed to consumers via SME retailers and boutiques. It is these retailers who MarketOrders helps. We propose to develop a trusted supply chain system, powered by blockchain technology, that will resolve the friction points and inefficiencies faced by independent retailers.
Why now is the time for digital disruption
While the human-to-human global supply chain worked adequately before, it is ill-equipped to deal with consumers who want access to products immediately, rather than waiting weeks for them to arrive, and who want to see an array of options before making a final purchasing decision, with the reassurance they are getting the best possible value. And, of course, the product they are buying has to be ethically sourced with full traceability.
Perhaps it is unsurprising then that the industry has been traditionally slow to embrace change and innovation. There are growing signs, however, that the jewellery business, after years steeped in tradition, may be about to welcome an injection of digital disruption. It is the consumer who is driving this industry shake-up, and if industries don't adapt to these changing consumer demands then they risk being left behind.
However, the industry we operate in – the gold and diamond jewellery (GDJ) trade industry – is well aware of the need to embrace new technologies. In recent years, the global authority for precious metals trading, The London Bullion Market Association (LBMA), a wholesale over-the-counter market for the trading of gold and silver, has urged the industry to embrace blockchain as it will strengthen supply chain provenance. They announced plans to help modernise and improve transparency in the industry, with an approval process for companies using blockchain technology to track the movement of gold. This came after the revelation that a US refinery had accepted billions of dollars' worth of gold that had been smuggled from South America.
Ruth Crowell, CEO commented: "The LBMA is continually looking at ways in which investors can be assured their purchase of gold bars addresses supply chain risks, as well as protecting them against issues arising from fraud and breaches of security. The LBMA looks forward to seeing the innovative ways respondents devise technology which can further enhance the Responsible Sourcing Programme."
What do we mean by digital disruption?
Simply, the use of new technologies that make it easier to move physical products through the supply chain and create new ways of serving customers. This digital disruption is being powered by new technologies consisting of distributed ledger technologies (DLT), often used interchangeably with the terms blockchain, Artificial intelligence (AI), machine learning (ML) and Internet of Things (IoT), to name just a few.
The issues MarketOrders addresses
Without an efficient, transparent and trusted supply chain in place, small retailers and manufacturers suffer. Payments take longer than expected, quality issues arise and there is no real way to show consumers that they are buying ethically sourced products.
So how can this industry tackle these inefficiencies? We propose the following recommendations.
Better stock inventory processes: Jewellers need to carefully manage stock inventory so they are not left holding expensive stock. At MarketOrders, we allow our retailers to order exactly what they need to minimise the costs and inefficiencies, as well as the energy and environmental costs that are associated with sending back and melting unsold gold jewellery. In 2018, the World Gold Council released a report[5] highlighting the gold industry's role in improving energy efficiency that particularly highlighted the energy used in melting down unsold items.
Leveraging Data: Both manufacturers and retailers largely operate offline and have no online system to capture orders. By using online systems, they can better spot trends and meet anticipated consumer demand over both the short and medium-term. This also helps to significantly reduce returns.
Embracing tech innovations such as blockchain: Embracing the power of blockchain will put the control back into the hands of the retailers, by not only proving provenance of the products but also making the end-to-end sales and supply process more transparent, efficient and profitable. Blockchain technology can be used to significantly reduce the cost of international and cross-border payments, as well as to verify trade finance invoicing and run digital checks on customers.
Ethical sourcing: Blockchain can be used to track items in the supply chain, from the mines of origin through to refining, polishing, and jewellery manufacturing, and shipping the products to the retail store. This adds value for consumers who seek to make ethical purchases.
Overall, the jewellery industry is set to benefit from great efficiency gains if it can embrace technological innovations within its traditionally fragmented supply chain.
DLTs & the Gold & Diamond Jewellery Supply Chain
Well-functioning global supply chains are vital for the smooth and timely movements of goods all over the world and they underpin the globalised economy. Yet, it is still surprising to see that most supply chains, which are often complex operations, still run on predominantly manual procedures and processes. For example, global import and export approval processes can involve as many as 200 communications between 30 individual parties for individual approvals, which are made using paper-based documents.
Why use DLTs in the gold and diamond jewellery supply chain?
DLT, though still in its infant stages, is clearly on a path to disrupt many aspects of business and society, especially those dealing with the coordination of information and trust. It has the potential to become the new layer for economic value transfer within the modern technology stack. In addition, the use of smart contracts (programmable contracts that are automatically enforced) has the potential to automate many processes.
DLT is often discussed alongside its more famous sister, Bitcoin, and unsurprisingly, developments have been primarily focused on its use in the financial services sector. As a result, there has been significant investment and experimentation in this sector. However, the second biggest area where DLT is making an impact is within the supply chain and there's a good reason for that. We are keen to bring this into the GDJ supply chain.
We have identified the key problem areas that DLT can provide solutions for and grouped them into the following categories. It is in these areas that MarketOrders can implement DLT within the GDJ industry and improve the current supply chain process.
Key problem areas that DLT can provide solutions for
Product Tracing
Product provenance

Track and trace

Anti-counterfeit
Logistics
Supply chain management

Optimising inventory

Digital records (no paperwork)

Environment history recording
Financial Transactions
Smart contract payments

Direct selling

Token-based payments

Reconciliation

Audits
Retail Operations
Customer identification

Loyalty management

Refunds management
Circular Economy
Reduce

Reuse

Recycle (supporting secondary uses)

Resale
Why use blockchain in the gold and jewellery supply chain?
There is increasing evidence that businesses who are involved in the movement of physical products along complex supply chains can – and are beginning to realise – the value of using blockchain and DLTs as part of their business models.
Awareness of the use and benefits of such technologies is beginning to increase in the retail space, with nearly 90% of people working within the industry convinced that blockchain and DLT will become an increasingly important part of the future of retail and contribute to making operations more streamlined and efficient. As supply chains become increasingly global, we see the information flow that is associated with the products is not. This needs to be addressed.
A blockchain is, in the simplest of terms, a time-stamped series of immutable records of data that is managed by a cluster of computers (not owned by any single entity). Each of these blocks of data records (i.e. block) is secured and bound to each other using cryptographic principles (i.e. chain). This is the definition we will use throughout this article. The blockchain is based on three key concepts:
Distributed data

Data blocks

A consensus mechanism
There are thousands of jewellery manufacturers around the world who operate in fragmented markets with inefficient manual processes. The table below outlines the key challenges faced by manufacturers and how it affects them.
Restricted to bulk orders - To remain profitable, manufacturers must sell in high volume quantities, so they have to deal in bulk quantities. MarketOrders will develop a digital marketplace whereby manufacturers can directly showcase the products they stock to a global audience of retailers to get more customers and not be overly reliant on third-party distributors to help them get sales.
High production costs - Unless manufacturers can sell high volume quantities, they face very high production costs per unit sold, which means they miss out on retailers who are unable to stock their designs.
Little or no online presence - Without an online presence, manufacturers miss out on potential sales from retailers who may want to shop online.
Fragmented supply chain - Manufacturers operate in an opaque environment where it is difficult to find the right place to source raw gold that has been mined and processed ethically and to the right standards.
High operational costs of processing payments - Manufacturers deal with global wholesalers and are therefore hit with the excessive costs and admin issues that are associated with having to handle orders and payments in multiple currencies.
How MarketOrders can use blockchain technology to solve the challenges faced by jewellery retailers.
Blockchain offers the perfect solution to the problems faced by retailers, such as the fragmented supply chain, by combining trust, security and transparency. We propose a solution that utilises this technology to create an ecosystem of trusted transactions amongst all participants, and this will be done transparently.
Our vision is the creation of a new way of sourcing and procuring products, which will verify the sources of the precious metals and stones to ensure they are not tampered with during their movement through the supply chain. We will also set out to establish efficient processes and systems that will enable retailers to procure their products directly from the manufacturers. We firmly believe that now is the time to bring the GDJ industry into the blockchain era.
Every transaction and trade can be held securely using end-to-end encryption whilst being openly authenticated if necessary, which will eliminate the piles of paperwork that usually accompany such processes. The blockchain ledger will also be able to document information that is related to the transactions. As this will be validated by a consensus mechanism, control will no longer be ceded to one entity and records will have a higher degree of trust and validation.
Driving Blockchain adoption in the supply chain
Blockchain technology is still very much in its early stages, and we are far from reaching its full potential.
As a growing business ourselves, we want to use blockchain technology to help brick and mortar stores reduce their costs, operate more efficiently and sell a more targeted range of products by embracing these technologies.
We know that the only way we can do this is to build a product that works and provides them with a convenient and user-friendly experience through our marketplace platform.
Below are the key components that we believe are vital in ensuring adoption:
Speed and scalability:

We need to be able to process transactions and accommodate millions of retailers and manufacturers on the MarketOrders platform.

Intuitive user interface:

It must be easy to buy, store, trade and transfer value seamlessly.

Efficient supply chain process:

This will enable efficient logistics, as well as product authenticity validat

ion.

User growth:

We will continue to build a growing, dedicated user-base of engaged retailers and manufacturers through brand building and ongoing marketing efforts.
By combining the above, we believe that we are uniquely positioned to establish a global large-scale decentralised marketplace and provenance tracker for the gold and diamond jewellery industry where transactions are executed using our tokens.