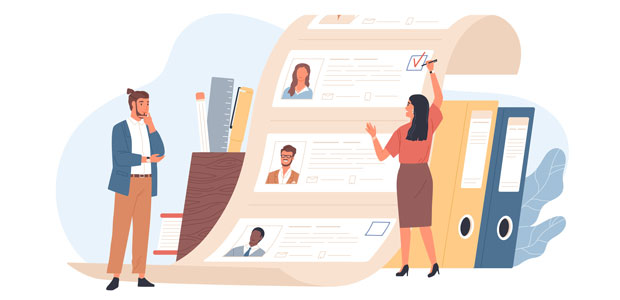 Global hiring market shows momentum towards recovery
New hiring data from LinkedIn suggests the global labour market is improving and continuing its early momentum towards hiring recovery. Progress observed in June held through July, although it did start to plateau towards the end of the month as some countries saw viral caseloads rise and shutdowns come back.
Hiring in France and Brazil continued to grow at a quicker pace and both countries moved into firmly positive territory by the end of July. Australia and the United Kingdom are following at a slower rate of improvement.
Highlights from the data include:
France

made notable gains, jumping up 12 percentage points during the last week of July to close out the month at 16% year-over-year. 

Hiring momentum in the United States held at the start of July. After a brief dip in the middle of the month, hiring has plateaued and is now hovering around -5% year-over-year.

Hiring in China continues to grow, but also at a much slower rate. Hiring hasn't moved back into positive year-over-year growth since

mid-June.

The hiring recovery in Australia and the United Kingdom lags behind other countries, though the improvement continues at a slower but steady rate.
LinkedIn's Chief Economist, Karin Kimbrough, said: "We're still early in the long road towards hiring recovery. Our latest data suggests the momentum in the LinkedIn Hiring Rate we observed going into June with widescale re-openings was sustained through early July. However, as the shutdowns came back and viral caseloads rose toward the latter half of July, the hiring rate plateaued. "
Adam Hawkins, Head of Search & Staffing, LinkedIn, said: "It's encouraging to see that we're on the road to recovery with LinkedIn's latest hiring data showing that the momentum observed during June held through July. Hiring in France and Brazil grew at a quicker pace with both countries moving into positive territory by the end of July.
"Furthermore, we saw steady growth in the UK and Australia. This will be welcome news to recruiters who are playing an integral role in restarting economies, getting people back to work and building back career confidence in the market. While there is likely to be more turbulence ahead, particularly with the resurgence of COVID-19 cases in some countries, companies are focused on ensuring their people can continue to work safely and efficiently, and are considering how they can build back stronger businesses."
Janine Chamberlin, Director at LinkedIn, said: "It's positive to see the hiring momentum that LinkedIn observed during June continue through July. While hiring in the UK continues to hover just below other countries, it is growing at a steady, stable rate. With companies starting to reopen offices, evaluate hiring needs and the skills their businesses need to come back stronger, we hope to see hiring continue on its current trajectory."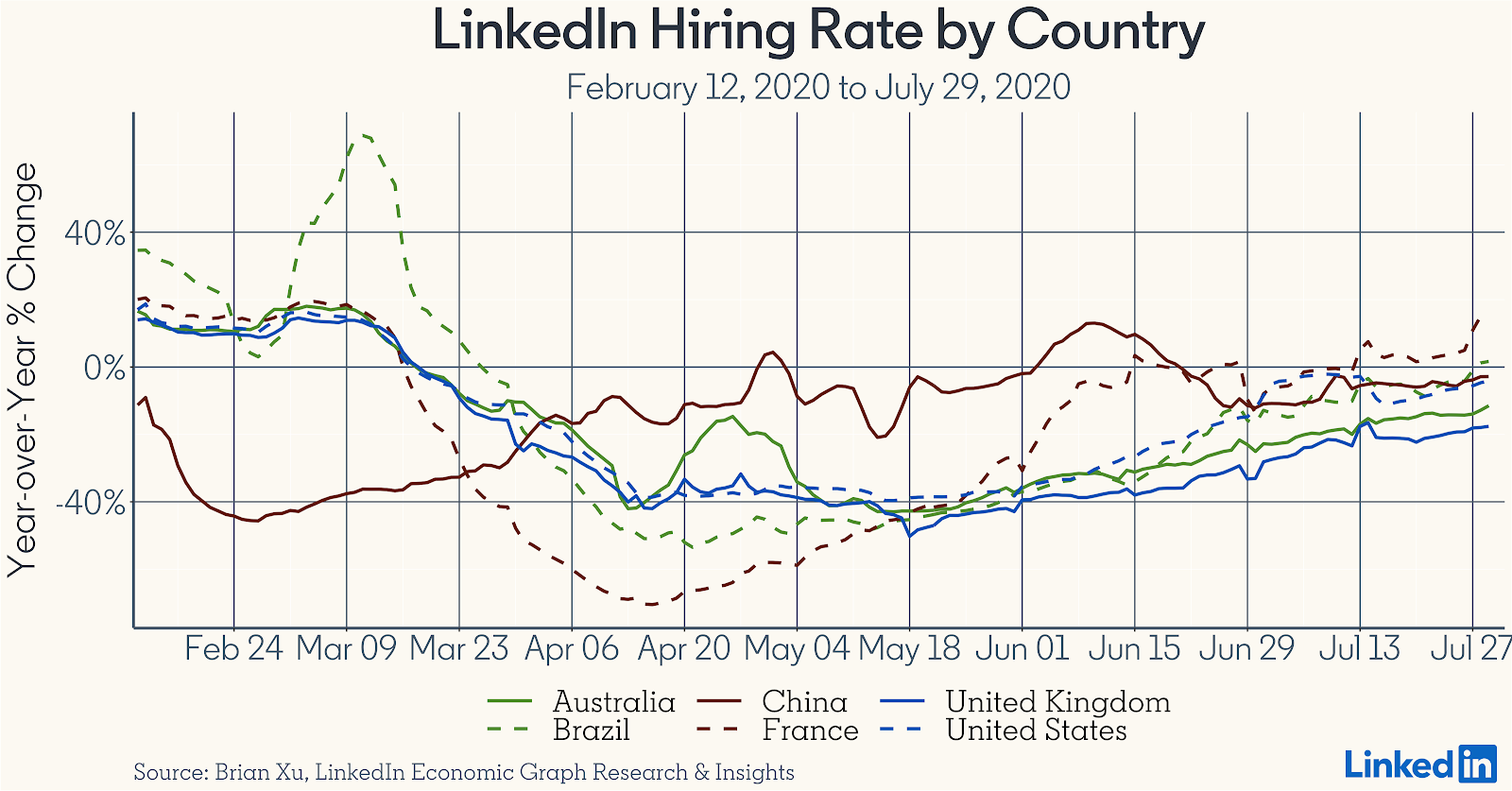 The LinkedIn Hiring Rate (LHR) is the percentage of LinkedIn members who added a new employer to their profile in the same month the new job began, divided by the total number of LinkedIn members in that country. By only analysing the timeliest data, we can make month-to-month comparisons and account for any potential lags in members updating their profiles.
A 14-day rolling sum of hires is calculated to reduce noise from the daily data and is divided by the daily LinkedIn member count in that specific country. These 14-day rolling sum hiring rates are matched with the same day of week last year to control for day of week effects in hiring data and the year-over-year percentage change of hiring rates is calculated.
You can find new information on UK companies that are hiring here, which is being updated regularly.