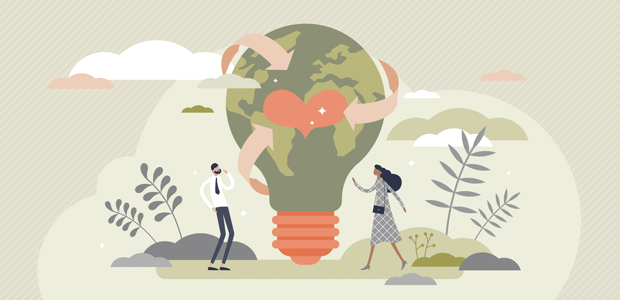 Getting started with a sustainability program
Knowing where to begin 'greening' your business can be genuinely overwhelming. Especially for a start-up where all hands are on deck just to keep things rolling, embedding a sustainability policy might seem like a task too far. 
An increasing minority of companies are now founded on a positive impact business model, where environmental sustainability and social improvement initiatives are baked into their services and products. However, for those entrepreneurs working in a completely different field, making that start on sustainable policy is often the hardest part of the process.
Actually, startups and small businesses are ideally placed to contribute positively to their communities and world around them. You don't have to go through a protracted procurement process and can involve yourself directly in things you care about.
Before you jump in - or jump out - of the world of responsible impact business there are a couple of important considerations every business owner should be aware of.
COMPETITIVE ADVANTAGE
Positive business is very zeitgeist-y and if this isn't your primary focus, it could be tempting to try to ignore it - but this is a trend that is here to stay. Investor preference and consumer choice are trending very strongly towards brands that have demonstrable positive impact, whatever their main company focus. Since 2003, funds in the UK seeking to invest in companies with provable Environmental, Social and Governance (ESG) credentials have grown over 1,800%, from £2.9bn to £56bn according to The Investment Association. The 2019 Co-op Twenty Years of Ethical Consumerism Report shows values driven consumerism in the UK alone growing from c. £11bn in 1999 to over £41bn in 2019.
If you can't point to a robust set of practices and values that prove your company does more than simply turn a profit, consumers will look elsewhere for alternatives to make them feel as if they are contributing to 'the greater good' whilst investors will continue to look for potential investees that keep one eye firmly on consumer trends.
REGULATORY LANDSCAPE
Whatever field you work in, the sooner you start working on your sustainability policies, the better placed you will be as the legal landscape tightens and moves fast to keep up with international mandating, the climate crisis and consumer demands.
In September 2021 the UK government signed into law the Green Claims Code (GCC) - an anti-greenwash policy designed to put an end to overblown and misleading 'green' claims made by any company putting some sort of sustainability claim on their products. Furthermore, climate related disclosures - particularly carbon emissions - will become legally required for larger companies in the UK within 4 years (with some form of reporting for SMEs sure to follow). For now, positive impact initiatives have the feel good factor and a certain competitive edge, but very shortly you will need to get your environmental credentials in order (at the very least) as a matter of legal and reputational necessity.
All this being said, where do you begin?
UNDERSTAND WHAT WE'RE WORKING TOWARDS
The United Nations' Sustainable Development Goals (SDGs) provide a global framework for socially equitable and environmentally responsible development over the next 15 years. They are 17 broad aims that cover everything from responsible consumption to life in the sea. Whilst the goals were agreed at an international level, every business no matter how large or small, and regardless of their industry, can contribute. As the UN website says, "Responsible business... rooted in universal principles, will be essential to achieving transformational change through the SDGs".
Get familiar with what the SDGs mean and how you might support a select few through your company - if you work in tech, SDG#17 focused on partnerships might be appropriate. If you're in the building sector, SDGs #11 and 12 looking at sustainable cities and responsible consumption could work whilst SDG #1 looking at zero poverty dovetails nicely with finance. There's no limit to how many you can align yourself too, or how creatively you want to interpret them - the main thing is to coordinate your stated aims with an internationally accepted framework and use that as your starting point.
MANAGEMENT AND STAFFING
Make sure your team are on board. Maneuvering your business from a profits-only focus, to a more nuanced approach of profits and positive impact, is a 2 way street. The initiative has to be led from the top with clear messaging and even clearer follow through from senior management to ensure that every level of the company knows what you are trying to achieve, how, why and what they need to do to play their part. Interestingly, ESG-focused leaders are increasingly meeting an ESG-focused work force. As millennials rise the corporate ladder and Gen-Z start to enter the work force there is increasing pressure from the bottom up to make sure a company has an ethical framework that the business adheres to. Company policy and employee demographics are coming together over a shared set of values and expectations that is creating an evermore 'activist' business philosophy - regardless of what the business actually does.
EMPOWER YOUR STAFF
A sub-heading to 'management and staffing' but an important subject in itself is the empowerment of staff. Management policy and CEO soundbites are all very well but in order to make meaningful change, decision making under a newly instated or redefined responsibility-based framework has to be as easy as possible. Key to this is defining your overall aims along with cost imperatives, and allowing teams to make decisions within given parameters. The costs of greening a business are ever decreasing but at some stage you will come across a procurement decision that pits ESG standards against cost imperatives. i.e. how will you empower your teams to balance ESG with the P&L, and that they are trusted to do so? What and where are the incentives and boundaries?
MAKE THE CHANGE
Once you've got your theory and staff engagement in place, now is the time to start formulating your policies.
At this stage it is very much up to the individual business to set action plans for what you want to achieve. The key is to put measures in place that won't distract you from your core business mission or feel like a chore; as we mentioned, contributing to the global SDGs will vary enormously from sector to sector and your individual interests but they're an incredibly useful springboard from which you can formulate a clear action plan.
(At all stages of the decision making process, remember to keep your eye on anything that might fall under the GCC.)
The internet has myriad resources of how to do this and what best practice might look like - there is no need to reinvent the wheel here so if you invest some time upfront to do your research, you will save yourself inordinate time in the future.
Navigating all this will take time and effort but there are a really easy places to start upping your impact:
Recycling -  it's astonishing how un-seriously many people take it. Up to 80% of what we throw away could be recycled. If you do nothing else, pay a little more attention to what you're using that could be reused and make sure anything recyclable is properly washed and binned according to your local council instructions.
Packaging - If you do any sort of mail-out or packaging, you're contributing to the almost 15 billion deliveries the Royal Mail makes every year (2019 figure) in the UK. That's before we factor in DHL, DPD, Hermes etc… Any improvements the business community can make in terms of it reusable/biodegradable packaging will be a huge step forward in responsible business practice
Diversify your network - you may be a small company, but look at who keeps your business in business; contacts, suppliers, contractors and helpers. Even your clients. If you can't be a diverse employer, you can always be a diverse thinking company. You don't have to do everything in one go; start by looking at just one of your suppliers, see what values they champion, what they themselves are doing in terms of positive impact and how you could work together to create a bit of a change. Think also about your financial suppliers and investments – could your financial portfolio be used to help meaningful change?
ESGmark believes in the power of positive, impact driven business. If you would like to discuss anything we mention above please do not hesitate to contact us.