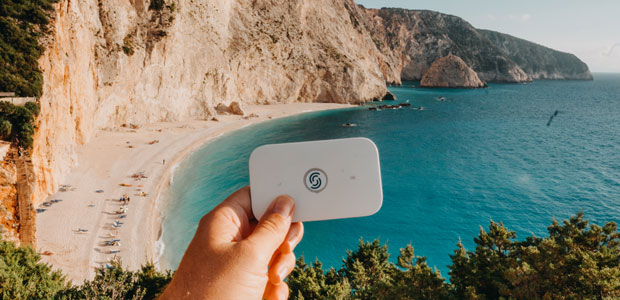 Getting that perfect connection
Whilist travelling is one of the most truly amazing experiences - meeting new people, trying new foods and even learning new languages - it is not without its challenges. Although we are living through the most connected time in history, it can still be a struggle to find WiFi on the go (that actually works). Here, Startups Magazine speaks to travel technology startup, Rent 'n Connect to find out why their products can save you from all those hair-pulling moments.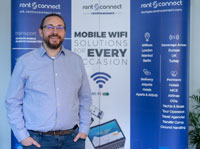 Prior to co-founding Rent 'n Connect, Ozgur Gen studied mechanical engineering at Boğaziçi University in Istanbul, Turkey before later studying industrial engineering in the US and graduating with a master's degree. During his time in the States, Gen co-founded couple of different startups, yet he openly admitted to me that they all had sadly failed. However, I found it incredibly inspiring to hear how he didn't give up and has now co-founded a successful technology startup.
"When I co-founded my previous startups, they were a combination of different industries, but throughout this whole period, my intention was always to go back to the technology side of things as that's where my passion really was and that's what I did back in 2014," explained Gen.
The initial idea for Rent 'n Connect was to provide hotels, restaurants and cafes with iPads that had pre-loaded content, which they can provide the devices to their guests / customers with a pay per use model. The idea was that people would be able to access the pre-loaded content or the device overall whenever they needed to, such as when they needed a device but don't have it with them at that moment, or just interested in passing time with entertaining content. However, the team quickly realised that the business plan wasn't working, and the feasibility was just not there.
Gen said: "It was obvious there was some demand there, just not enough for it to take off. But we soon discovered that people were using these tablets and taking them outside of their hotels and this was because they needed the connectivity. This got us thinking that if people were willing to carry around big iPads, then surely there would be a demand for a smaller, lightweight product. So we started testing different devices and pricing and found there was a lot of interest in this. Once we launched the website, things really started taking off!"
What users can expect
The company offers two products on its website, the first one is a mobile hotspot device, specifically aimed at use in single countries, currently available in Germany and Turkey. The lightweight device starting from €5.99, provides 4G speed connection and can connect up to ten different devices at the same time such as a smartphone, tablet or laptop. Rent 'n Connect provides its customers with an unlimited data plan, meaning they don't have to worry about any speed limitations. A powerbank is included to every reservation catering for extra battery life.
The second product starts at €9.99 and is a mobile hotspot with unlimited data, designed for use globally. This device provides a wide coverage area that incorporates over 130 countries and has the ability to connect up to five devices. Both of the mobile hotspot devices are fully reformatted back to factory condition to ensure that no personal information is ever stored or released. Rent 'n Connect can also deliver your mobile hotspot the same day if you place your order before 12.00am.
Rent 'n Connect could be described as somewhat similar to the car rental space, but for WiFi. Users can go to the website and specify their travel destination and the dates they would like to rent the device. Once this is done, users can choose whether they would like the device delivered to the airport or their hotel. After the rental period ends, users can return the device to the company's supported partners' offices in their current location. Rent 'n Connect can also pick up the Pocket WiFi at a user's selected location on the return day, selected in certain locations.
Once the company began gaining some traction within the market space, it also began getting requests from users for additional services such as help with transfers and tours. That's why they decided to launch Tripbackup in 2018, a personal travel and booking assistant app for all things related to your trip. Users can book their favourite service, find exclusive deals, browse curated tips and suggestions, and talk to a live agent for all their travel needs. The app is free to download for IOS and Android.
The financial side of things
Initially, Gen and his co-founders all put in their own money to start the business and as it progressed and needed more funds, they managed to raise some with the help of friends and family. The team spent three years making sure it was a viable business and expanding on its customer base. During this time, they used some government grants that were available in Turkey at the time to support their research and development. Rent 'n Connect went through two accelerator programmes, however, this was not out of a need for funding, but more to help them with mentorship, and local as well as international networking options.
As Rent 'n Connect began to expand in Turkey, already servicing a global customer base from more than 90 countries, the team really wanted to mirror this growth internationally so that's when they began looking for outside funding options. Gen said: "In September 2016, we successful completed a seed round with local angel investors from Turkey and although it's not the best time to be looking for further funding for a travel startup right now, we are currently working on a new round that will enable us to grow further, especially on the B2B side."
Gen went on to tell me about his pitching experience: "It was hard to begin with, but it got easier -
 like most things in life! It was a challenging time to look for funding as we found that the local angel investors were playing it safe and investing in the local versions of international success stories because they knew what the exit scenario was and there would be no competition with global operators. We were considered more of a risk because we were working on an international product with international competition, and many of our competitors were also at a similar stage to us, so nothing had been done at scale by this point.
He continued: "I must admit that it has been particularly difficult to get funding in this region. There's a huge startup scene in Silicon Valley for example. I'm not entirely sure if this is a solvable problem and it's unfortunate but also true that they seem to have a lot more networking opportunities, access to funding and resources compared to emerging countries like Turkey and other areas of the world."
Many of the pitching and networking events Gen attended were found through the accelerator programme and it just goes to show how important it is to get to these events, and make new connections, but also utilise existing ones. Gen met his first angel investor at one of these pitching events, but he actually committed to the business during a coffee break where the two got chatting and Gen gave him more of a relaxed pitch. The other angel investors Gen met at this event were contacts he'd previously made but never actually met face to face, so finally meeting in person, undoubtedly helped to seal the deal.
Gen described his investment journey in three words: "There is hope." He said he chose these words because he feels they describe his journey perfectly, he continued: "Even at the most challenging times if you have the right mindset, good things can start to happen. Perseverance is something ALL founders need, especially at the moment. During these dark days when nobody knows what the future holds, we should all remember that there is hope and things will get better."
As someone who has quite a bit of experience in running startups, I asked Gen if he had any advice for early stage startups, he said: "Starting small has worked really well for us - it's important to take the time to really test the different products/services, test the audience and see what works for them. I can't stress how important it is to be there to listen to the users, because after all, they are the ones who are using your product or service. As I mentioned previously, in the beginning we started with a completely different product to what we are doing now and that is okay. Don't be afraid to change things if they're not working out."
Most of the world is currently on pause due to COVID-19, it is an extremely worrying time for all businesses, no matter how big or small or what industry you're in. But this is a particularly difficult time for the travel and tourism sector.
Gen expressed his thoughts on the current climate, being a travel startup and what Rent 'n Connect will be focussing on in the coming months: "This is such a rare situation and nobody knows how long it's going to be going on for, but I do believe that people have a need to travel and have new experiences, see their family and visit new destinations, so I think travel will come back. However, I don't know when this will be and in what capacity, but I am hopeful.
"Our plan for the future, was and still is, to continue expanding across the world. Rent 'n Connect is already available in many countries but we want it to be available in every major travel destination. We're also going to be focusing on creating new partnerships to help deliver our devices and expand our customer base. We're also really excited to announce that we are working on some technological aspects and eSIM is one of the areas we are focusing on. An eSIM is an embedded universal integrated circuit card and is a form of programmable SIM card that is embedded directly into a device, so not having a physical sim card will mean our users can change operators on the go."