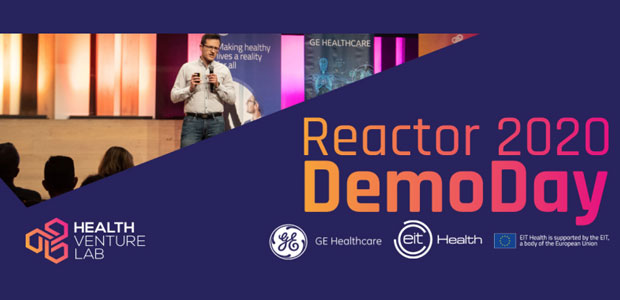 Gamechangers in healthcare innovation: HVL's Reactor 2020 program winners
Although the future looks quite challenging during the pandemic, having watched 18 entrepreneurs show what risks they take to improve patients' lives to enable better patient care, we become hopeful.
The Health Venture Lab team aims to ensure its continued growth in the vast ecosystem that helps corporations, experts and startups active in healthcare to communicate, collaborate and achieve high results in joint projects, financial revenue, and other essential objectives. Health Venture Lab recently announced the winners of the Reactor 2020 acceleration program that was launched by GE Healthcare with the support of EIT Health, Europe's largest healthcare initiative.
"I am proud that our initial ambition from four years ago grew from a single program into a whole ecosystem where we can help startups from their research from the initial idea and inception of their IP - all the way to them growing up," said Daniel Szemerey, Co-founder at HVL. "We take them through four very intensive Sprints during which they learn about business methodology in parallel to expert sessions where they have a chance to consult with GE Healthcare experts or University partners who have deep domain knowledge."
The culmination of the four-month program was a 'Demo Day', where each member of the Reactor 2020 batch had to pitch their core breakthrough ideas in three minutes to generate investment interest and impress the expert jury. Here are the results of this survey, including six winners in various nominations:
Most exciting Investment Opportunity
CRIAM - an in vitro diagnostic company focused in the point of care area.
Promising future for a Medical Professional
Cytocast - predicts positive and negative effects of treatments using computer simulations.
Most impactful according to partners
MiiCare - specialises in the application of AI focused on geriatrics.
Startup I would love to collaborate with
BestHealth4you - bringing a new-generation of medical-grade adhesives to market.
Jury vote
Qubiotech - advanced neuroimaging processing software.
Most creative pitch
Entremo - a patient monitoring system that allows for remote and constant monitoring of vital signs.
"As leading industrial healthcare provider, we are dedicated to support the professional growth of healthcare focused businesses to achieve, what whole Europe has in focus: a competitive ecosystem with a strong startup sector in healthcare. Our community is open to all startups who are ready to scale up, because we have every tool that they need: global market access, realistic expectations, up and-coming financing solutions, and more importantly - the expertise." said Endre Ascsillan, Vice President - GE in Hungary, Co-founder - HVL.
Some of the areas that Reactor 2020 startups cover:
Medical devices/hardware
Software/platform
Big data/AI
Medical imaging
Responding to COVID-19