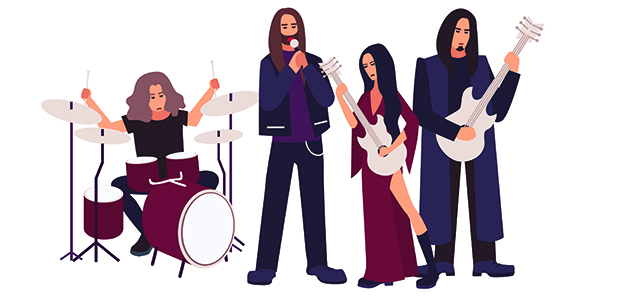 Game-changing audio technology
As a keen runner, I have always felt a little caught between a rock and a hard place when it comes to headphones while exercising – from the inner earbuds, which while relatively comfortable, tend to be quite unstable and are prone to falling out; and the over-ear versions which are pretty sturdy but by the end of a run feel like they've pushed your ears through a mangle (and are not to mention very sweaty). My interest was piqued therefore, when I heard about a new earphone kid on the block, Drown Audio, so I was all-ears when I spoke to Founder and President, Mark O'Callaghan.
As an award-winning independent film maker working in the US and Canada, O'Callaghan became accustomed to doing his own audio editing and was therefore used to wearing headphones. However, he found he had to take regular breaks from using over-ear headphones as he also found them uncomfortable and made his ears sweat.
As such O'Callaghan researched the headphone market and their various applications and learnt more about the physics of audio waves and the workings of the inner ear – with the intention of coming up with a new generation of headphones.
He purchased some silicon material that is used for the manufacture of ear protectors (which are an alternative to the memory foam versions which the ear pushes out naturally after a few hours) and are made to fit perfectly in the individual's ear.
He added: "I have a workshop with Dremel tools which I used to carve out a waveguide on the inside of the silicon which matched the physics of how audio waves can expand and contract, without any noticeable difference in the sound. I found the results were amazing. On my motorcycle at 90mph I could hear the music perfectly; in the studio when I was mixing it sounded as if I was actually there."
Production and manufacture
It was clear that O'Callaghan had stumbled upon something so he established Drown Audio in November 2018, and has recently completed an Indiegogo campaign which was successful enough that the company was able to manufacture a few thousand units which should be delivered in early in 2020.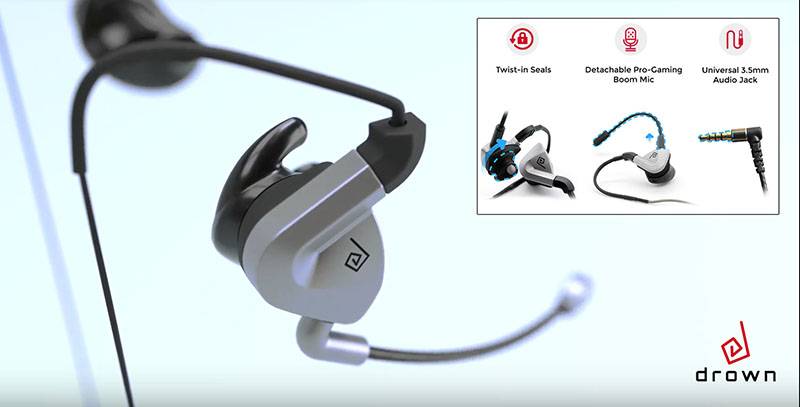 "I did one patent three or four years ago," continued O'Callaghan, "and I have partnered with David Law (who's invested in the company) and used to be the entrepreneur in residence at Target. He's also one of the founders of Spec Design which was the first company to work with Apple on producing silicon phone cases. He's an excellent addition to the team, not just as an investor but as the acting CEO.
"We're taking audio and delivering it in a way that has not been done before. We've made a huge leap in technology – we're not just creating a reiteration of old tech, so some people think it's too good to be true, which in itself has been a challenge."
How does it work?
Drown Audio's patented acoustic waveguides sculpt sound waves through a custom tactile system using scientifically tuned, dynamic graphene drivers. 3D sound, HRTF, spatialised sound, object-based audio, binaural audio - there are many names for the technology that recreates 3D sound on stereo headsets.
The first step in achieving this is a traditional stereo acoustic wave from a high-end dynamic graphene driver. A unique waveguide has been designed that sends sound waves through a tactile system that triggers spatial and physical awareness.
Spatial awareness is created by the nerves in your outer ear. This is how we perceive height, depth and distance. When sound design in a game uses object-based audio, Drown Audio gives you the ability to perceive your surroundings with complete accuracy, as if it were a true physical space.
Physical awareness is created through bone and cartilage conduction, similar to what you feel in your chest from a big set of speakers at a concert. Drown Audio lets you feel bass in the deepest sense possible and actually experience sounds below 20Hz - your normal low range of hearing.
Case examples
It was decided to take the headphones to a gaming conference in Germany to test them out on that market – it proved a shrewd move as they received a massive response. He added: "As a twist of fate, on the last day we met the drummer and guitarist, Dayle Williams and Ash Cook, from a heavy metal band called Valis Ablaze, and they loved the headphones so much that they invited us to some shows they were doing in the UK. We went backstage and ended up doing demos for all the performing bands."
O'Callaghan explained that Drown Audio deliver bass in a way that none of the bands had experienced before, to the extent that they wanted to try them on stage. "That worried me initially as they are bands that are very animated on stage," added O'Callaghan. "However, the headphones didn't fall out and the drummer said that they were better than anything he'd ever used on stage as he couldn't hear the drums except through the headphones – which is the ideal for musicians."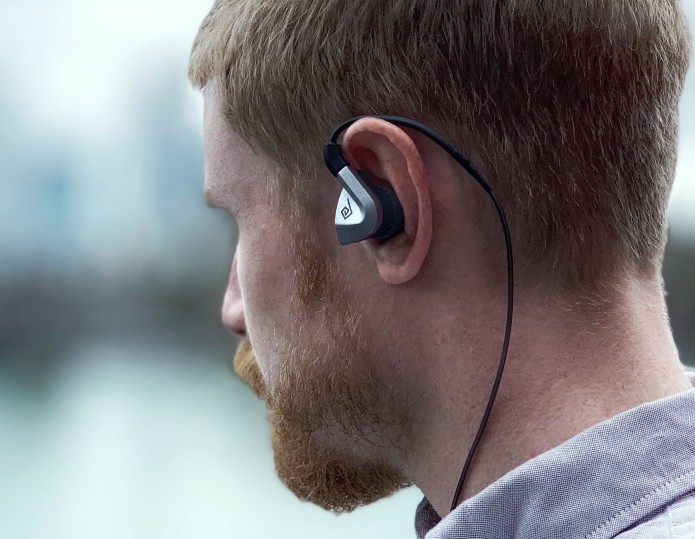 O'Callaghan added that Law's addition to the team has brought much to the table, as he has a wealth of experience in designing products for some of the world's biggest companies, and as such has helped the company understand the value of target specific units.
Following the successful excursion to the gaming conference, the first iteration of the Drown Audio headphones will be aimed at that market – complete with an oxygen-free cable that eliminates audio lag – which is a big deal for serious gamers. "It also has a detachable boom-mic on the left-hand side," he continued. "Most in-line mics and controls are on the right-hand side. However, gamers need it on the left as 90% of people are right-handed and thus use their right hand for the mouse, meaning that they prefer to use their left hand if they want to adjust their mic."
The next version will be launched in late 2020 and will be a wireless version focussed on music and film. Both versions take the nerves in your outer and inner ear and use bone conduction to shape the audio waves.
O'Callaghan added that much of the current technology available dates from the 1940s and 1950s, using a dynamic driver. And while some headphones are now using multiple dynamic drivers, none of them use the nerves in the ears to deliver true spatial awareness.
Looking further ahead O'Callaghan explained that the company are planning to release further versions for both sports (a version that is not only sweat-proof but actually works sweat away from the inner ear towards the outer ear), and meditation/sleep (as many people now wear headphones to bed to combat tinnitus). Ultimately, there will be around six different versions, all available within two years.
Market penetration
As mentioned before, one of the biggest challenges for Drown Audio is that people tend to be immediately sceptical around the company's claims, in what is highly competitive market. However, O'Callaghan is in no doubt about the company's future position in the market.
"We're predicting that we will replace around 70% of what exists in the market right now," he said. "There really is nothing that comes close. It will change the way we hear audio and connects us in a way that existing technology is physically unable to do.
"The reaction has been overwhelming. Industry professionals like David have been doing trade shows for decades and he said that a 10-20% positive response rate would indicate that you have a very successful product. We were getting around a 90% enthusiastic response."
In terms of advice for small scale startup companies and entrepreneurs, O'Callaghan stressed the importance of connection. "While you are out and about sharing your new business idea, take time to have some fun and get to know the people you meet along the way," he concluded.
"I always appreciate learning someone's favourite song and listening to it with them on our tactile earphones. When we chat later it's great that we can joke about the time we listened to Motörhead or Taylor Swift during a meeting that should have been all about accounting or real estate. With your business try to come up with a way where you can have some fun with your product or service in unique situations and create some fun memories."
Review
Of course, the proof in the pudding is in the eating (or the listening in this case). And O'Callaghan was kind enough to pop a prototype pair of Drown Audio headphones in the post for me to try out while running.
The first thing that struck me about Drown Audio was how comfortable they are. The pliable silicon earbuds mould to your inner ear in a way that buds or over-ear headphones simply don't do, giving a real homogeneous sensation to the extent that after a while, you don't really notice that you're wearing them.
However, the real difference is, of course, in the sound. And it's here that I'm discovering how difficult it is to accurately describe an audio experience in print – but here goes. It's certainly a different sound to anything I've ever heard through a set of headphones. My advice is to listen to your favourite song with a regular set of headphones and then imagine that a miniature orchestra has been set up in the back of your brain to provide an accompaniment – that will give you a fair idea of what the Drown Audio sound is like.
It's such a rounded, complete sound that it really does seem to come from within (if that phrase doesn't sound too zen), rather than from an external source. The depth and detail of sound is extraordinary, to the extent that I heard sounds on certain tracks that I've never noticed before. I can't think of a better illustration of this than when I listened to Fleetwood Mac's, The Chain. During that famous riff you can literally feel the vibration from John McVie's bass guitar. It's almost like having another sense, or super-hearing – which can be a handy sensation when you're flagging on a run!