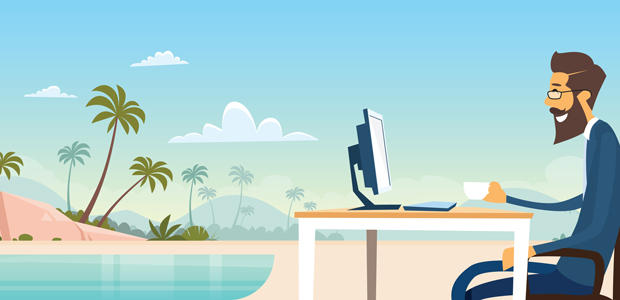 The future workplace: will where we work change?
Traditionally, the office has been a place we go to in order to work. But with almost three quarters (74%) of firms planning to maintain increased levels of home working after the pandemic, according to research from the Institute of Directors, are the days of the physical office numbered?
A place we go to - sometimes
While a number of leading tech companies such as Twitter, Facebook and Microsoft have announced permanent work-from-home policies, not everyone is ready to abandon the office just yet.
Working from home has allowed businesses to keep operating during the pandemic - and many employees have thrived - but there's a growing realisation that remote working doesn't suit everyone.
Some people have struggled with the loneliness and isolation of being away from colleagues, while others have found it hard to separate their personal and professional lives. Many are working longer hours, as many as 40 extra hours a month, finds tech giant Oracle and HR firm Workplace Intelligence, and are feeling more stressed and anxious than ever before.
Collaboration tools have kept employees connected - video calls in place of meetings have worked well. However, there's no substitute for collaborating face-to-face. I know first-hand that morale is boosted when staff are in the office; creativity and communications are also improved.
These are just some of the reasons why having a physical workplace is still vitally important, though it probably won't be used in the same way as before.
Many City firms are already reviewing their office provision with a view to using the space differently, or reducing their use of it. If more employees are going to be working from home, why would companies spend money on costly premises that will only be occupied some of the time?
In future, businesses may decide that a smaller office better suits their needs - and their budget. So, rather than being a place where employees go to every day, the workplace could become a central hub for employees to gather, collaborate, brainstorm and meet clients when they need to.
Escape to the country
If employees aren't travelling to the office every day, there's less of a need for them to live within reasonable commuting distance. As it happens, many are choosing to move further out. Estate agents report a growing demand for properties in coastal and countryside locations. People are more willing to have a longer commute if it's only a couple of times a week, says Rightmove, and with social distancing likely to be in place for some time, many are looking for more outdoor space.
If people tire of working from their new coastal or country retreat and need a change of scene, there's always the local pub. In a bid to supplement their income during this difficult time, pubs up and down the country are offering special desk packages for remote workers. At one village pub in Kent, ten pounds buys you a table by a plug socket, WiFi access, lunch along with unlimited tea and coffee.
Mindful of the benefits of keeping their staff physically connected, businesses may even look to take office space in more regional locations closer to where their employees live. A flexible lease or membership of a co-working company like Spaces or Regus could give them on-demand access to the office facilities they need to support a more dispersed workforce.
Move abroad
While 95% of remote jobs today require workers to be in a certain state or country, usually due to employment and tax laws, around 5% are location-agnostic, according to flexible job search site, FlexJobs.
As remote working rises in popularity, that proportion is likely to grow - which means that, for some people, the workplace could potentially be anywhere in the world.
Thanks to new one-year digital nomad visas, that could even mean exotic, far flung locations such as Bermuda, Barbados or Anguilla. To make up for lost tourism due to the pandemic and to boost their economies, these countries are hoping to lure remote workers with their beaches, low living costs and (at the time of writing) low coronavirus infection rates.
Not to be outdone, Dubai is also opening up its borders to remote workers and their families, with a new one-year virtual working programme.
Working in sunnier climes or experiencing a new culture or lifestyle could be an attractive option for many. Provided people are productive and willing to work across time zones, if required, there is no reason why employers shouldn't support it.
From WFH to WFA (Work from Anywhere)
Despite the rise in remote working driven by the pandemic, the physical workplace is unlikely to disappear, at least not yet, and nor should it. Businesses benefit from bringing people together in a single place, even if they do so less frequently than before. However, as companies increasingly recognise that output is what matters, not how many hours people spend at their desks, there will undoubtedly be more flexibility in where people work.
How much flexibility will depend on the individual employer and the nature of their business but, with the right technology and an internet connection, people could potentially work from anywhere they choose. Beachfront desk in the Caribbean, anyone?