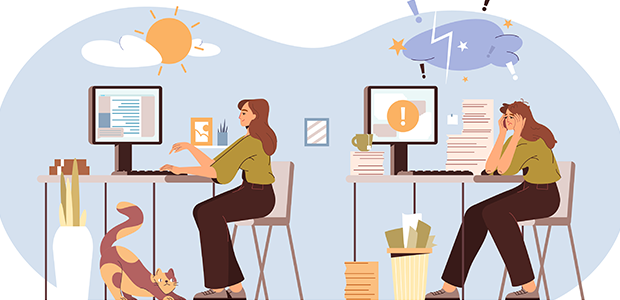 The future of workplace mental health
Continuous price rises on necessities, swiftly evolving ways of working, and geopolitical conflict have many members of the workforce struggling with mental health. Employers are uniquely positioned to support employee wellbeing—employees spend the majority of their waking hours at work during the week, and 70% trust their organisations to provide them with help in times of need.
Unfortunately, significant (but far from insurmountable) barriers continue to stand in the way of many employees getting the care they need when they need it. Health systems overwhelmed by high demand, stigma, and a general reluctance to seek out clinical help leave many without support even as rates of depression, anxiety, and on-the-job burnout continue to rise.
To enable staff to prioritise their mental health and access the right support for their unique needs, many organisations will need to reimagine their approach. Too often, employer-provided resources and services are complex and difficult to navigate and accessed only as a last resort, after a problem has escalated, when someone has called a support line, landed in their GP's office, or the ER. However, if we can identify and address mental health challenges earlier on, we can improve health outcomes and potentially prevent more serious problems. A hybrid approach to care (the right clinicians plus the right tech) enables effective care delivery across a wide range of baseline levels of mental health—even with increasingly tight budgets and a growing shortage of mental health professionals.
To maximise uptake and effectiveness, employers must consider employees' preferences. Employees may be most likely to utilise services when they can choose from a range of support and pick an option that they feel really 'matches' their needs. This may include for example, self-guided, evidence-based digital interventions, which can provide psychoeducation, the opportunity to practise new skills and get feedback on progress in a very discreet manner, in addition to teletherapy. Consider the following: More than half of people (58%) neither need nor want one-to-one-therapy in a clinician's office. Support infrastructure must be designed for everyone—providing easy access to options and streamlined ways to 'step-up' and 'step-down' as mental health changes over time.
Ease of access is crucial. A high percentage of workers with employer-provided benefits (68%) say they don't use their wellbeing resources to their full value because they're too time-consuming, confusing or cumbersome. Wherever your employees fall on the continuum of mental health—all would benefit from the convenience and discretion of what some industry experts are calling a "digital front door." Resources are made available via a convenient digital interface—without requiring people to first make an appointment or show up in person—making it simple for your workers to start thinking about what might be best for their mental health, on their terms. Just getting employees "in the door" is an important accomplishment as it doesn't just help people learn how to maintain their mental wellbeing on a regular basis, it also helps build their confidence and trust in exploring approaches to mental health overall. This may then help individuals seek out further support (whether via in-person therapy or digital therapeutics) sooner, should they need it.
Already, we're seeing this shift. More and more companies are offering their employees digital solutions in addition to their existing offerings to support mental health. Many are actively editing down disconnected point offerings and looking to vendors to help them create clear, easy-to-navigate pathways that encompass all levels of care—from prevention to crisis assistance. Employees don't need to feel overwhelmed or unsure where to turn, when we have the ability to make the pathways much clearer.