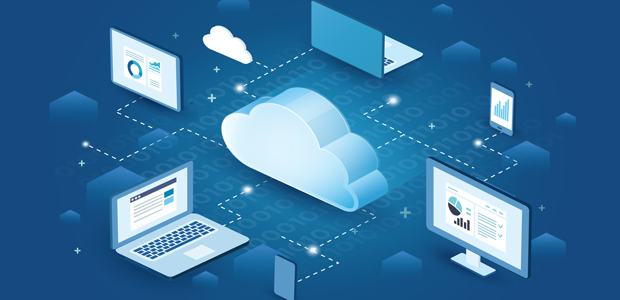 The future is bright for cloud technology – here's how to invest well
In the new digital economy, the rapid growth of cloud software is hardly surprising. In the aftershock of the pandemic, as hybrid working practices remain as prevalent as ever, companies face a critical need to enable staff to access data safely, without necessarily needing to return to the office. Elsewhere, organisations will be looking to cut costs, and store information safely with additional flexibility.
Recent research only serves to bolster claims that interest in cloud solutions is reaching record levels – figures from IDG show that 92% of organisation's IT environment is at least somewhat in the cloud today. Meanwhile, just 8% say that their total IT environment on-premises only. More than half (55%) of the firms surveyed said that they currently use multiple public clouds, and findings also suggested that cloud-first applications may become more prevalent over time, as 46% of organisation's cloud-based applications were purpose-built with the cloud in mind.
But even with all of the purported benefits in mind, many businesses still shy away from widespread cloud adoption. With reasons ranging from stifling bureaucratic business cultures, to a more basic misunderstanding of the security processes involved, still, there are substantial barriers that organisations must break through before implementing these solutions.
So, what should firms be aware of before taking the plunge?
Is the cloud too expensive?
One of the biggest myths around is that the cloud is 'too expensive' for all organisations to feasibly implement their own solutions. The truth is, that while the initial cost of implementation can be steep, businesses can actually save more in the long run by deploying cloud applications, as this can often be a more efficient way of consuming resources.
Managing data centre hardware and large packages of legacy software can, more often than not, prove more costly than cloud technologies. What's more, beyond consuming computing resources, sticking with old processes and packages does not allow the flexibility that most businesses need to scale up in this day and age. While it may take a while for the cost benefits of cloud adoption to filter through due to the expenses involved – from recruiting the talent needed to complete the implementation, as well as the migration itself – these technologies allow organisations to pursue digital transformation much more aggressively than ever before.
The result of this is that all firms, and especially small ones, will be able to expand to different countries and regions without the cost and complication of physical servers. It goes without saying that this is a much more efficient means of allocating resource, and can pay dividends as organisations grow and thrive.
Is the cloud secure enough for my business?
Another claim I often hear bandied around is that the cloud is 'not secure enough' for businesses to entrust their data to. In fact, according to a recent Coalfire survey, the overwhelming majority of respondents (93%) stated that they were moderately to extremely concerned by security issues associated with the cloud, which have stifled their plans for cloud adoption.
To this, the first thing I would say is that these concerns mostly arise due to a simple misunderstanding. Harnessed with a false sense of security that physical data centres are more effective when it comes to keeping data safe, many business leaders think that by succumbing to cloud technologies, that they will be more vulnerable to cyberattacks. However, this is not the case. Generally speaking, even for companies who rely on these physical data centres, most security breaches still occur virtually. Put simply, this often comes down to the fact that many firms are not adequately protected, rather than any innate issues with the cloud itself.
As such, businesses would do well to re-evaluate their security protocols, and how well their current measures are able to shield company and customer data. If these solutions no longer fit the bill, then investment in more robust software should be the priority before moving full steam ahead with cloud adoption.
That said, to offer businesses some peace of mind, many cloud platforms have in-built capabilities such as automating compliance, auditing, sending alerts about security events and even encrypting data-at-rest. These solutions are well worth the investment for those who are concerned about security risks.
Legacy platforms and digital transformation uncertainties
Finally, a barrier many organisations – particularly larger ones – typically face along the course to cloud adoption are issues with legacy software. To make matters worse, some firms may find themselves bogged down by a stale bureaucratic working culture, which may rear its head as a reluctance from higher-ups, or a 'failure isn't an option' mentality.
In this scenario, organisations need to pursue a cultural reset before attempting to migrate to the cloud. In many cases, firms will not be able to realise the full range of cloud benefits from doing a simple 'lift and shift' of their monolithic platforms, and a total re-evaluation of technologies used will be required.
Here, businesses will need to look ahead and make some difficult decisions about how these solutions will fulfil their needs in the future – not just in the here and now. Hanging on to outdated products that no longer fit their business goals will more than likely result in incompatibility, poor cost optimisation, and a lack of resilience as firms move and grow. Here, encouraging employees to embrace digital transformation, as well as doing away with old tools and replacing them with newer, more effective software will be vital.
Ultimately, cloud migration is not for the faint-hearted: it requires considerable overhaul and commitment to change to realise the full spate of benefits. That said, it is well worth the extra work, and I have no doubt that businesses won't look back.