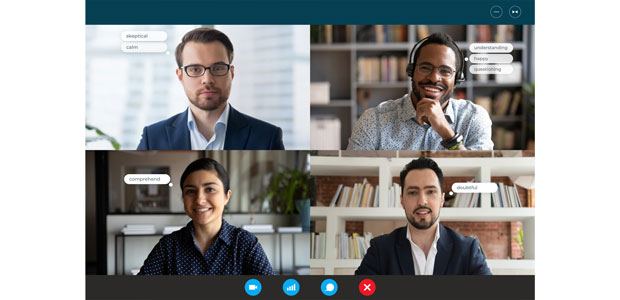 Funding secured to accelerate human comprehension AI startup
Neuroscience-based people development company, Sesh has announced that it has secured $1.6m in pre-seed funding. The funding will enable Sesh to accelerate the development of its human comprehension AI, ​Empath​, that identifies states of mind and emotional mood of people in any video source.
Empath makes better quality, machine-enhanced emotional intelligence (EQ) available to everyone. EQ  - the skill that improves people's understanding of each other - is heralded as the single most impactful skill for successful business communication (World Economic Forum). Yet EQ is significantly harder to achieve when not in person, a concern for the large numbers of people working from home and businesses connecting with customers at a distance.
By delivering EQ on demand, Empath gives value through multiple applications and use cases including: clearer communication in all video calls, faster time to close ratios for sales teams, more effective training modules for professional development programs, and deeper consumer understanding in market research/content analysis.
Empath differs from existing mood-sensing AIs in the market by analysing state of mind derived from change over time and in context, rather than by reading single-moment emotions from still images.
"Based on our research, empathy is at the core of effective communication. Better understanding of one another leads to better outcomes in business and in life," said David Dorfman, Sesh's Co-founder and CEO.
"With most of  the world now communicating by video, being able to truly understand the  non-verbal cues, situational context and culture of your meeting participants is crucial to quickly establishing trust, and building meaningful relationships. Whether selling a product, measuring audience reaction, or leading a training and education seminar, effective empathy-powered communications saves time and money, and helps you find consensus and understanding."
This round of funding will enable Sesh to increase its customer acquisition efforts, expand its team, and strengthen its position as a market leader in cognitive AI.
The round drew participation from Sesh's original angel investors, comprised of family offices, VCs and pioneering entrepreneurs, including DreamHost Co-founder, Josh Jones and venture capitalists, Behzad Kianmahd, Co-founder of TAU Ventures; Kyle Schlotman, Partner and CIO, Connetic Ventures; and Radest Ventures.
After completing 12 months of crucial data collection, Sesh launched Empath in July 2020 with select Alpha stage partners, and has over 100 companies in  its Beta stage wait list. Empath Beta is scheduled to launch in September 2020.