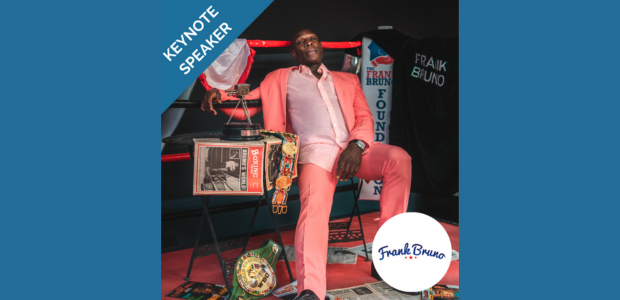 Frank Bruno to Deliver Inspirational Keynote Talk at The Corporate Wellbeing Expo
The Corporate Wellbeing Expo is delighted to announce that former World Heavyweight Champion, Frank Bruno, will be the Headline Keynote Speaker at the event. Bruno is set to take the stage at the ExCeL, London on March 13th at 3:30pm, where he will share his remarkable journey and discuss the impact of mental health on both his life and career.
Frank Bruno, a beloved figure in the world of professional boxing, has become a leading advocate for mental health support and awareness following his own personal struggles. His keynote session at The Corporate Wellbeing Expo will offer attendees valuable insights into how employers can better support the mental health and well-being of their employees.
Frank Bruno's keynote talk is anticipated to be a highlight of The Corporate Wellbeing Expo, bringing together professionals, thought leaders, and experts from various industries to address the crucial issue of workplace mental health and wellbeing.
In his speech, Bruno will draw from his own experiences and challenges, shedding light on how mental health struggles affected his life and career as a professional athlete. He will share personal anecdotes and offer practical advice on fostering a supportive workplace environment that promotes the mental well-being of employees.
The Corporate Wellbeing Expo is a prestigious event dedicated to enhancing employee wellbeing and mental health in corporate settings. It serves as a platform for industry leaders to exchange ideas, solutions, and best practices for creating healthy work environments. Frank Bruno's participation reflects the growing recognition of the importance of mental health in the workplace.
Attendees of the expo will have the unique opportunity to hear from Frank Bruno, interact with like-minded professionals, and gain valuable knowledge on how to implement mental health support systems within their organisations. Bruno's keynote talk promises to be a source of inspiration and enlightenment for all in attendance.
"We are honoured to have Frank Bruno as our Headline Keynote Speaker at The Corporate Wellbeing Expo. His journey from the world of professional boxing to becoming a mental health advocate is truly remarkable. His insights into how mental health struggles can impact both individuals and organisations will be invaluable for our attendees,"- Pearl Pearce-Smith- Marketing Director, Inspired Motive.
Tickets to The Corporate Wellbeing Expo and Frank's talk are completely free. Please visit businessrevivalseries.co.uk to secure your ticket.