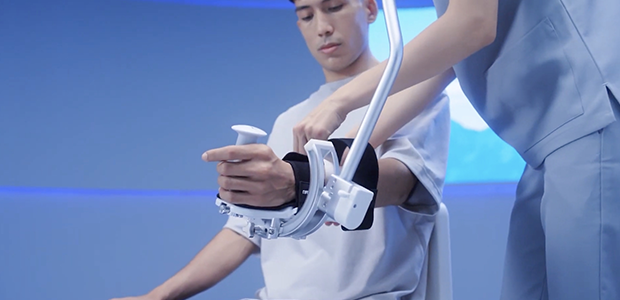 Fourier Intelligence named as winner at ICRA 2023
As part of a slate of activities promoting entrepreneurship and innovation in robotics, finalists for the Innovation and Entrepreneurship in Robotics Award (IERA) presented their projects to a panel of judges at the 2023 IEEE International Conference on Robotics and Automation (ICRA), held in London 29 May – 2 June.
"The IERA Award recognises category-creating, world-changing robot companies," said Andra Keay, IERA Awards Chair and Vice President of the RAS Industrial Activities Board. "Previous winners of the IERA Award have redefined the role of robots in the real world and if you asked the average person on the street to name a robot, the chances are that they would name an IERA Award winning robot, like iRobot, Kiva Systems or Universal Robots."
This year's finalists were Dr Aaron Edsinger and Professor Charlie Kemp of Hello Robot for the Stretch Robot; Zen Koh, from Fourier Intelligence for The ArmMotus EMU; Matthew Allan of Australian Droid and Robot for the Explora Robot; and Thomas Hähn of United Robotics Group for Plato.
Zen Koh and the team from Fourier Intelligence won the IERA Award for The ArmMotus EMU, a 3D back-drivable upper limb rehabilitation robot that adopted an innovative cable-driven mechanism designed for clinical settings.
"Zen Koh from Fourier Intelligence and The ArmMotus EMU are worthy winners of the 2023 IERA Award, exemplifying innovation in robotics with a global impact," said Andra Keay, IERA Awards Chair and Vice President of the RAS Industrial Activities Board. "The combination of smart adaptive rehabilitation and entertainment technology can transform our healthcare landscape."
"We are truly honoured to have the ArmMotus EMU recognized as a finalist and awarded this prestigious accolade," stated Zen Koh, Co-Founder and Global CEO of Fourier Intelligence. "This recognition reflects our unwavering dedication to driving continuous advancements in rehabilitation technology."
Fourier Intelligence was named the winner during the ICRA Awards Ceremony in London, and presented with a plaque and a $2000 prize.