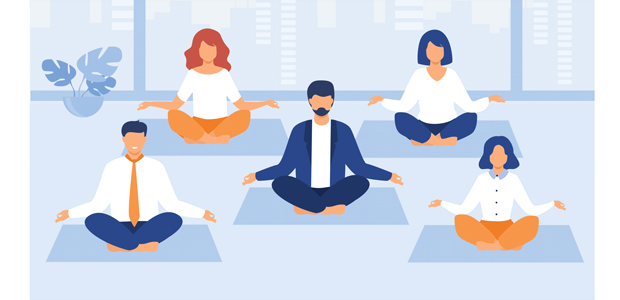 Four ways to support employee wellness in a startup
It is important to highlight the challenges that startups face when supporting employee mental wellness and how to easily transform wellness in the workplace.
Working in a startup environment isn't for everyone.
Forbes confirms that the failure rate of a startup is around 90%. Ready for a few more harsh truths that startup's face? 
Research concludes 21.5% of startups fail in the first year, 30% in the second year, 50% in the fifth year, and 70% in their 10th year. 
You have hired an army who wants to win. They know it isn't going to be a smooth sail to success but they want to be the best people for the challenge and have the skill set to pull you through. 
This is what a monthly corporate wellness package looks like for employees;
Free subscription to Calm or Headspace App

Free subscription to Classpass

Urban Massage visiting the office to give massages while you work

A dedicated employee experience coordinator to find fun and innovative experiences for the team

Unlimited donuts and pastries. Sometimes beer
Corporate businesses take their wellness package very seriously as they know this statistic from the World Health Organisation. ' For every $1 you spend on mental health, you get $4 in return'  So they know that their wellness employee package is an investment not an expense.
Startup's don't have this luxury, yet employees are undertaking extra demands that corporate life does not face.
Thanks to 2020 wellness changed forever. The highest growth industry before Covid disrupted health,  was wellness travel, it had taken over the entire global travel industry. With nowhere to go but online and be remote, startups can use resources to their advantage to transform their wellness culture. Enjoy my top tips to merge wellness with business to enhance employee performance and wellbeing
Re-discover Your Values 
One core aspect of wellness which makes everything else fit into place is something called Centered Wellness. This means understanding purpose. One of the most transformational employee productivity strategies that was implemented at a startup that I previously worked for,  was defining our values. 
We set out four core values and then invited every employee to submit behaviours that their role requires to live out these values before choosing the most fitting behaviours to be part of our Bible. 
The employee engagement was phenomenal and we saw improved efficiency and service. Two years later when we were working with Simon Sinek's company to discover our Why, our company had achieved something that Simon Sinek had never come across before in his company's time. 
We were split into two groups, in separate rooms but produced the same Why statement. Values align everyone to work together to the same goals.
Employees love this exercise, it reminds them why they get up everyday and put themselves through the rewarding challenges that startup life brings.  Being accepted and feeling part of a tribe is a key driver behind our emotions and decision. This is a great way to support your employees to connect with this important aspect of their mental wellness
The article 'How to create an engaging values exercise'  can help you define your values based on the frame work in the book every co-founder should read to scale, Mastering The Rockefeller Habits.
Youtube
I do miss the fancy fitness studios of London but I don't miss the pre-work out of rushing through the tube and pedestrian's of Shoreditch to get changed in a sardine can packed full of flying elbows to attend a 45 minute class. To shake up my lockdown exercise routine I turned to Youtube and was impressed with the quality of free classes, I never need to buy a membership again. Here's a suggestion that would be fun for your employees. 
Designate a wellness leader

Put 3 dates in everyone's diary




- One morning class before work




- One lunch time class 




- One after work class.

The wellness leader will share the screen and stream the class over Zoom and everyone can work out in private all together.




There are no excuses!
Weekly Wellness Newsletter
Task your designated wellness leader to share articles and content to inspire the team. The responsibility can be alternated so one person per week can own the wellness newsletter. Cofounders can share their morning routine and offer advice for employees to support themselves. Get everyone involved.
Breath Practice
This is the most effective wellness tool for entrepreneurs. Mental health is about learning how to support the nervous system. The breath does just that. Manipulating your inhale can regulate mood, elevate stress and anxiety, increase energy levels and power up motivation and creativity. Breath Practice is about to take over yoga! So be a leader and bring breath practice into your workplace first. 
It's difficult to know if high achieving, dedicated team member's are struggling with mental wellness. In 2018 I had no idea what burn out was, my sabbatical was already planned and I was hiring and restructuring the team to prepare for my departure. I had supported my company through the most challenging times and was ready to take a well deserved break. It hit me hard at the last moment out of nowhere. I thought the entrepreneur sparked had fizzled out for good but learning to breath bought it back. 
The best way to keep on track with supporting employees is to build a strong wellness culture. It's not about having a shiny corporate wellness package with loads of benefits, it's about there being an open and supportive dialogue where everybody is contributing, offering advice and sharing content to remind each other about the best wellness practices. Wellness is our own responsibility, companies and startups need to be encouraging their employees to be taking responsibility to maintain a healthy life/work balance