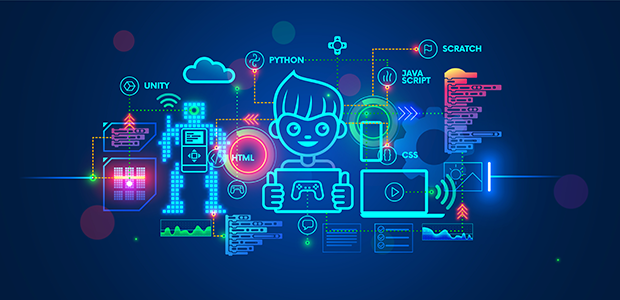 Fortifying Independent Game and App Developers
Escapism is otherworldly, blissful, maddening and liberating. Everyone has their own forms and rituals for temporarily getting away from the realities of life.
Writing, painting, staring into a fire, reading, sleeping, listening to music and the voices of others: humans have always felt the need to escape. Fast forward to the 21st century and technology is the dominant enabler. The field of online entertainment, our primary access point for escapism, now has many a rabbit hole for users to tentatively peer into or feverishly nest themselves within. Much as streaming has deepened the burrow for TV and film, the internet has had a similar effect on gaming. 
Overall, the number of players has rocketed past three billion with global mobile game installs rising to 14.4 billion during the second quarter of this year (a two percent year-over-year increase), accounting for nearly 40% of the total 37 billion app downloads. So vast is the kaleidoscope of downloadable games today that you would be hard pressed to find a single one not to your liking. 
Developers have always been the harbingers of gaming's fundamental objective: to have fun and share this fun with others. These vital tributaries have imagined up and collaborated on countless projects to execute creative visions that users can play through and master. Games and apps have delivered fresh methods of communication, visual and audio entertainment, and making friends. Users and developers alike form clans, parties and collaborative communities to share the playing and artistic experience.
Yet, if we want the gaming sector to flourish, we need solutions that readjust current market topographies that may deny independent (indie) game and app developers the necessary financing to push the creative borders of the sector. Well-funded publishers such as Blizzard, InnoGames, Riot and EA have been able to develop, market and distribute their games. Successful independently-produced games such as Minecraft, Rocket League and Among Us signify that avenues to popularity have not been closed off by bigger developer studios.
However, looming threats now emerge whereby user acquisition has become more expensive, advertisement revenues have been falling and competition for players' time and attention has intensified. Meanwhile larger games publisher-developer companies are buying out smaller developers and driving further consolidation. Some games end up being sunset, as Blizzard's recent acquisition of the studio Prolerariat and subsequent cancellation of their battle royale game Spellbreak attests, as well as developers' fury at Unity's potential merger with IronSource.
A recent Game Developer blog noted that video game digital distribution service Steam saw its top 250 publishers scoop a staggering 91% of the site's total revenue in the last year, with the top 10 accounting for 40%. Pair this with striking YouGov research this year that found the indie genre to be the only game type witnessing year-over-year growth among American PC gamers between 2021 and 2022. 
The clamour for independently-developed games has never been stronger. Steam's huge library of independent titles, indie mobile developer resilience and advances in readily-accessible mobile and PC game engines - such as Unity and Unreal Engine - have spawned niche concepts and connected eager gamers to them. As such, demand must keep being met with supply.
How can this be achieved? Independent developers need the right type of investment, tailored to their specific requirements and nuances of developing and managing live ops. This is to guarantee that they can deliver and scale their ideas and benefit from the expanding gaming market, which is set to double in value to $435bn by 2028.
Additionally imperative is that the investment that developers receive does not impede their financial and creative control. They must be empowered to be in control of what and how they build, and to have the best chance of successfully and sustainably creating products that people love. 
As access to traditional bank and venture capital financing becomes more difficult, our company Sanlo offers an alternative source of non-dilutive capital that grants developers creative and financial independence while growing their studios, games and projects. "Non-dilutive" is the key term here. We don't take any ownership of the companies that we provide financing for, nor do we influence strategic and creative decision-making.
Our customers remain creatively and financially independent without spending time and money on complex debt instruments, meaning they can focus on what they want to build and love the most.
Gaming in its many electronic forms has undergone many metamorphoses this century. Cartridges and disks for PCs and consoles gave way to online purchasing and downloading. Access has expanded: from buy-to-play and premium to free-to-play and subscriptions to recent early experiments in play-to-earn. From Brick Breaker to Clash of Clans, smartphone technology has triggered a renaissance in mobile gaming. 
To preserve this renaissance and keep broadening the kaleidoscope, providing developers with the backing that they need is critical. Our vision? A democratised industry, in which developers are enabled to realise their ambitions and build sustainable businesses.