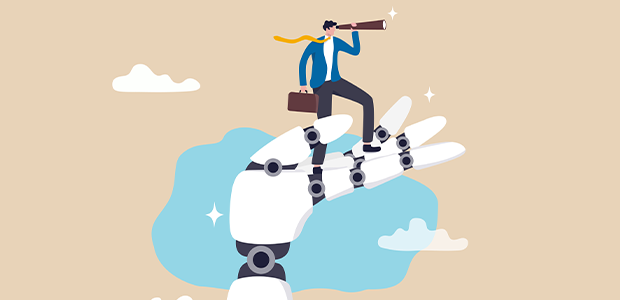 Former CEO of RETAILIGENCE: How Forward-Thinking Leaders Profit from Breakthrough Innovations
In this interview series Richard Richie, Managing Partner of Alcon Maddox, gets some of London's most forward-thinking tech leaders to spill the beans on what is making their companies so successful and what innovations the future has in store.
This week Sid Sarangi, former CEO of RETAILIGENCE, gives us an insight into how AI is being employed by retailers to make category management more effective, and how every startup needs to be disciplined enough to 'follow the money', as a good product alone does not make a commercially sustainable business.
RR: Sid, tell us a bit about what RETAILIGENCE is or does.
SS: Of course. Working in retail for over a decade and a half, I recognised the need for category management, i.e. the art of having the right product for each category in each store at the right time.
It's a massive undertaking. It takes Commercial, Supply Chain, Finance, Logistics, all of them to come together to deliver the product. As a retailer working for Tesco, and other very large household name retailers, I found that we were being given very poor products by the software or tech world to deliver management solutions.
When I set up RETAILIGENCE in 2018 I set about to change that. Rather than being at the mercy of human error, human prejudice be it conscious or unconscious, and human memory, we instead had machine learning and artificial intelligence drive what should be on the shop shelves at any time.
We started launching and deploying our solutions across Europe in 2019 and 2020 before expanding to Asia, America, and even Africa. One of our first clients was the largest electronics retailer outside of the US, MediaMarktSaturn. We launched with them in Spain, then rolled it out to Germany, Austria, and the Netherlands. We now have a global footprint with five different software modules that contribute to the entire category management solution.
That's broadly what RETAILIGENCE is. It is a startup like many others, but honestly speaking I think there is daylight between our capabilities and those of the market leaders. The incumbents are leaders because they've been around for so long, but people are just waking up to what we can do. Like I said, our capabilities are far beyond what people are used to.
RR: You've recently transitioned, is that right? You're no longer an operational figure within the business?
SS: That's correct. The organisation has now moved on to become what I'd like to call a growth stage startup. The tent needed putting up, which I did, which is what I'm good at. We now need a corporate and sales driven CEO to take it forward to the next level.
I do remain the Chairman of the Board, but as we look for further and further investments of bigger and bigger ticket sizes, we're looking for a CEO maybe based in America because that's the biggest market to push it to the next level.
RR: That's fantastic. Well, look, first of all, congratulations on that achievement. Now, tell me about your biggest successes to date that are worth shouting about, under the frame of breakthrough innovations.
SS: I'll focus on one technology success and one commercial success.
With regards to technology, we have found a way (and patented it, of course), without having any hardware installed in the store, so a retail store without any cameras, robots, etc., for our solution to know purely from the data feeds from the store what product on the shelves currently has a problem.
A problem as in, it's out of stock, it's out of reach of most customers, it hasn't got enough space allocated, or the price is not correct. Without any visibility, just by looking at the data patterns, our AI cube is able to process the fact that something seems to be wrong with this product. We've seen this come to light in Italy, in South Africa.
An example would be, one of the prompts in the app was 'hey, look, the nappies in this store have a problem'. You see the stock file and everything looks fine. The price is fine. So then we physically went to the shelf and saw that the store manager had put the nappies above the frozen section. So maybe out of reach for most moms or dads pushing a buggy. So, perhaps those parents would have said, 'oh, I can't be bothered', you know, 'I'll pick it up from elsewhere'. Or maybe they wouldn't have seen it. These things are impossible to know without AI to pick up. Until that point, the store manager, even if you showed him, he would have said, 'yeah, that's all right. That's how it's always been.' So yeah, things that look beyond what humans can find. That's probably one of the major technology achievements that we've had.
From a commercial achievement perspective, we were able to deploy our solutions in three American retailers, without having a single American employee. We didn't have any boots on the ground, no sales team, but our product was far superior to any in the market.
Being able to achieve this is the reason we are now looking to see the appetite and volume to be unlocked in the US market. Understandably, the value is going to be a lot more than most other markets. Our tech expertise is in the UK and we are proud to be a British company. The UK continues to be among the top places, if not the top place to do tech, but the commercial part of the business has to be driven out of the U.S. and those commercial breakthroughs to your point, help us recognise that if we can sell this in America, sat in the UK, then setting up a US operation makes a lot of sense.
RR: What's been the best advice you've been given over the years when it comes to breakthrough innovations?
SS: Probably the same advice I'd like to give now that I'm taking up a new role. What I would say to my organisation, it's an old saying, but follow the money. In just the last couple of weeks there've been some very high-profile startups collapse in businesses that were very solid technologically, the tech was very strong, but eventually, unless it's bringing in money, no matter how good your tech, it can't survive.
If you can chase revenue as soon as possible, even with a half-baked cake, if you're able to generate revenue, and then you've engaged with the client, you almost know what you have to do to bake the rest of the cake properly. So yeah, identify the revenue model as early in your baking cycle as possible. That's probably the advice I'll give anyone as early as possible. There's no time too early to be engaging commercially.
RR: What does the next level of success look like for RETAILIGENCE?
SS: We have already set ourselves a target to grow 10x over the next 18 months and are looking to sign some very large licensing contracts outside of Europe, in Africa, South Africa, the US, and possibly Asia. On the back of those we are looking to now push forward. We have a very strong tech stack, and retailers are telling us, by the way we've had the privilege of speaking to some of the finest retail brands in the world, that our product is miles ahead of everything else.
Commercialising it however is easier said than done. You need more than a good product if you are to dislodge exiting thinking and win over a market. Convincing people to allow you the opportunity to demonstrate the value you bring. Even if you do this, there is always resistance to change, which is understandable, all of us have that. So, it's a big task, but I think we are up to it.
RR: Have you considered deploying your technology in the Middle East?
SS: Sure. Two of the largest retailers in MENA approached us. We had the solutions they wanted, but what we ended up seeing was that the sales process was a bit too tedious for us. At the time we didn't have the expertise. For example, although we didn't have boots in America, I have worked in America, we have people who have worked in America. So, we had a sense, a pulse for what the American customer wants. What's the best way to move that sales cycle over the last 10 yards is always the toughest part.
We probably did not have that expertise specific to that region to actually go beyond the line at the time. I mean, imagine we were actually approached by them. We met them, loved them, but even so, we were unable to agree terms, agree licensing terms, but hopefully as our global sales and deployment expertise improves, we will be in a position to re-engage and push forward.