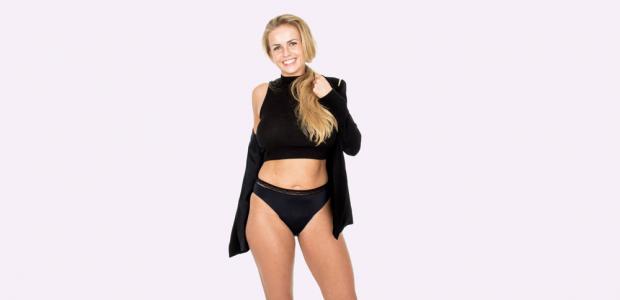 Fly by the seat of your pants
Smart underwear from LifeSense Group empowers men and women, and puts an end to suffering in silence.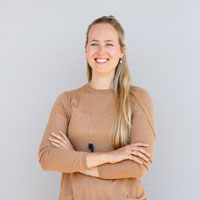 Did you know that one in three women will experience urinary incontinence at some point in their life? Although this a common health issue, it is still viewed as taboo subject. Women often feel too embarrassed to talk about their problem and can even suffer with it for up to 25 years before they seek help. This is a challenge that can be helped with a product called Carin, which is a piece of smart underwear that absorbs without mess thanks to the smart textile, Bluetooth sensor and a tailored exercise programme.
Julia van Zanten, co-founder and CCO of LifeSense Group, a social designer with a background in textile design, completed her studies at Central St. Martins College of Art and Design (London, 2010) and Social Design at Design Academy Eindhoven (2014). She was working in interior design when she realised she wanted to do something more meaningful. It was after spending a summer with her grandparents that she discovered her grandfather was suffering with urine loss. After realising that he could no longer do the things he enjoyed because he felt too ashamed to use a nappy, she had her lightbulb moment. As a designer, she asked herself: "How can I come up with a better solution? Why are these products designed in a way that make people feel bad about their body?"
It was later on that van Zanten met her co-founder, Valer Pop,  now the CEO of LifeSense Group, who completed his PhD at Philips and is now focussing on new technology sales and business development. The two realised that they shared a very similar goal and decided to join forces in 2015. Although van Zanten's background is in design and Pop's is in technical business development, both offer different skillsets which complement each other.
LifeSense began its journey in 2012 when it received €1m seed funding. Throughout 2012-2015, Carin was developed by involving more than 100 different women on its advisory board. In 2016, Carin was CE and FDA Class II approved and established a global client base from the company's offices in Eindhoven, the Netherlands and Tokyo, Japan. Then in 2015, LifeSense Group was founded as a spin-off of the R&D Institute at the Holst Center in the Netherlands. In 2017, LifeSense Group received an investment of $3m from a Danish entrepreneur, taking the company's investment total to $5m since their idea was born four years earlier. 
The smart underwear works in conjunction with a wearable sensor and a tracking app that creates a tailored exercise programme designed to eliminate future leaks. Menopause, childbirth and weight gain can often result in the weakness of the pelvic floor muscles. This can cause uncomfortable situations by simply sneezing or coughing. 
Carin's Bluetooth sensor sits comfortably and discreetly inside the underwear to measure the leakage and collect data. The sensor also allows users to track their progress in real time without changing their active lifestyle. This product differentiates itself from its competitors by its non-intrusive design.  
Van Zanten explained how they really wanted the smart textiles to look like normal underwear: "The intention was to make the underwear look as normal as possible so that it fits into daily life. We want it to help women feel confident and empowered as we understand it is an embarrassing problem to have to deal with." 
The underwear can be put in the washing machine on a delicate wash alongside the rest of the laundry. Carin underwear is also available in two styles.
The app allows users to log in and complete a measuring programme once a week to track their progress. Van Zanten said: "The app helps the users to remain motivated throughout the whole process."
Within the app there are also tailored pelvic floor exercises. The training programme is designed for up to an eight week cycle but van Zanten explained how women often get cured sooner than that. The app encourages users to exercise for ten minutes per day to strengthen and gain control in their pelvic floor muscles. The online coach demonstrates the exercises on a smartphone and tablet so that users can exercise anywhere at any time. The app is available for download on Android and IOS. The focus for Carin was to show how well design and technology can work together, as well as making women feel empowered and confident again.
Many men suffer from urinary incontinence after surgery, injury or just a consequence of ageing, as was the case with van Zanten's grandfather. LifeSense Group has also launched a solution for men suffering from such conditions, called Wil. This product works in the same way as Carin but is designed specifically for men, particularly focussing on recovery after prostate surgery. Wil aims to make the user's recovery journey shorter and more comfortable. 
Van Zanten said: "Even though it is difficult for both women and men suffering urinary incontinence, the percentage of men who suffer compared to women is lower. However, I believe it is mentally a harder problem for men to deal with."
LifeSense Group receives a lot of enquiries about its two products, but in particular about Wil, as it has only recently launched. Van Zanten said: "Well we are trying to empower women and make them feel more confident again, so we thought why not empower men too?"
Wil is still in its early stages, but LifeSense is looking for men to test the product. LifeSense Group is currently focussing on building partnerships and distribution for Carin and Wil. Long term, the company is looking at exploring different ways to use technology for healthcare.